Last Updated on May 19, 2023
It is no secret that Singapore is expensive, and not just by South East Asian standards, either. You could easily blow through a huge budget while in this city-state, but there is actually no need to break the bank. Skipping Singapore would be such a shame. We fell for its mix of Western ambitions and Asian roots, and the eclectic intermingling of cultures and can not imagine missing out on this vibrant and buzzing global city. Read on for our tips for traveling to Singapore on a shoestring: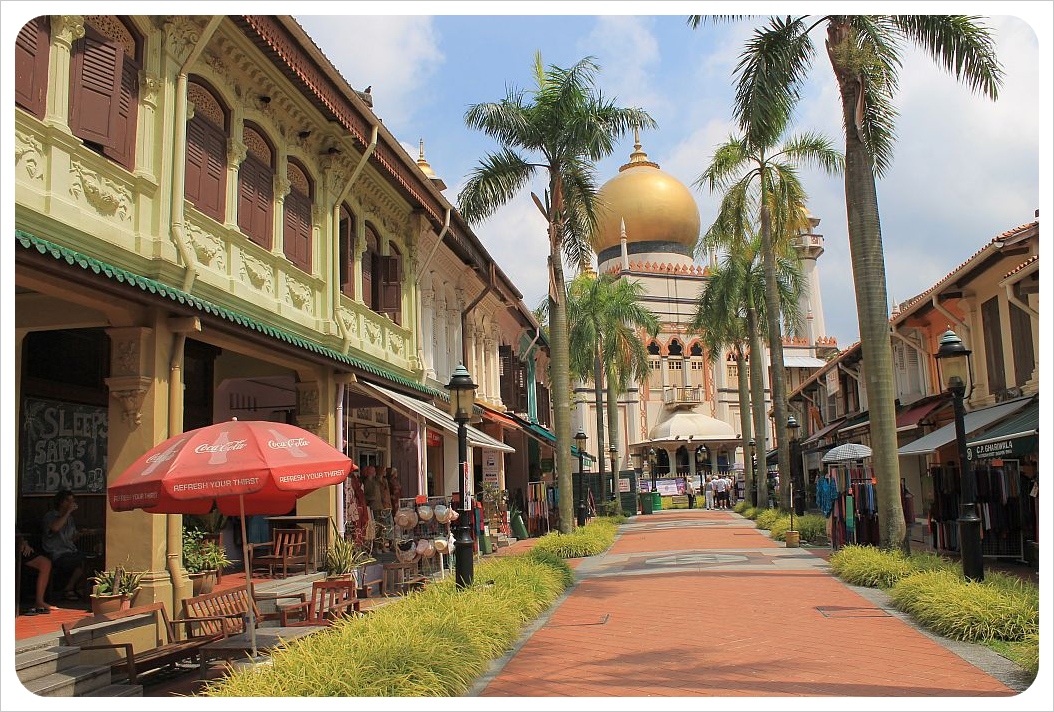 How to visit Singapore on a shoestring budget
1. Buy the SMRT (metro system) day passes
Taxis are incredibly expensive in Singapore. Luckily there is no need to take them, with Singapore's excellent MRT public transportation network. Even for people uncomfortable with public transport, Singapore's buses and subway are immaculate, easy to navigate and best of all, very affordable.
Single tickets are not cheap, but there are two ways around that: one is the Singapore Tourist Pass, which is available at the airport or at any Tourist Information, and for a deposit of S$10, you get a card which you can top up with the Singapore Tourist Pass. With this pass, you pay S$10 / US$7.90 per day (or S$16 / US$12.60 for two days / S$20 / US$15.75 for three days) and get unlimited rides on all of Singapore's public transportation. We found Singapore to be surprisingly walkable, though, so depending on what you plan to see, some days you might not use the system enough for the price. It could be easier to pick up the ezLink card (S$12 / US$9.45 – S$5 / US$3.40 for the card, plus S$7 / US$5.50 top-up value), which is what the locals tend to use. You top us this card, which offers great discounts on a pay-as-you-go basis. Remember to swipe the card both as you enter AND exit the bus or metro, though, as fares are calculated by the distance traveled.
2. Eat at hawker food stalls
Singapore has some of the finest dining in the world, and if you find it worth it, why not splurge? However, for daily meals, don't waste money (sometimes $40 or more for two) at mediocre restaurants. Instead, visit Singapore's famous hawker centers, which bring together dozens of food stalls in one place.
You can find authentic, ethnic Indonesian, Malay, Thai and Chinese food for a few dollars per dish. There are plenty of these food centers around town, but among the best are the well-known Maxwell Food Center, the Amoy Hawker Center in Tanjong Pagar, Lau Pa Sat in the Centre District and the Chinatown Food Center in Chinatown, plus Tekka Food Market in Little India.
In these hawker centers, food usually starts at S$2 / US$1.55, and is not more expensive than S$5 / US$3.40. If you find yourself in or near one of Singapore's malls, consider eating at the food court. These are not quite as cheap as hawker food stalls, but you can easily fill up for under $5. This is one of the best tips for people who visit Singapore on a shoestring budget.
3. Take advantage of the free attractions
You can pay for many sights, but there is plenty to do for free in Singapore. The city itself is an attraction, so stroll through the ethnic neighborhoods such as the primarily Arab Kampong Glam area, Chinatown and Little India. Then head out to walk the around the entire Marina Bay along the promenade. Here you will see so many of the highlights, such as Marina Bay Sands, which is free to wander through, unless you want to go up to the top for the view. The fascinating Haw Par Villa is strange, but definitely free of charge as are the beautifully manicured Botanical Gardens. A visit to the beaches of Sentosa Island is almost free – you will have to pay for your metro ticket to get there, but it allows you to spend a relaxed day at the beach.
If you are in Singapore on a weekend, the Singapore Art Museum and the National Museum of Singapore are both free from 6 – 9pm on Fridays. You can even see a free outdoor concert at Singapore's Esplanade every Friday, Saturday and Sunday night.
4. Stay for free – Couchsurf
Accommodation is probably the most expensive aspect of a visit to Singapore. The cheapest option is to stay for free by couchsurfing. Partially due to the large expat community in addition to the high cost of hotels, the couchsurfing community in Singapore is huge. While some hosts may offer you a couch, many will have a spare bed or even, as in our case, a very comfortable second bedroom. The added benefit of couchsurfing in Singapore is that your host might have time to show you around or at least give plenty of tips for fun things to see and do that you may have otherwise never known.
If you are not comfortable sleeping in a stranger's house, there are plenty of brand new hostels in Singapore in fantastic locations like Chinatown and Little India.
Some of the hostels we thought looked good were: A beary good hostel, with two hostels in Chinatown rates for a dorm bed start around S$15 / US$11.80 for a dorm bed, free wi-fi and breakfast; and KINN's Capsule Hostel, around US$45 for a private capsule in a new, clean hostel in a great location.
Singapore also has one budget hotel chain, Hotel 81, which has been around forever. Rooms start around S$50 / US$40 for a double if booked through online sites like Agoda or Booking.com in advance. There are several branches around town, some look very dated and others have shady reputations, so check the specific hotel out on Tripadvisor before you book.
5. Find discount tours in Singapore

We mentioned free attractions in #3, but of course Singapore also has a number of sights that are not free but well worth a visit. For those, check out Singapore Tours, where you will find the guaranteed lowest prices for major attractions such as the Universal Studios Singapore, the popular Singapore night safari, hop on – hop off tours, city passes and more, offered by local tour operators.
6. Drink in Chinatown
Alcohol is far more expensive in Singapore than anywhere else in South East Asia, and we found that in most places beer started at around S$8 / US$6.45, and wine at around S$12 / US$9.30. This is why you will spot most budget travelers drinking Singha or other beers in Chinatown,where many restaurants there compete with each other to lure you in with deals like 3 beers for '3 beers for S$15' (US$11.80).
Many bars in popular night spots have Happy Hour prices. Clarke Quay is buzzing at night, so make sure to head there for 50% Happy Hour drinks before forking out for full price later on in the evening.
7. Use coupons in Singapore

There are actually some great websites out there for cheap deals in Singapore. For example, Groupon is just as popular in Singapore as in North America, and Groupon Singapore offers half-off many of the city's most popular attractions in addition to restaurants, bars, and if you want, workouts, yoga, and all the other great Groupon deals. If you subscribe to the Groupon deal emails before you visit Singapore, you can get some great deals that otherwise only the locals would get.
8. Getting to Singapore on the cheap
If you are already in South East Asia, getting to Singapore can also be done inexpensively. We flew from Cambodia for US$100, but we could have paid one-fifth of that price had we gone by bus from Kuala Lumpur. Buses run several times a day between the Malaysian capital and central Singapore, and take five hours including the border crossing. If you are going to fly, we found that AirAsia consistently had great rates throughout all of South East Asia. I use 12go to find the cheapest flights, trains and buses in this part of the world.
Have you been to Singapore? Feel free to share your money-saving tips for Singapore in the comments below!