Last Updated on October 22, 2023
When we were planning our New Mexico road trip, it was clear that we could not NOT go to Roswell, the tiny town in the middle of nowhere that suddenly raised to fame in 1947 when a UFO crashed here… apparently. But more on that later.
Even though we're no UFO proponents and not sure how we felt about the UFO conspiracies surrounding Roswell, we wanted to see the place and learn more about the crash. And when we discovered that Roswell was half-way between Carlsbad Caverns and our next stop Las Vegas (New Mexico, not Nevada) anyway, there was no question that we'd spend a night here.
From the minute we drove into Roswell it appeared that the town was all about the famous UFO crash. Bright green aliens were staring at us from car dealerships, fast food restaurants, doughnut shops and garages. The local Roswell radio station advertised with aliens, McDonald's built a custom-made space-themed branch here, and even a local tattoo parlor used an alien as their mascot.
And we hadn't even reached the main street yet, where we'd encounter more 'alien-ness': An alien-themed Mexican restaurant, alien-shaped street lights, 'UFO parking only' signs in the car parks, even a loan shark who advertised with aliens (!) and of course a number of alien and UFO related souvenir shops.
We had to visit Roswell's small airport to add a second driver to our rental (because it turned out that Jess' license had expired, leaving me, the foreigner, driving 2,000 miles across New Mexico and finally all the way to Chicago!) where we found ourselves greeted by several aliens as well – even our rental company's desk had several aliens to welcome us.
Of course there's also alien beer in Roswell (actually a neat souvenir, you can pick it up in any of the large supermarkets but note that alcohol is not sold on Sundays).
At first sight, everything here seems to be about the funny-looking creatures that put this otherwise uninteresting place on the world map nearly 70 years ago. Main Street, the thoroughfare through the town, is also home to the UFO Museum and International Research Center and the Alien Zone. It is around this stretch of the street where most tourists gather – families, Harley bikers, UFO conspiracists or just curious road trippers like us.
We headed to the UFO Museum and International Research Center first, eager to learn more about the UFO crash – or The Roswell UFO Incident as it is officially referred to – and the conspiracies around it. Had there really been a UFO crash at all? Were people abducted by aliens? Were aliens taken into captivity to research their bodies? According to the UFO Museum: yes, yes and yes.
But it also became quickly evident that the second part of the museum's name 'International Research Center', (and the museum itself) is way less significant than it sounds. Instead of a sleek, informative museum, we found a place that seemingly has not been updated in any way since the 1980s (except for the addition of poster of the TV show 'Roswell', which aired in the late 90s). The exhibits range from childish to ridiculous – as if a bunch of fourth-graders had provided the displays for the museum.
We now also realized why the lady at the entrance had pointed out that the $5 ticket was valid for multiple entries throughout the day: There was so much reading material on the walls, from old newspaper articles to printed interviews with eye witnesses, that it took a while to read through all the info and some folks might want to go and get a coffee in between.
The saddest aspect of the museum was that you didn't even need to visit it to learn all the facts they presented – there was nothing here that you couldn't find on the internet, and it actually felt like we paid $5 to read the Wikipedia entry on the Roswell UFO incident and could've found better information on Roswell-related websites.
When a cheap light show started around some aliens that were displayed in the center of the museum, we couldn't take any of it serious anymore:
We left disappointed and went to the Alien Zone just a few minutes down the road, which was supposed to more interesting with actual aliens, and the option to play with them! Okay, 'real' aliens might take it a step too far. Look for yourself: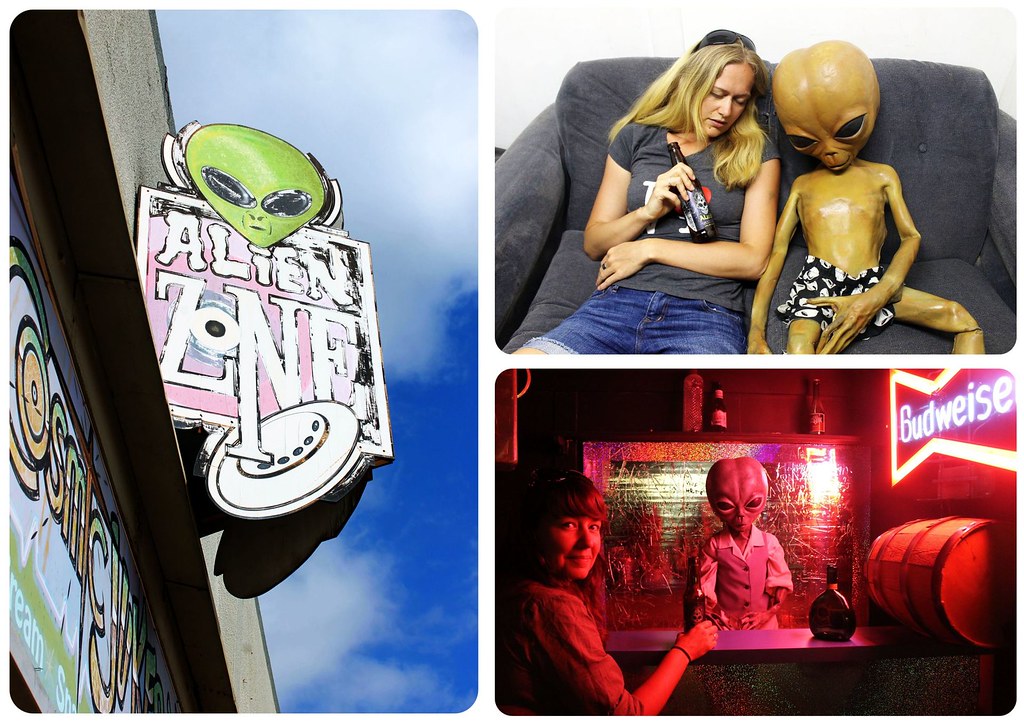 While the Alien Zone was definitely more fun than the UFO Museum, the place still felt utterly outdated. In the gift shop area, where you buy your ticket for the Alien Zone ($3 per person), they were still selling UFO magazines from 2002, and some of the souvenirs seemed to be from the 1990s. The yellowed postcards certainly had been laying in the store for many years.
We felt that both the museum and the Alien Zone, along with all the souvenir shops, could use some fresh paint, but we are not sure if Roswell still wants to push the UFO-related tourism. Sure, that's what made the town famous and brought in hundreds of thousands of tourist dollars, made people stop and spend money here who would've just passed through had Roswell not been the place of the alleged UFO crash.
However, nobody who was working in one of the alien-related establishments seemed overly enthusiastic or proud to be there, and it didn't seem like any of the Roswell residents who were NOT working on Main Street would ever come down here.
We left the Main Street to see what else Roswell New Mexico had to offer, but came to realize quickly that there is not much beyond the 'alien zone'. Just venturing a couple of blocks away from Main Street we saw many empty houses and closed-up shops, streets and sidewalks in need of repair and buildings where the paint was peeling off.
It seemed that the historic center would be completely dead if the Roswell UFO Incident wasn't still attracting tourists from all over the world.
The town had tried to expand their tourist attractions several times – in the 1990s, the Anderson Museum Of Contemporary Art opened its doors, and is regularly named as one of the best contemporary art museums in the South West, but if you decide to head there when passing through Roswell, you will barely encounter another visitor (even though it's free!).
In the early 2000s, the Pecos Flavors Winery opened on Main Street in midst of the alien madness, in an effort to promote wines and beers produced in New Mexico and to bring a higher-class establishment to the area. They don't produce any wines themselves or brew their own beer, but the winery has a large variety of wines and micro-brews from all of New Mexico, many of which are of a surprisingly good quality (even though the state isn't particularly known for either one!). While you're trying some wine or beer here (I can vouch for the Alien Amber Ale, despite the cheesy name), you can also pick up New Mexico-made products such as chiles, pecans, pistachios, cheeses and even coffee!
Roswell beyond the historic center is actually a pretty little town, with some gorgeous historic southern houses in a quaint setting.
It felt like people here were ready to move away from the UFO crash that made the city famous, especially since none of the witnesses of the incident are alive anymore. That nobody makes the effort to update the museum or the old alien puppets in the Alien Zone is another sign that Roswell's residents don't really care about the UFO conspiracies, but they also don't really seem to know how to develop and brand their town differently. It felt like the town was in an identity crisis – trying to let go off the past, but uncertain in what direction to head.
I hope that Roswell, New Mexico will be able to reinvent itself, because, quite frankly, the antiquated UFO Research Center won't cut it much longer.