Last Updated on February 16, 2022
When Lonely Planet published its picks for the Top 10 cities to visit in 2015, I felt lukewarm about most of the cities they had chosen – I touched on the topic briefly in this article – but the one city where I wholeheartedly agreed was Valletta, Malta.
This gem of a city is usually overlooked, Lonely Planet said, and I had to admit that I was guilty of that too. While I've told you all about my impressions of Malta, my road trip across the island, medieval Mdina and the delicious Maltese food, I didn't tell you anything about the place I spent the most time in during my visit to Malta, Valletta – the tiny capital of the island nation.
Valletta was announced 'European Capital Of Culture' for 2018, which means at the moment there is an extra boost in restorations and new developments, adding to the city's attractiveness, and it will help to put Valletta slowly but surely on the list of Europe's most charming capitals.
I am sure that four years from now, nobody will see Valletta as underrated anymore.
Let me take you on a journey of Valletta in photos – because just as I think you shouldn't skip Malta's sister island Gozo when visiting the country, you can't skip Valletta when you're in Malta, even when you're staying in one of the beach resorts.

I don't think I've ever been to a capital city that small and that charming – Valletta is anything but a typical nation's capital. It is not even the biggest city in Malta.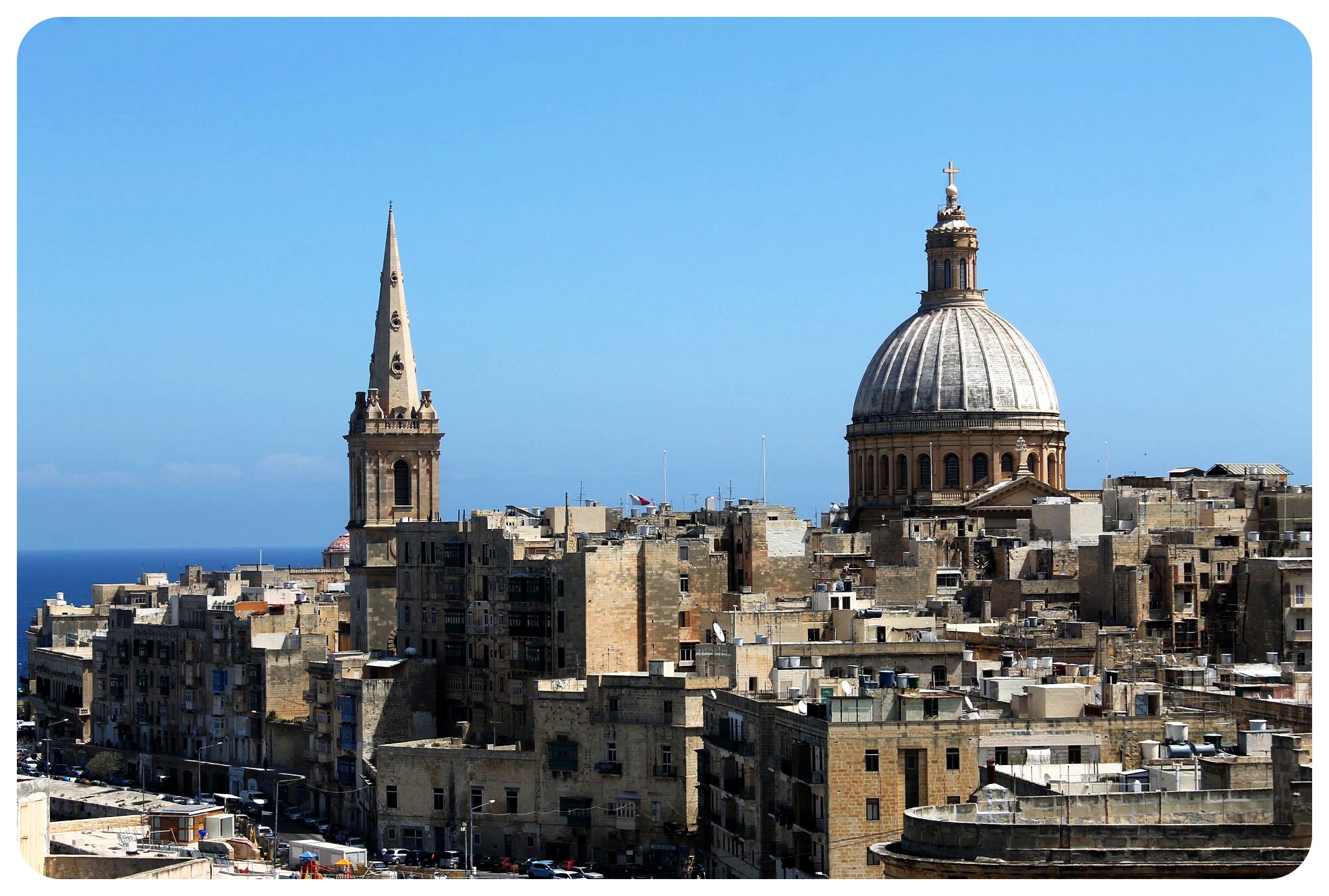 The tiny city with a population of just over 6,000 people is one of the smallest capitals in all of Europe (in fact, only Vaduz in Liechtenstein is smaller), and it is definitely one of the most – if not the most – endearing capitals, with so many picturesque buildings. I never got tired of wandering the streets and photographing the different colors and styles of wooden balconies.
These wooden balconies started to pop up around Valletta in the 18th century and are believed to derive from the Arab/ Islamic Muxrabija (look-out place), which is popular in northern African and other Islamic states.

With many ships from northern Africa docking in Malta on their way to the shores of the northern or eastern Mediterranean, it makes sense that the concept of the closed balconies was adopted by the Maltese.
The fortified city sits on a peninsula, surrounded by water on three sides. The harbors of Valletta, Grand Harbour and Marsamxett Harbour, are a reminder of what an important city it was for the sea trade of the Mediterranean during the 16th and 17th centuries.
The well-preserved, precious buildings from that time also show that Malta was a very wealthy city back then, and most of the houses that are still inhabited today were built under the Hospitallers in the 16th century.
Thanks to its tiny size – Valletta covers only 0.5 square miles (1.3 sq km) – you can aimlessly wander the streets without ever getting lost.
On the fourth side, you'll hit the old city walls at some point, a remnant of the Knights of St John of Jerusalem who built the city in the 16th century.
It was the first planned city in Europe and instead of narrow winding roads like the ones you find in medieval towns in France or Italy (or even other towns in Malta), Valletta is outlined in a grid, with long straight roads. Set on a hill, Valletta's location turns walking into a little workout every time you head up the hill from the water.
To outline how tiny Valletta is, walking from south to north won't take you long – the entire length of Republic Street is only 1 kilometer (0.62 miles). The width of the peninsula on which Valletta sits is even smaller, at only 600 meters (0.37 miles). You will find yourself huffing and puffing up the steep hills and stairs, but turning around and taking in the views of azure blue Mediterranean Sea makes it all worthwhile.
The ocher-colored houses that are typical for Malta and Gozo are prevalent here too, and look particularly beautiful in the golden hour just before sunset. Bathed in the warm light of the setting sun the buildings look almost golden, and it is a great time of day to head to the Upper Barakka Gardens to enjoy the views from there with a cup of coffee (there is a small café in the gardens). Across the bay, you can see the Three Cities – Senglea, Cospicua and Vittoriosa – and parts of the yacht harbor.
Walking down Merchant Street or Republic Street, you will pass the Co-Cathedral of St John, which one might almost decide to skip over, because of its unassuming facade.

Once you set foot inside though, be prepared to be wowed, since the inside is more elaborate than the outside would indicate. The cathedral was built by the Knights of St John in the 16th century and inside there are two large murals by Caravaggio, one of them being the largest painting he has ever produced. But all the murals in the cathedral are stunning, not only his, and the floors are covered with marble tombstones of the Knights.
The Co-Cathedral is open Monday to Friday from 9.30am to 4.30pm and from 9.30am to 12.30pm on Saturdays. Make sure to have your shoulders and knees covered and don't wear high heels (because they could damage the marble floors).
Another church gem is the St Paul's Shipwreck Church, which is equally as elaborate and also has some tombs in the floor and a gorgeous dome. The Grand Master's Palace, which houses Malta's parliament these days, is also an architectural masterpiece that is awash with marble, gilt, and with ornate coats-of-arms.
The Grand Master's Palace, which houses Malta's parliament these days, is another architectural masterpiece, looking bright and shiny after its recent renovation.
There are some museums in Valletta, such as the National Museum Of Fine Arts or the National Museum Of Archeology, but I'd recommend just wandering the streets, and enjoying a coffee in one the many cafes that offer street seating. Caffé Cordina is the most famous one, and if you decide to stop here make sure to peek inside as well, for the intricate interior of the nearly 200 year old café.
I loved exploring the city on early morning runs, when most of Valletta was still asleep, and I would enjoy the breeze from the ocean before the sun would get unbearably hot a couple of hours later. On my runs around the city walls, I'd always head down to the water to enjoy the smell of the water… and the incredible blue color.
If you are looking for an off-season getaway from northern Europe, I highly recommend Valletta. The summer tourist crowds would have disappeared, the climate is pleasant year-round, airfare and hotel rates are back at affordable off-season prices (check out AirMalta for special fare deals!), and the unbearable summer heat is gone. You'll have the city almost to yourself.
My favorite Valletta Restaurants

The Grassy Hopper
The Grassy Hopper is a tiny hole in the wall place right by the Grand Master's Palace, and even though it is tiny, it is a purely vegan place and the first place where I found some super healthy foods in Valletta – think Chia seeds, wheat grass, macca, spirulina or goji berries, all mixed into smoothies of which each sounded more mouthwatering than the next. The main dishes consist mainly of vegan burgers such as beet and bean or chickpea, but there are also some salads and other meatless dishes on the daily changing menu. In addition to the Valletta branch, there is a Grasshopper food truck down on the waterfront (Ta'Xbiex).
Address: #123 Old Theatre Street; open Monday to Fridays from 8am to 4pm and on Saturdays from 9am to 2pm
Caffé Cordina
The above-mentioned Caffé Cordina is a Valletta institution established in 1837, with a grand outside seating area that is great for people watching, and a beautiful inside area with intricately designed walls and ceilings. In addition to a wide selection of yummy Maltese pastries, you can try traditional Maltese dishes such as ricotta-stuffed ravioli or rabbit here.
Address: 244 Republic St, open Monday to Saturday from 8am to 7pm and from 8am to 3pm on Sundays
Cafe Jubilee
Café Jubilee is without a doubt the most charming café I came across in Malta. Decorated with old-fashioned pictures and memorabilia, walking through its doors feels like traveling back in time. The café has everything from hearty breakfasts to dinners, and proudly claims it makes some of the best pastizzi in Malta. It is also a good place for drinks in the evening.
Address: Konvoj Ta' Sta Marija; open daily from 8am to 1am
Badass Burger
A burger place might sound like nothing special, but once you look at the menu, you know that this place is. There is the Obama, the Daddy or the Rocky, and all of them are massive burgers with special toppings. Of course there is a veggie burger as well, and my salad with buffalo mozzarella and fresh parmigiano felt downright indulgent (especially for a burger place!), but what delighted me the most was the Banoffee Pie on the dessert menu! It was so good that I had to go back the next day and try the Banoffee milkshake. I think I would show up at Badass every day if I lived in Malta.
Address: Old Theatre Street
La Mère
La Mere offers a mix of Maltese, Indian, Mediterranean and Arabian cuisines, and lots of vegetarian options! If you are looking for a break from Maltese cuisine, you'll find classic Indian dishes (like Thali) here, Mediterranean salads, and Arab-influenced options.
Address: 174, Merchant Street
Where to stay in Valletta
I stayed at the Palazzo Prince D'Orange, a baroque palazzo that dates back to the 17th century and has been divided into three chic apartments (including a penthouse). Newly renovated, the apartments combine the historic style of the palazzo with modern appliances and the elegance of a noble residence.
The Palazzo always offers special packages, for example €350 for 3 nights for 2 persons, which is an excellent deal for the comfort and amenities the palazzo offers (like a two shared rooftop terraces, a dining area, a lounge, fully equipped kitchens in each apartment). The Palazzo is right in the heart of Valletta, and within a two-minute walk I was on Republic Street where you'll find tons of cafes and restaurants.