Last Updated on October 27, 2021
"Don't drive in Malta".
This is a warning I kept hearing whenever I mentioned I wanted to see some more of the island by renting a car for a day, so that I could explore the beaches that Malta is famous for, the little fishing villages, scenic cliffs and coastal views. A Malta road trip seemed like such a good idea, at least in my head.
I decided to ignore the well-meant advice and the stories about the horrible Maltese drivers and rented a car anyway. Having driven in Rome's mad traffic, in Mexico and in Argentina, I figured driving in Malta would be just fine. Driving on the left side of the road also can't scare me anymore after driving in Central London, so I was just silently praying all the crazy drivers would stay at home while I would be speeding cruising down the narrow country roads.
While Malta has a pretty good public transportation network, driving yourself is still better – you can stop whenever and wherever you want, even if it's just a quick photo stop, you don't have to rely on the bus schedule, and you can also visit places that aren't covered by the buses. I only paid €22 for a 24-hour rental, and you can add pick-up for an additional €10 (and drop-off for another €10). Even if you pay for pick-up, drop-off and the rental, I think this is an extremely affordable price, even more so if you share the costs with someone.
I had asked for the smallest car and this is what I got:
Isn't this the cutest car?!
I was happy when my friend Umei decided to join me on my Malta road trip. It didn't take us long to get to our first stop: Marsaxlokk, a traditional fishing village in the south of the island. I fell in love with it the minute we got out of the car – look at these colors: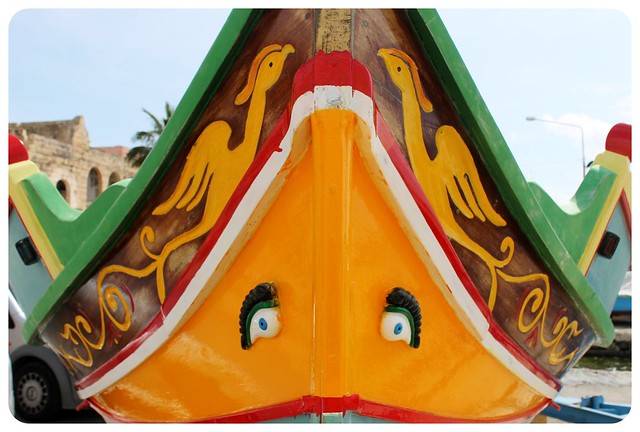 The bay was filled with little fishing boats, called luzzu, which are known for being painted in bright colors and always having a pair of eyes on the front – supposedly to protect them from bad luck and the dangers out at sea.
While the village seemed sleepy and laid-back when we visited it, Marsaxlokk is buzzing with people every Sunday, when a fish market takes place here. Fishermen arrive with their fresh catch in the port where dozens of stalls sell the seafood right on the spot.
Similar to the medieval city of Mdina, I had the feeling I was stepping back in time here.
It felt like not much had changed here in the last few decades – the village seemed to be exactly the way it was in a time before TVs, cell phones and the internet (if you blocked out the tourists who were sharing their experience with the world via Instagram and Facebook).
Stop number two on our Malta road trip were the Dingli Cliffs, to take in some of the island's spectacular coastline. The Dingli Cliffs are the highest point in Malta, at 253 meters (830feet), and you can usually look out over the Mediterranean for miles and miles. When we were there it was slightly foggy, but we still got a sense for how majestic the cliffs are, and loved the surrounding countryside that was filled with spring wildflowers.
If you want to discover more of this area, you can take a Segway tour that allows you to glide along the cliffs, while you learn more about the history and the nature of Dingli, and it includes stops at some of the landmarks around here, like the Magdalena Chapel, Palazzo Verdala and Palazzo Girgenti, and the Boschetto Gardens.
Here it is not uncommon to see horse-drawn carriages, old-fashioned traveling merchants and village people who still travel on foot.
Even though the cliffs were stunning, we also wanted to see some of the amazing beaches that we had heard so much about.
Malta is known to have some of the clearest waters in the Mediterranean, and when we finally reached Mellieha Bay, I wish it would've been warmer already so that I could've dipped more than just my toes into the crystal clear water…
When we got to Golden Bay, clouds had started to cover the blue skies, but I could still imagine how gorgeous this place must be on a sunny summer day.
We had reached the northernmost point on our road trip – which was nearly the northernmost point of the island! Malta is just so compact that you really can fit in most of the island in a daylong Malta road trip.
Before heading south again, we stopped at a roadside stall that wasn't much more than a table with a couple of boxes of strawberries on it – some of the biggest strawberries we'd ever seen! We couldn't resist and had to pick up a box. They were the perfect road trip snack.
We couldn't pass through Mosta, one of the bigger cities on the island, with a population of nearly 20,000 people, without stopping at the Mosta Dome (also known as the Rotunda of Mosta), which is not only the third-largest unsupported dome in the world, but is also home to the Miracle Of Mosta: In 1942, during World War II, a 200kg bomb was dropped by the German Luftwaffe over the church in which 500 people were hiding and did NOT detonate. Mosta Dome is impressive, but Mosta itself was also really pleasant.
On the way back to Valletta we passed through St Julian's just in time to see Spinola Bay lit up during the twilight hours. St Julian's is one of the most popular holiday spots on the island, with lots of hotels and restaurants, and we joined the wandering tourists for a stroll along the promenade where the gorgeous LOVE sculpture has become a popular place with lovers, who 'lock' up their love here.
If you are planning a visit to Malta, I highly recommend renting a car and seeing the island that way – at least for a day or two. Driving in Malta didn't feel scary at all, and is also doable if you've never driven on the left side of the road – just be extra vigilant.
Places you should include in your Malta road trip: Valletta, Mdina, Mellieha Bay, Marsaxlokk, the Dingli Cliffs and St Julian's.