Last Updated on June 26, 2023
Only a few short days until it's June, which means: Pride Season is upon us! I love Pride Festivals and have been to over a dozen different Prides all over the world, and I am now planning this year's Pride season. Which Pride Festivals should I visit? I'd love to hear your suggestions! Some of my favorite Prides I've been to were: Chicago, London, Toronto, Berlin, New York (obviously!), and Buenos Aires. But surprisingly, one of the most fun Prides I've been to was a small town Pride: Brighton Pride, where I most recently traveled to in 2015.
That's why I decided to seek out another small town Pride again and St Louis Pride caught my attention. St Louis, Missouri, might not be best known as a gay-friendly destination, but let me tell you: St Louis was voted one of Advocate magazine's top 10 lesbian, gay, bisexual and transgender (LGBT) friendly cities and is included in the book 50 Fabulous Gay-Friendly Places to Live! Apparently the city has one the largest populations of gays and lesbians in the country – who knew!

Gay and Lesbian St Louis
There are seven neighborhoods that queer travelers should check out in St Louis:
The Grove – this is the center of gay nightlife in St Louis and you find around a dozen gay and gay-friendly bars here, including St Louis most famous gay club, Just John.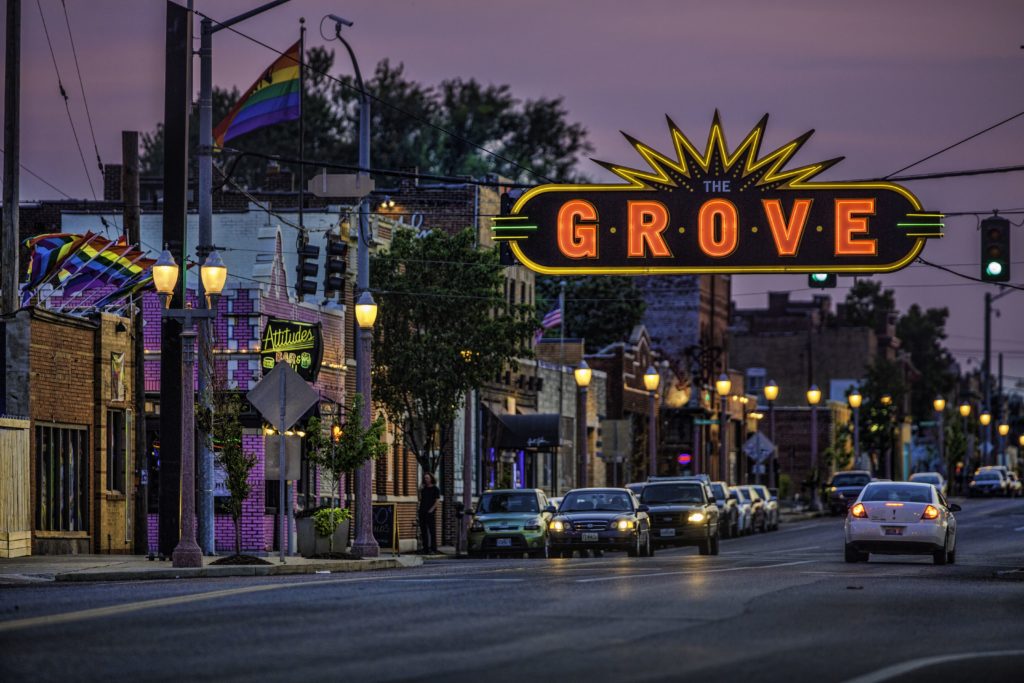 South Grand – An ethnically diverse neighborhood with many Thai, Vietnamese, Chinese, Japanese and Latin restaurants, Asian import centers and vintage clothing stores along Grand Boulevard, South Grand is home to LGBT favorites like the MoKaBe's coffee house, Brickyard Tavern and Cheap TRX for shopping.
The Loop – In this neighborhood, named after an old streetcar turnaround, you find 145 boutiques, stores and ethnic neighborhoods! You also find the St Louis Walk Of Fame here, which includes LGBTers Tennessee Williams and Josephine Baker and other famous people that called the Gateway City home.
Lafayette Square – This square surrounds Lafayette Park, and the remarkable French Second Empire homes around the square are said to be one of the largest collection of Victorian-era architecture in the U.S. There are several B&Bs here (including gay-owned Napoleon's Retreat) and a number of sophisticated restaurants, wine bars and even a craft liquor distillery.
Soulard & Cherokee Street – Just south of St Louis' famous arch, the Soulard neighborhood is famous for its Blues music scene. The historic Bastille bar is not to be missed!
CWE – CWE, or Central West End, is famous for its sidewalk cafes, tree-lined private streets, Chase Park Plaza, historic Forest Plaza and the stunning Basilica of Saint Louis. Club Viva and Sub Zero are LGBT St Louis hot spots here.
Clayton – In Clayton you find fine art galleries, plenty of great restaurants, boutique and upscale hotels.
Why visit St Louis for Pride?
St Louis Pride has been growing every year since the first PrideFest was held in 1981 – more participants, more festivities, but also more spectators, who travel to St Louis from all over the Midwest to celebrate St Louis Pride, to celebrate diversity and equality, to fight for gay rights and to bring awareness to issues in the LGBT community.
St Louis' Pride Fest is a fun-filled weekend in June (24-26 June) packed with events: The main parade starts on Sunday at noon, Jordin Sparks and LeAnn Rimes are among the many performers on the musical stages, there is a 2-day festival in Tower Grove Park, and you can even get married during Pride – wedding ceremonies will be held inside the City Hall Rotunda in downtown St. Louis, across the street from the 2016 festival, on Market and Tucker.
Win a trip to St Louis Pride!
***This giveaway is now closed.***
I've teamed up with Explore St Louis to give away a trip to St Louis Pride.
The prize includes:
2 nights hotel accommodation
2 Bud Light VIP Experience weekend passes to St Louis Pridefest
A $50 Visa gift card
Tickets to several attractions in St Louis
The Bud Light VIP Experience means you have access to a tent just steps away from the Main Stage and a front porch with perfect views of the stage. The VIP Experience offers open bars, complimentary food and a VIP swag bag. See for yourself how gay-friendly St Louis is!