Last Updated on July 7, 2022
Travel can be about discovering new place and meeting new people, but one of the most exciting aspects of travel is the food! Every time we cross a border, we look forward to sampling new street food, discovering new fruits or vegetables, or trying out a local specialty. As vegetarians traveling through Central America, there weren't many non-meat specialties, but we never had any trouble finding plenty of delicious food to eat! Sure, we had many, many plates of rice & beans and way too many eggs as we made our way from Mexico to Panama, but we managed to find a favorite dish in every country. Here is an introduction to vegetarian food in Central America, and some of our favorite dishes as we ate our way through this beautiful part of the Americas:
What's the food in Central America like?
When we arrived in Guatemala, we still missed Mexican street food (a lot!) and so we were happy when we found a street food stall in Antigua that sold flautas… but wait, here they were called tacos, and while they weren't as good as Mexican flautas, it was a tough call between the tacos and the tostadas for our Guatemalan street food.
It was in Guatemala where we started to have the typical breakfast consisting of black beans, eggs, rice and tortillas… a breakfast we would have dozens of times during the next few months (who's complaining!).
In El Salvador, we fell in love with pupusas. Thick corn tortillas are stuffed with cheese, refried beans or both (or meat) and served with a vinegar-cabbage salad and a hot salsa. We ate pupusas every day and had at least one at almost every meal. No matter if we had them at a street food stall, in a restaurant or a special pupuseria, they were always delicious (except for that one time on the bus in the 102 degree heat). Pupusas cost $0.20 to $0.40 a piece, making them a ridiculously cheap meal.
Honduran food did not impress Jess, but I went crazy for Baleadas, which are large thin flour tortillas filled with egg, refried beans, salsa and avocado – almost like a breakfast burrito, but folded instead of rolled.
Nicaragua had some of the best food of our trip so far, even though the dishes did not vary too much. We just loved the fresh fruits! We had a pineapple a day between the two of us, loads of watermelon, papaya (which even Jess, usually a papaya hater, thought tasted good) and zapote, a bright red fruit with a fuzzy brown outside similar to a kiwi. We loved the Nicaraguan beer and we devoured every single breakfast we had in Nicaragua, which remained the basic eggs, toast, rice and beans, but now instead of regular rice and beans, we were eating Gallo Pinto, which is rice & beans in a special sauce mix.
While we stayed in Leon, we went to the market every day and bought fresh fruits and vegetables.
The vegetarian lunch plates were usually big enough for the two of us to share:
The plate comes with eggs, yucca, fried plantain AND plantain chips, rice & beans, deep-fried cheese cubes AND fried cheese plus cabbage salad on the side. Not very healthy, but delicious – plus, remember all that fruit we were eating…right?
We also loved these waist-expanding tostones (flattened & fried green savory plantains) topped with fried cheese cubes.
Dinner meant usually more rice & beans, more plantains, and vegetables in a sauce of your choice.
The vegetarian sandwiches, stacked with vegetables and a chayote patty, and served with fried plantains AND plantain chips, were also very tasty.
We bought Bunuelos, little cheesy dough balls served with a watery honey syrup on the streets of Granada:
But seriously, the best food we had in Nicaragua were the amazing breakfasts:
Gallo Pinto with fried eggs and a SPICY sauce which will wake you up for sure!
Our love affair with Gallo Pinto didn't need to end in Nicaragua, as it is practically the national dish of neighboring Costa Rica, although the best vegetarian food in Costa Rica are the casados, big plates filled with rice, pasta, black beans, steamed or grilled vegetables and a salad. Sometimes they also have plantains or cheese, and they are always under $5 for a super filling dinner.
You can order a casado with pretty much any kind of meat, but for us the casados vegetarianos were perfect, and not once did they disappoint.
Costa Ricans get more creative with their cuisine in some of the nicer restaurants. We had a good splurge and ordered these fabulous yucca fries and cheese-filled yucca balls – totally worth it!
Panama does not cater to vegetarians the way the other Central American countries do, and while the food is very meaty, you also do not find a lot with tortillas. This means all the tortilla foods – tacos, flautas, baleadas, tostadas, are no longer available as street food. Of course veggies can still get heaping plates of potato salad, rice & beans and plantains for around $2 to $3, and fruit is easy to find and fill up on.
In Panama, we felt the proximity to South America in the cuisine, one example being that there were empanadas everywhere, and because of the excellent variety, it was here in Panama that we were finally able to choose from loads of veggie options – cheese, egg and potato and (this is genius) empanadas filled with Gallo Pinto (we gobbled those up too fast for photos, the one below is egg and potato):
Every Central American country (and Mexico) offers up incredibly delicious, freezing cold and surprisingly large licuados – fresh fruit juices, like smoothies, but prepared either with water or milk. You can usually get your licuado with any one tropical fruit or all mixed together. To die for!
Fruit made up a significant part of our diet, as the plastic bags or cups of fruit are faster, cheaper and healthier than any other 'fast food'. For less than $1 you get a big cup filled with pineapple, watermelon or papaya. We found this mouth-watering strawberry-banana mix, topped with cream, in Todos Santos, Guatemala, for 5 Quetzales, or $0.60.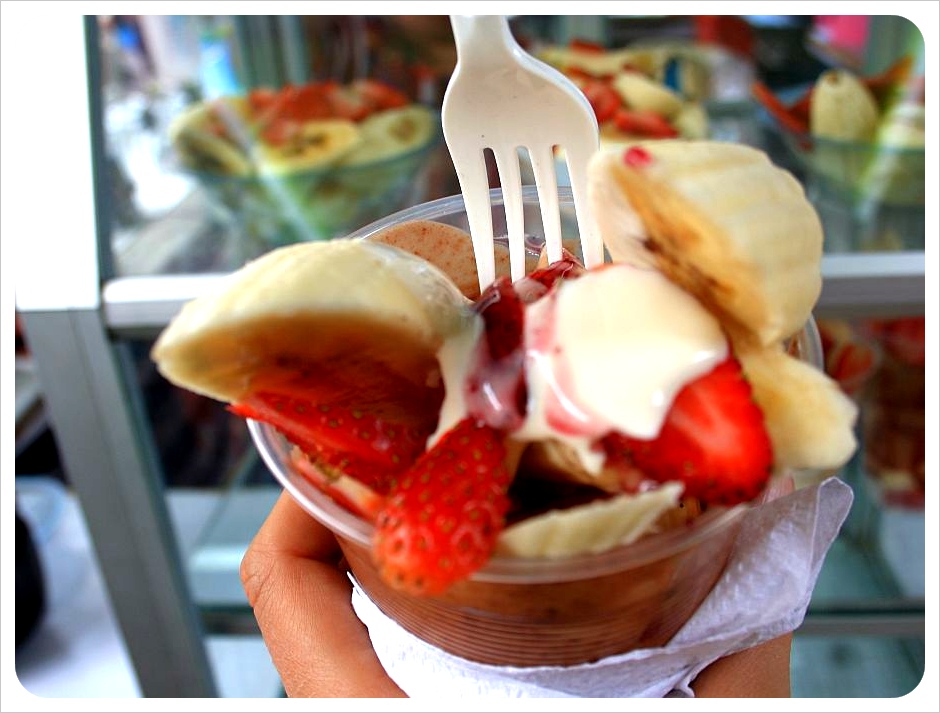 Are you as hungry as we are now?!
If you've traveled through the region, we'd love to know your favorite food in Central America! If you've traveled to South America, do you have any suggestions for us for when we finally get there?