Last Updated on November 28, 2023
There were only a few things I knew about Colombia before I decided to start my South America trip there this year: I knew about Colombian coffee, drug lord Pablo Escobar (I had just started watching Narcos before I hopped on a plane to Colombia), I had heard tales about some jungle trail to a 'lost city' (which I would later find myself on, sweating profoundly for four days straight), and I knew of Cartagena.
In my head, Cartagena was a picture-perfect port town filled with Spanish Colonial architecture, where sailors would arrive from their journeys around the Caribbean and beyond. They were spending their nights dancing in salsa bars with long-haired Colombian beauties while sipping ice cold mojitos.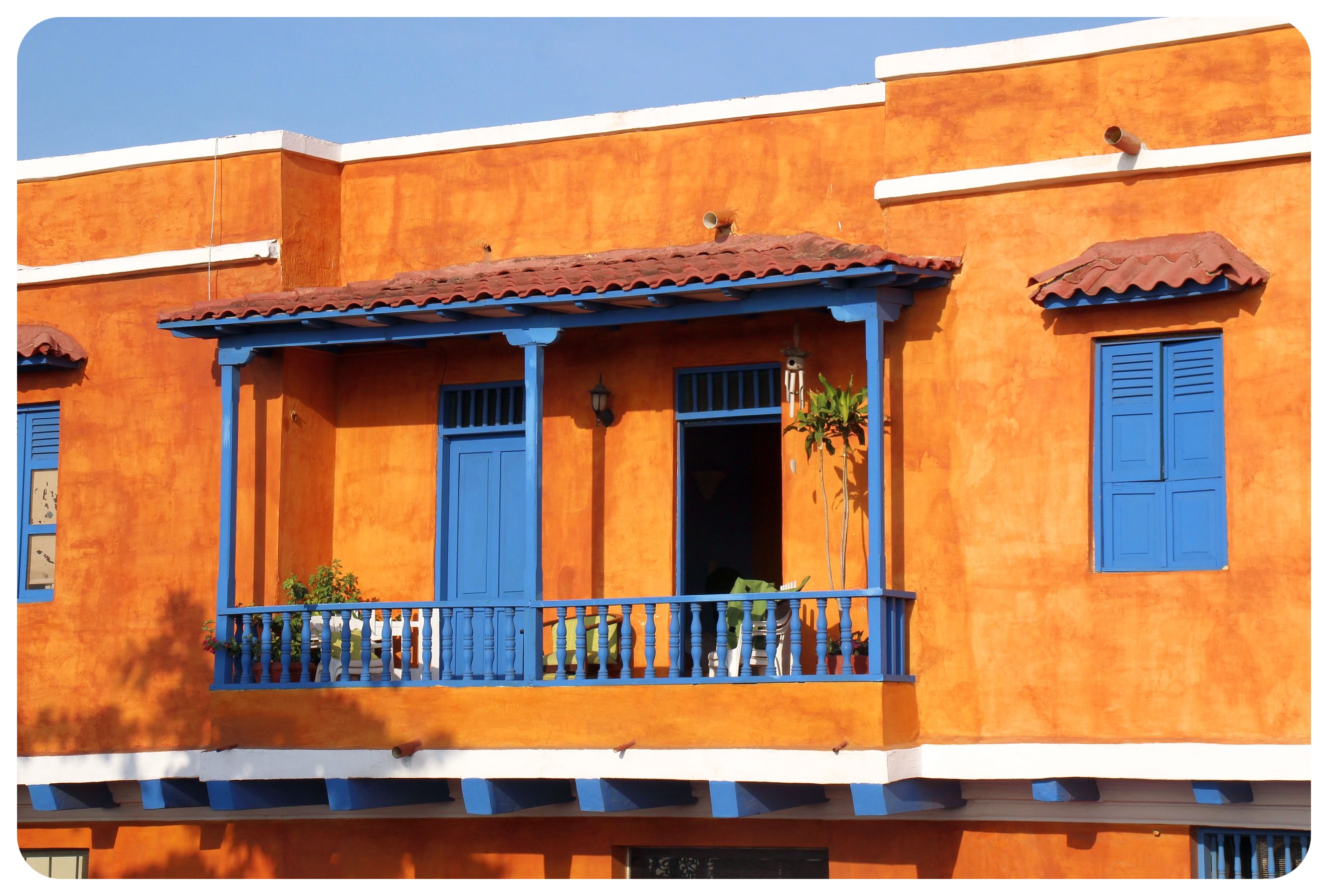 Cartagena – The Perfect Introduction To Colombia
When I arrived in Cartagena, it turned out that my romantic notions of Cartagena weren't even that far off. At the old-fashioned Cafe Havana (not a café, but a salsa bar), tanned, muscular North Americans (sailors?) were rubbing shoulders with Colombians, Argentinians and Chileans (I was surprised by how many visitors of those two nations I kept meeting throughout Colombia), and the Cuban live band was so electrifying that it was hard not to move your feet.
That's how I had always thought I'd arrive in Cartagena, on a catamaran from Panama, which is how almost all Latin America backpackers get from Central America to South America due to the almost impossible to cross Darien Gap. However, life had other plans for me, and while I made it all the way from Mexico to Panama on my first Latin America backpacking trip, I found myself on a plane to Europe instead of a catamaran to Colombia back in 2011.
Then somehow, it ended up taking me five more years to finally touch down in Colombia. While I didn't arrive by boat, Cartagena was still my very first stop in Colombia, and I couldn't have asked for a better introduction to this fascinating country, where even after two months of traversing it from the Caribbean to the coffee region and all the way down to the Amazon, I still felt like I only scratched the surface.
Hot and Sticky Cartagena
The first thing I noticed when I walked down the stairway, exiting the plane and setting foot on the hot tarmac: the stuffy, humid air. The relentless heat and the unique smell of the Caribbean reminded me of Central America.

As I was looking at dozens of colorful little houses from the window of the taxi that brought us from the airport to our Airbnb, I thought to myself: this could be Costa Rica. Or Nicaragua. Or Panama. The resemblance of Panama grew even stronger when we, after putting down our bags, made our way into town and into the inside of the centuries-old stone walls that still surround Cartagena's Old Town.
Once inside the Old City, we started wandering aimlessly and got lost in the maze of colorful streets almost instantly. Initially, I felt very much reminded of Panama City's old town, Casco Viejo, and overall, Cartagena and Panama City aren't that different: both sit right on the ocean, have a well-preserved historic Spanish Colonial section, but also a modern core with shiny new glass towers, condo high rises, and malls.
A Dreamy Spanish Colonial City
However, even though I found myself comparing Cartagena to Casco Viejo a lot in the beginning, I quickly realized that it had its own unique charisma. There are the fruit ladies in their brightly colored silk dresses for example, who come out every morning and set up their stalls in the Old City, charging you $3 instead of $1 for fresh fruit if you want to take their picture.

Then there are the well-preserved wooden balconies that are overflowing with Bougainvillea and other exotic flowers. And the echoing of the hooves of the horses that draw carriages with selfie-stick toting tourists through the narrow streets.
Cartagena itself doesn't have many tourist landmarks to offer, but for me the city itself was the main attraction: I didn't need museums or fancy sights. Every day I would meander through the streets, always finding new ones to explore with even prettier doors and balconies than the one before. I'd marvel at the intricate door handles – shaped like fish, lizards, dogs, hands, lions… (and photograph about fifty different ones!), count the shades of yellow I'd see on the houses, sit in the leafy plazas with an iced coffee in my hand, people watching and just taking in Colombian life.

I'd walk by the fruit vendors trying to decide which fruit I'd go for that day: Watermelon? Pineapple? Papaya? Or a Colombian fruit I've never tried before?
I loved my first few days in Cartagena so much that I ended up returning and instead of spending only a couple of more days there, extending my stay several times. 'Pues… Voy a quedarme otra noche', I would tell the receptionist every morning when I came down for breakfast, debating which coffee shop I'd make my office for a few hours.
Not having the pressure of ticking off a number of sights made my time in Cartagena so relaxing that I even found myself developing daily rituals, like a stop at the Abaco bookstore with its tiny cafe where I'd do some writing, a stop at the unassuming little San Alberto coffee shop where I found the best coffee in all of Cartagena, a quick affogato stop at some point during the day at Juan Valdez, Colombia's most popular coffee chain (aka their version of Starbucks), sampling some Colombian street food and of course the nightly sunset spectacle, usually enjoyed from Cafe Del Mar, perfectly located right on top of the city walls.
I'd wander different parts of the city walls, so thick that there's room for a broad pathway that runs along the top, which are the best preserved city walls in all of the Americas. You can actually walk the entire length of the wall (4 kilometers/2.5 miles), which reaches an impressive height of 26 feet (8 meters) and still has several baluartes (ramparts) and cannons which were used by the Spaniards to defend the city from attack.
The views from the walls are stunning, especially over the ocean, and make sure to watch the sunset from up here at least once. If you don't want to pay for overpriced drinks at Café Del Mar, get a cold $1 beer from one of the vendors that bring coolers filled with soda and beer cans up here every day.
Getsemani – a Street Art Lover's Dream
I usually extended my wanderings to Getsemani, the up-and-coming neighborhood just across from the Old Town and only separated by a small park (more on that in a minute). The architecture here is similar to the historic center, and yet it feels like a different place. Not every house is renovated yet, and on many the facades are crumbling. You can feel that this used to be a rougher part of town.
The main difference to the picture-perfect Old Town? There's street art everywhere. Most doors and walls are covered in murals, paintings, and meaningful messages, so it makes sense that this is the part of town where a free street art tour is offered.

This street art lover happily traipsed around the neighborhood one sweltering hot morning, following the young French tour guide who showed us the best murals and graffiti works, while telling us about the message of some of the political pieces and giving us more information on the artists. If you are into street art, I highly recommend taking this tour.
But also for non-street art enthusiasts, Getsemani is well worth a visit with plenty of lovely cafes and some of the best-rated restaurants in Cartagena. It is poorer than Cartagena's historic center, and you can feel that tourists only started coming here recently.
Most restaurants are new, and there are a number of boutique hotels in the freshly renovated buildings that aren't more than a couple of years old.
One of my most memorable evenings in Cartagena was having drinks on a tiny balcony at Bar Solar – the balcony just big enough to fit two chairs and a tiny table – overlooking Plaza de la Trinidad, the main square of the neighborhood. This little square facing a Spanish-colonial church is usually filled with old men gossiping and little boys kicking a football.
A Sloth in the City Center!
And the little park I mentioned before that separates the Old City from Getsemani – Parque del Centenario? If you are a wildlife lover, you can't miss it. When we returned from Tayrona National Park where we barely saw any wildlife, we stumbled upon the friendliest sloth I've ever met, and then made the park an essential daily stop afterwards, hoping we'd see this little guy again.

We weren't lucky enough to have another encounter with Mr Sloth, but on subsequent stops in the park we saw monkeys, red squirrels and giant iguanas.
Bocagrande – High-rises and City Beaches
A couple of times, I ventured outside of Getsemani and the Old Town to Bocagrande, the modern part of town where you find most of the luxury high-rises, fancy hotels and most importantly: Cartagena's city beaches. I have to admit that I didn't think these beaches were all that great, especially after visiting the beautiful Playa Blanca – which translates to White Beach (and which is aptly named for what it is!), but I loved the sunsets there, when lots of kitesurfers are out in the water, entertaining the crowds on the beach.
If you are going for the best sunset views I suggest you walk all the way to the end of the Bocagrande peninsula, near the Hilton Hotel. There are also a couple of little restaurants where you can enjoy some seafood and cold drinks (Bar La Sirena, Brisas del Caribe and El Muelle).
Getting Out of Town
If you have enough time, get out of town. Cartagena is hot and humid year round, and the days I escaped the oppressive heat were welcomed opportunities to not be soaked in sweat within an hour of walking around.
The trip to Playa Blanca I mentioned above, 45 minutes west of Cartagena, was our first attempt to get to a beach outside of Cartagena. I had seen photos of it, and the turquoise water and powdery white sand was all it took to make me book a trip to the beach – it looked so much more appealing than Cartagena's city beaches.
Sadly, we happened to pick a day that was particularly stormy – stormy enough to cause a boat to flip over in a wave as it approached the beach – and the water got up much higher on the sand than it usually does.
It was still a nice day, but I was glad we had decided to go only for a day trip instead of an overnight trip, because the wooden ramshackle thatched roof huts on the beach didn't look particularly inviting to stay in (a girl who had spent the night in one of them told me later that it was as hot as a sauna and that the mosquitoes were nearly unbearable).
The other day trip from Cartagena I took was to take a bath in a mud volcano, which turned out to be a pretty.. um, interesting, trip. I detailed the experience this article: Six Things Nobody Tells You About Colombia's Totumo Mud Volcano.
Looking back at my entire trip, I have to say that Cartagena was not only the perfect introduction to Colombia, but it also ended up being my favorite city in the country.
Cartagena Travel Guide

How to get to Cartagena

By plane: There are direct flights from four US cities (NYC, Miami, Fort Lauderdale, Atlanta), and daily flights (indirect) from all major US cities. If you're arriving from within Colombia and speak some Spanish, check out TiquetesBaratos.com – it's a Spanish website with the best deals on airfares – I used it for every flight I booked in Colombia. Alternatively, use GoogleFlights or check the flights directly on VivaColombia and Avianca.
By bus: I've found bus travel in Colombia to be safe and comfortable. RapidoOchoa goes all the way to Medellin (12 hours), but check airfares before booking a bus ticket – advance ticket offers make flying often cheaper than bus travel.
By boat: The catamarans and boats sailing between Panama and Colombia were completely unregulated for years. However, recently there has been an effort to make the crossing more regulated, and the boats listed on BlueSailing.net have to meet certain standards and safety regulations. The price for the five day trip typically ranges between US$660 and US$780.
Where to stay in Cartagena

I'd recommend staying in Getsemani or in the Old Town. The first time I visited Cartagena we stayed outside of the Old Town and we always had to catch a cab to get in and out of town which was time consuming and, frankly, annoying.
I checked out several of the popular hostels but didn't love any (Mamallena, Media Luna – too loud, too cramped) but I liked Hostal 1811 right in between Getsemani and the Old City. I stayed at Centro Hotel in the Old City, which couldn't have been located more perfectly! It is housed in a restored Spanish Colonial building and right in the middle of the action. I saw some great deals for less than US$50 on Booking.com for hotels like the Ibis right by the ocean, but there's barely anything in that part of town and it's too far to walk into the Old City.
Not to miss in Cartagena:

This is in no way meant to be a complete Cartagena travel guide, but I wanted to share some of my favorite things I did / ate / drank in Cartagena:
The Cartagena Street Art Tour I took is a must for street art fans! It leaves daily at 10am at Plaza De Trinidad.
The amazing popsicles and ice creams at La Paleteria (local 2, Calle 35 #03-86). Flavors include all sorts of exotic Colombian fruits, and if you want to be decadent, you can get it dunked in chocolate. Heavenly!
Coffee snobs will love San Alberto (Calle de Los Santos de Piedra Cra. 4 #34-1 a 34-91
For breakfast: El Gato Negro (Carrera 10 San Andres #30-39) and Caffe Lunatico (Calle Espíritu Santo #29-184)

And no matter what place you're in: make sure to order a coconut lemonade. You'll thank me later.
For vegetarian food: Los Girasoles (at the corner of Carrera 9 and Calle 37) has a super cheap set lunch menu (COP8,000)
La Mulata (Calle 37 between Carrera 9 and 10) is the best restaurant to try local Colombian food with a Caribbean twist. Their set lunch menu changes daily and is inexpensive (including a vegetarian option).
Day trips from Cartagena

I booked both my day trips through the Mamallena Hostel. The Mud Volcano was COP45,000 (US$15), and the trip to Playa Blanca was COP50,000 (US$17). Note: You can get to Playa Blanca, which is located on Isla Baru, by shuttle bus or by boat. There are half day and full day tours. I opted for the more comfortable bus ride, which takes about 45 minutes. If you opt for a boat tour, they usually include various stops and snorkeling – you can book them right at the boat pier, Muelle Turistico de la Bodeguita, just outside of the Old City (near the Clock Tower).