Last Updated on January 6, 2023
Waterfalls make up some of the most visited and best known natural tourist attractions around the world. Stunningly beautiful, it's little wonder that people travel from far and wide to enjoy the breathtaking natural attractions that are world renowned for their magnificence. Selecting biggest waterfalls in the world is not actually a set list that you'll find identical across your research—largest and biggest are subjective. Do you mean the largest waterfall in terms of height? Or perhaps the waterfall with the biggest volume is more impressive? Depending on how you interpret these terms changes the answer!
The biggest (largest) waterfalls in the world
While there are many amazing waterfalls around the globe, these are five of the world's biggest and best waterfalls that stand-out from the rest in terms of not only height and volume, but also factoring in sheer beauty. They're the largest waterfalls in the world that also happen to be worth a visit!
Niagara Falls (USA and Canada, North America)
Height: 51 meters / 167 feet
Situated in Ontario, Canada and New York, USA, Niagara Falls is undoubtedly the world's most famous waterfall. At 51 meters in height, it is certainly not the largest waterfall in terms of height. However, this magnificent waterfall has an impressive average flow rate of 1,834 cubic meters per second.
Connecting Lake Erie and Lake Ontario, this three-part waterfall attracts around 12 million visitors every year. Niagara Falls can be enjoyed by boat, helicopter or on foot.
Angel Falls (Venezuela, South America)
Height: 979 meters / 3,212 feet
Located in Venezuela's Canaima National Park, Angel Falls, otherwise known as Kerepakupai Merú, is the world's tallest and some would argue most beautiful waterfall at 979 meters. Around one million people are thought to visit the waterfall each year.
The best ways to explore Angel Falls, which ought not to be confused with the three North American waterfalls of the same name, are from the top or at the very bottom. However this UNESCO World Heritage Site is enjoyed, it is guaranteed to impress. A truly outstanding natural spectacle.
Iguazu Falls (Argentina and Brazil, South America)
Height: 82 meters / 269 feet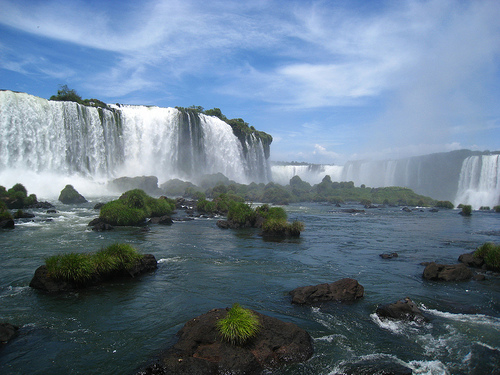 At 82 meters, Iguazu Falls is much shorter than many of the world's biggest waterfalls by height, but what it lacks in height it makes up for in volume, especially during the rainy season, when the Rio Iguazu can swell up to eight times its usual size. Forming a natural boundary between Argentina and Brazil, Iguazu Falls has an average flow rate of 1,756 cubic meters per second, which is almost the same as Niagara Falls. Hundreds of thousands of tourists visit Iguazu Falls every year.
Victoria Falls (Zimbabwe, Africa)
Height: 108 meters / 354 feet
Known among locals as "Mosi-oa-Tunya", this stunning African waterfall is neither the tallest nor most voluminous waterfall in the world, but aside from being among the most spectacular, it is widely regarded as the largest.
Measuring 1,708 meters across and boasting an average flow rate of 1,088 cubic meters per second, Victoria Falls is so vast and impressive that rainbows often form in its spray. Comprising four main channels (Devil's Cataract, Main Falls, Rainbow Falls, and Eastern Cataract) and flowing into the Zambezi River, Victoria Falls is visited by approximately 2.5 million tourists every year. Many people head to Zimbabwe for safari holidays but if you are planning a trip to the country, be sure to include Victoria Falls on your holiday itinerary!
Because of its exceptional geological and geomorphological features, Victoria Falls was declared a UNESCO World Heritage Site in 1989.
Olo'upena Falls (Hawaii, USA)
Height: 900 meters / 2,953 feet
Situated on the gorgeous Hawaiian island of Molokai, Olo'upena Falls (sometimes referred to as Oloupena Falls) is the fourth highest waterfall in the world behind Angel Falls, Tugela Falls (South Africa) and Cataratas las Tres Hermanas (Peru). At 900 meters, Olo'upena Falls certainly provides some stunning views of the surrounding cliffs and ocean.
Olo'upena Falls does not attract the same number of visitors as Niagara Falls or Victoria Falls, but it is almost as impressive in size and beauty. The waterfall does not boast an especially high flow rate or water density, but its relatively gentle trickle can be enjoyed by land, sea or air (helicopter).