Last Updated on May 15, 2023
We love street and urban art. We love its raw grit, city themes, fleeting nature and the sport of spotting new works by street art all-stars. So no matter where we travel, tracking down street art is always part of our itinerary. Depending on the city, we may join an organized street art tour, or we may just wander the streets seeing what we find on our own. We knew that San Francisco would not disappoint in terms of street art – apparently, there are over 1,000 murals in San Francisco!
Street Art in San Francisco
We had three mural & street art related things on our itinerary:
Find a Banksy in San Francisco
See the Murals in the Mission District
Check out Diego Rivera's Traditional Murals
Read on to find out how we did with our quests, where to find the best murals, and the best ways to see street art in San Francisco.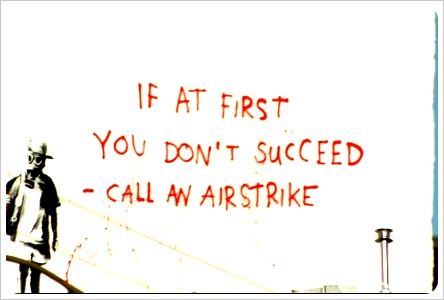 Banksy in San Francisco
Living in London for nearly four years, spotting a Banksy was often possible and very exciting, before some art-hostile council would paint over it. We caught Banksy's CCTV piece the morning he painted it, and his trademark rat right on the Shepherds Bush round-a-bout also the day of.
So imagine our happiness when we saw three Banksy's in San Francisco!

Apparently, Mr Banksy was in town around in late April 2010 and six new pieces were counted throughout town (coincidentally timed with the U.S. release of his film 'Exit through the Gift Shop').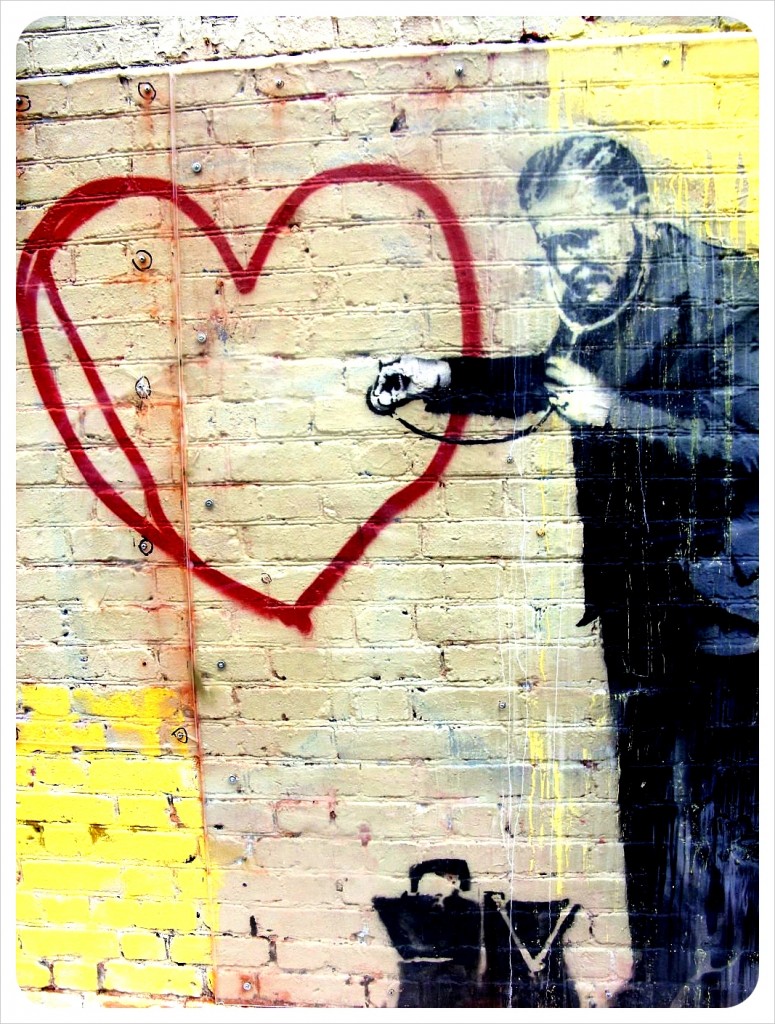 The Mission District Murals
Street art in San Francisco stretches far beyond Banksy though: The Mission District is not only known for its innumerable Mexican and Latin American restaurants but also for the murals that are spread all over the district.
The Mission District was known for many decades as a large Central American immigrant enclave, definitely not the nicest neighborhood in San Francisco, and definitely not the prettiest. But as it the typical gentrification tale goes, it was discovered by artists because of the cheap rent there, they started moving into the Mission District in large numbers, they started to paint the walls of houses in decay. Suddenly, the formerly impoverished neighborhood was cool, people started to flock there to see the art, and it didn't take long for trendy coffee shops, boutiques and swanky bars to open their doors in the Mission District.
Yes – the neighborhood is gentrified now and not what it used to be, but it's worth a visit anyway, especially if you love art, because there are still murals galore in the Mission District.
Tip: To see some of the best art, start on 24th Street and don't forget to peek in the side streets – Balmy Alley for example, which is even marked on GoogleMaps as a "tourist attraction" these days. Other alleyways with striking mural art are Osage Alley, Lilac Street, Lucky Street and Cypress Street).
I recommend starting on the eastern end of 24th Street – make your way west toward Mission Street. Walk north on Mission and stop at Taqueria Cancun – one of the best places to eat at in San Francisco! From there, make your way to the Women's Building (on 18th Street between Linda Street and Lapidge Street) – the entire building is a piece of art: the MaestraPeace mural. It is one of the most famous murals in the entire city, painted by seven female artists in 1994, celebrating famous women who changed the world.
Just a short walk from the Women's Building is Clarion Alley (between Valencia Street and Mission Street), another alley filled with art.
Many of the original murals in the area were initiated in the 1970s by the Latin American community and inspired by the Mexican mural movement of the 1930s. To date, there are more than 600 murals and graffiti in the Mission District.
How to see street art in San Francisco
There are a couple of ways to see street art in San Francisco:
Street Art Tours
Self-guided street art walks
Tip: If you don't want to join an organized tour or don't have the time for it, I recommend focusing on the Mission District, where you'll find the highest concentration of murals and other pieces.
The Diego Rivera Murals
If you love street art and murals, chances are that you will also enjoy the classic frescoes by that Mexican muralist Diego Rivera painted. He spent some time in San Francisco in the 1930s and painted three fantastic murals during that time:
Pan American Unity – at the City College. It can be viewed from 10 a.m. to 4 p.m. Monday through Saturday.
The Allegory of California – unmissable in the grand stairwell in The City Club. Tours are offered on the 1st and 3rd Monday of each month.
The Making of a Fresco Showing the Building of a City – at the San Francisco Art Institute, open every day between 9 a.m. and 7 p.m.