Last Updated on July 7, 2022
Please don't go to Todos Santos… not because I'd like to keep this town for myself. I'd like to keep the town for the people who live there. The Mayan village of Todos Santos Cuchumatan is well hidden in the Northern Highlands of Guatemala, and if it weren't for the town's famous Dia de Todos Santos (All Saints Day) horse race, word about the village may never have spread at all.
Although Todos Santos sits a mere 40 kilometers from the major transport hub of Huehuetenango, it is not a place you would happen to pass through. Those 40 kilometers turn into a three-hour trip winding over and through the 3500m Cuchumatanes mountain pass (the country's highest), a racing trip through high altitude flatland, and an hour descent on a gravel dirt road with plunging cliffs below.
Coming from touristy places like Antigua or
Lake Atitlan
or San Cristobal de las Casas in Mexico, arriving in Todos Santos can be a shock, and equally surprised Mayan faces stare back at you. There are no advertisements, no guys with a clipboard working on commission to get you into certain hotels, and definitely no organized tours of any kind. Asking for a hotel is fine, but make sure to do it in Spanish. The locals speak the Mayan language Mam and Spanish is their second language, too, so no English here.
There are actually quite a few hotels for such an off the beaten path destination, though most seem to exist almost exclusively for the famous Todos Santos Fiesta on 1 November, a spectacle that draws people from near and far.
The Fiesta is actually
a drunken horse race
during which the men in village race between two points, binge-drinking at each turn, all day long. The goal is to stay on the horse all day, and the winner – if you can call it that – is the one who stays on the longest.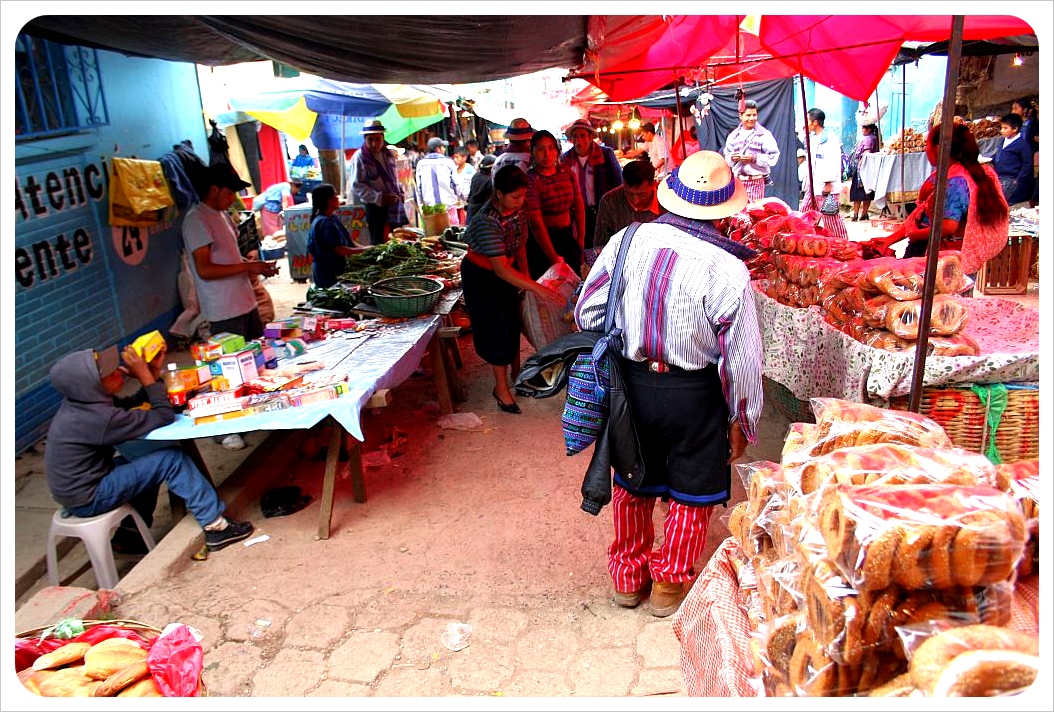 .
While seeing the men's colorful indigenous outfits fly in the wind while they race sounds like fun, several injuries, some deadly, occur each year, and at the end of the race the streets are lined with men so drunk they can no longer stand. The horses must also be scared out their mind. Even so, hundreds of tourists, both Guatemalan and international, flood the town to take part in the debauchery each year.
Should your visit not coincide with the fiesta, there is honestly not much to do in a remote village that caters in no way to tourists. The town itself is not as pretty as Antigua or other Guatemalan towns, and the mountains, while incredibly high, are not as remarkable as others like around Lanquin and Semuc Champey.
A visit to Todos Santos is about absorbing authentic village life. Todos Santos is one of the very few places left in Guatemala where both the men and women wear their full indigenous clothing. The men wear red and white striped pants (with an extra black pair of 'shorts' over the pants to indicate they are married), blue button-down shirts, and straw hats with blue ribbons. Marimba music fills the streets on market days, and people young and old congregate in central park and along the streets. The lack of tourism in the village means you can sit, uninterrupted and people-watch, without street vendors trying to sell you scarves, hackey sacks, bookmarks, and tablecloths 'for your mother, for Chriiiismaaaas'.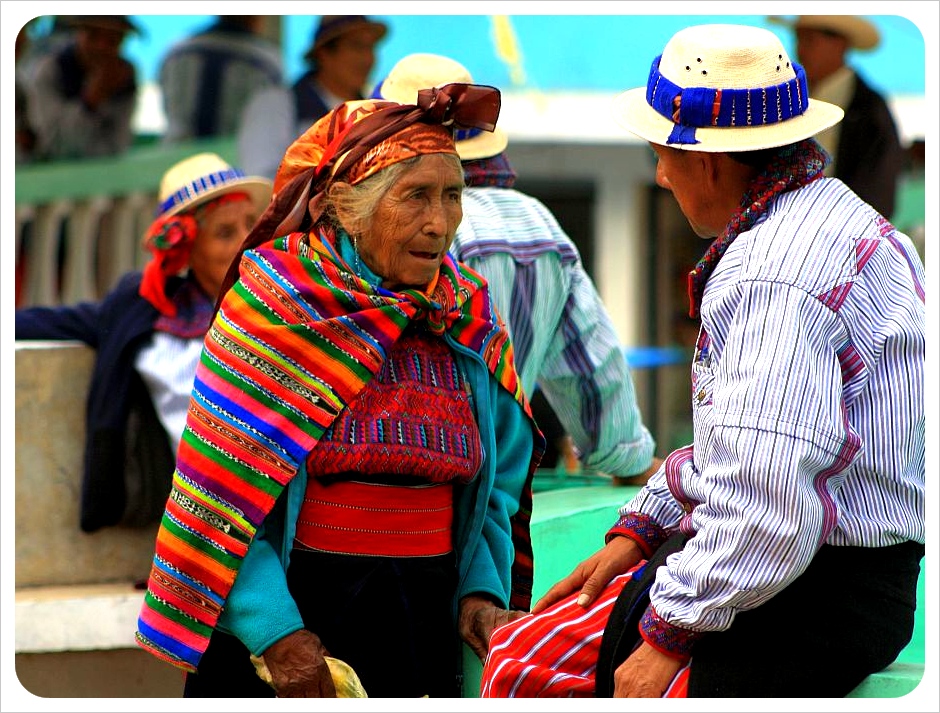 The rhythm of daily life in Todos Santos is much like it must have been centuries before. There are no American fast food chains, malls or multiplex cinemas. Also absent are the foreigner-friendly cafés with movie nights, and forget about finding a curry or a sub sandwich. Instead, men work the fields, boys and girls carry firewood, pigs line up in backyards and chickens and turkeys race through the little alleys while women weave in front of their wooden houses with the colorful painted doors, or do laundry in the pila (stone basins where washing is traditionally done by hand).
When you do get hungry, there are a few 'comedores' in houses on the main roads. They are almost always empty, and though it might feel like trespassing to walk in to someone's house, as long as there is a sign out front, go right on in. A nice Mayan lady will greet you and ask you what you want. There are no menus, just rice, beans, tortillas and whatever meat is on the stove.
Think you'd rather go to the store to pick something up? No supermarkets here. There are several 'tiendas', little shops that sell drinks, chips, cookies and basic grocery items. Otherwise, everything else is bought at the weekly market. Luckily the prices have all remained local, so there is little need to hit the ATM for some cash, especially since there are no ATMs in town.
As hidden away as this mountain village is, however, the 21st century has managed to weave itself into the local fabric. There are two small internet cafes in town (Wi-fi? Fugeddaboutit!) Teenage boys wear Megadeath T-shirts under their traditional clothes and crowd around hi-tech video games set up during the annual fun fair, throwing their Quetzeles into car-racing or shoot-em-up games just as teenage boys do in arcades all over the world. Eminem CDs flood market stalls, and his music competes with traditional Marima blaring out through loud speakers. (Eminem is huge in Todos Santos). Cheetos bags and Coca Cola bottles litter the ground and cell phone reception towers mar the verdant mountain landscape.
Should you not follow our advice and go to Todos Santos, make sure to spend at least a few days there. Stroll around town long enough and the locals will talk your ear off. Learn about their families, their daily lives, and their
Maya culture
. Unlike other places in Guatemala that require security guards for safety against thieves, you are free to roam and hike through the mountains surrounding Todos Santos, since no one is hiding in wait to rob gringos here.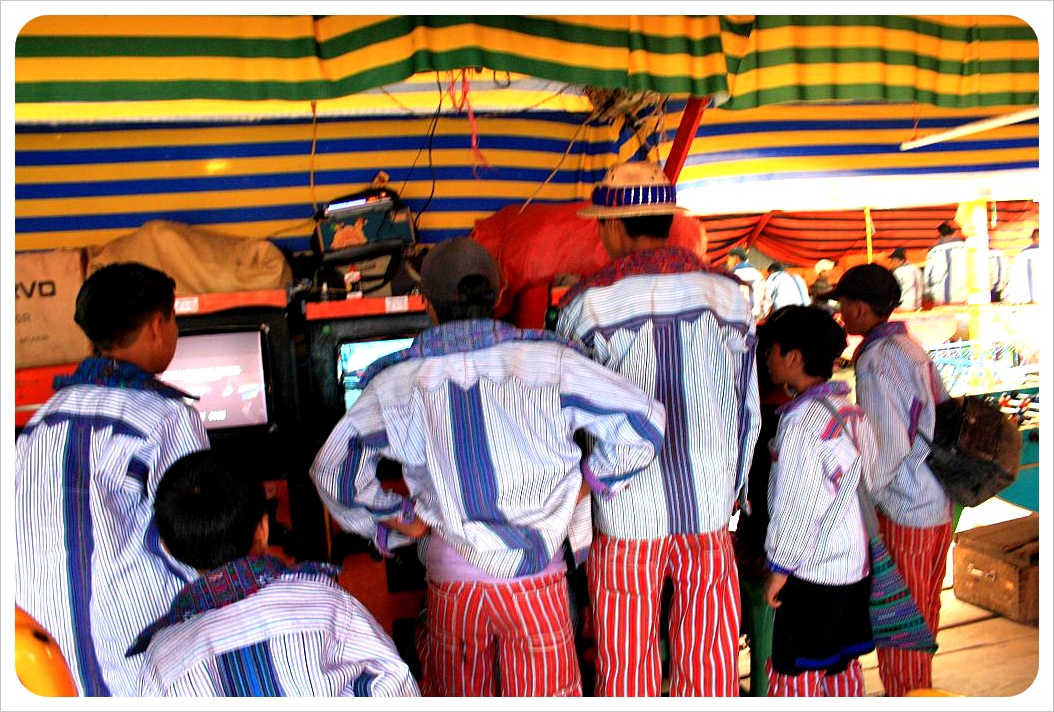 .
Visit the villages and catch glimpses of a lifestyle that have otherwise been replaced by the hustle, the 9-5, and pandering to tourists. Spend time in the main plaza with
families
eating ice-cream, ancianos (elderly people) chatting the day away, and the Mayan teenagers stealing flirtatious glances at each other. Eat homemade fare in a comedor and listen to the sounds of the Mam language. Take it all in, for who knows how long it will last.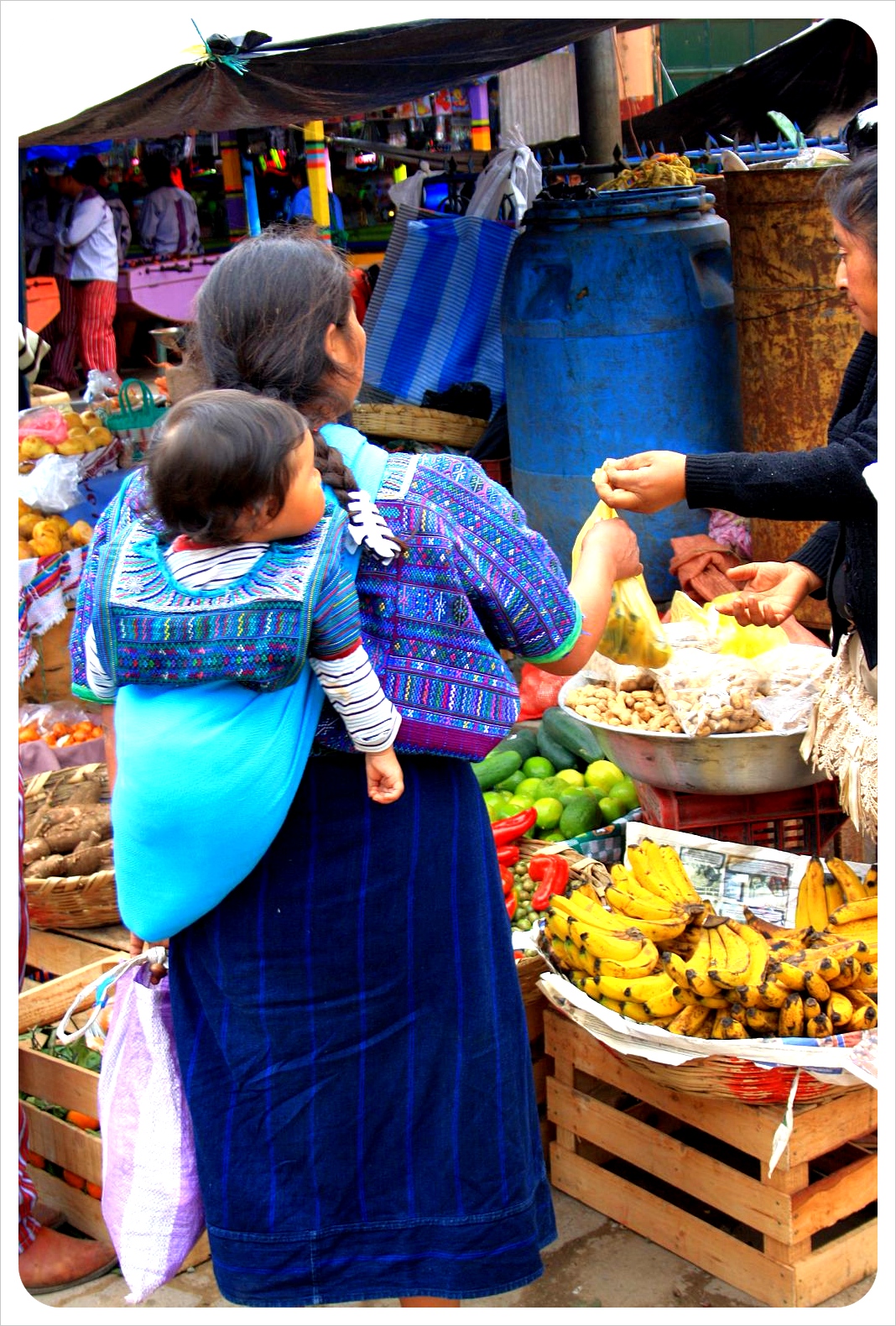 Our arrival on that seemingly never-ending bumpy chicken bus ride to Todos Santos made us pray for a paved road. On our way out, however, seeing Todos Santos getting smaller and smaller and finally fading away in the distance, we could only hope the road should never be paved. We hope that the people could just continue their life the way it is, not letting 21st century innovation erase their traditions, and hordes of tour groups never descend on Todos Santos as they do in Chichi and Pana. That's why we ask you, please don't go to Todos Santos (which you really should) – and if you do go, please do so quietly and keep it to yourself…
How to visit Todos Santos Cuchumatan
How to get to Todos Santos
There are direct buses from Huehuetenango, but they leave very early in the morning (between 4am and 5am). There may be more direct buses around midday – ask at the bus station in Huetenango.
If there aren't any direct buses, take a bus to Tres Cayos and then change onto a bus to Todos Santos there.
Where to stay in Todos Santos
There are only a few hotels, but unless you are planning to visit for the annual horse race on 1 November, there's no need to book a room in advance. Just walk around, check out a few hotels, compare prices, see which one you like best.
Stay with a local family
If you feel safer booking your accommodation in advance, guesthouse Checruz can be
booked online via Booking.com
. It is run by a local family who will take good care of you. If you like hiking, they can also show you some of the best hiking trails in the area.