Last Updated on November 20, 2022
Lake Atitlán has been described as the most beautiful lake in the world, considered a dangerous beauty one could lose themselves in. No matter which of the villages surrounding Lake Atitlan you visit, the views are stunning – the sprawling lake, green mountains and the looming giant of the San Pedro Volcano. Seated on a kayak in the middle of the lake, you can even see the famously ever-erupting Volcán de Fuego, also visible from equally far away Antigua. But is there one village that stands out? Which are the best villages around Lake Atitlan?
"Lake Como, it seems to me, touches on the limit of permissibly picturesque, but (Lake) Atitlán is Como with additional embellishments of several immense volcanoes. It really is too much of a good thing." Aldous Huxley on Guatemala's Lake Atitlán
I spent a whole month at Lake Atitlán, and explored several lakeside villages during that time. I found it surprising just how different all the communities are! Lake Atitlán is mandatory on any Guatemala itinerary, but for those who are short on time or just want to find where you might 'fit', read on for a breakdown of the towns surrounding the lake, to help you decide where to stay on Lake Atitlan.
The seven best villages at Lake Atitlan
Panajachel – Buy souvenirs and eat Gringo food
Panajachel is easily accessible from Antigua or Guatemala City, most buses and shuttles end up here and all the boats to Lake Atitlán's surrounding villages leave from Pana's docks. As a result, Pana receives loads of tourists of all kinds – Guatemalan day-trippers, package tour groups and backpackers all pass through here. The original village is located up on the hill, whereas the main street towards the docks, Calle Santander, seems to be constructed exclusively for tourists. One market stall lines up next to another, and there are plenty of restaurants and hotels, including an all-inclusive resort right by the lake. This is where to stay at Lake Atitlan if you don't want to take a boat across the lake.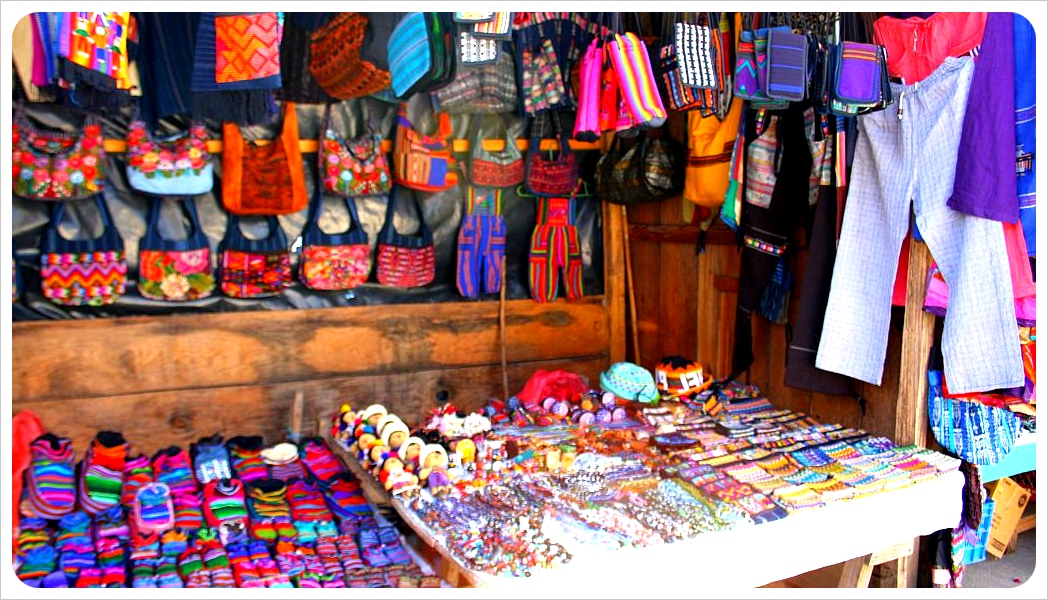 For a more authentic experience, stay somewhere in the 'old' town center (further away from the lake), where there is a daily market. If you are not staying there, make the hike up there to visit the local market and to get a glimpse of everyday Mayan life. The Saturday artisan market, spreading from the top of Calle Santander down to the docks, brings bus loads of tour groups through Pana on weekends. Rumor has it that Guatemala souvenirs here in Pana are the cheapest in the country.
You can eat international food, rent kayaks, hike to the nearby village of Santa Catarina Palopo or visit the famous Sunday market in Solola – located on top of the mountain and the spot for breathtaking vistas.
Where to eat in Panajachel:
Delhi 6 (vegetarian options), any of the restaurants right by the lake for cheap breakfast and stunning views
80's Coffee right next to the Selina Hotel has great coffee and crepes, plus free wi-fi
The Little Spoon on Calle Santander has a nice terrace, wifi and healthy options (a great Burrito Bowl)
Tuscani for Italian food
Las Chinitas has healthy food in a lush green setting
Head to Taquero Mucho to get your Mexican food fix
Where to stay in Panajachel:
San Pedro – Chill out, learn Spanish and eat gringo food
A 45-minute trip across the lake brings you to San Pedro. All the ingredients for a super chill out spot come together in San Pedro. There is international food galore (relatively cheap and mouth-watering), bars readily serve up cheap booze during long happy hours, there are plenty of places for a cheap massage, hot pools and spas to relax, and no one looks down their nose at those who wish to hang out in a hammock all day long. San Pedro is the most popular among the villages for backpackers, and the best village at Lake Atitlan to learn Spanish and spend a few weeks.
There is enough to do for the more active backpackers – climb Volcano San Pedro, go on a horseback ride, kayak around the lake, learn Spanish at one of the highly recommended Spanish schools, spend an afternoon in the gorgeous town center (pictured below) or hike to the neighboring village San Juan. San Pedro is a great place if you want to get some work done, too. The large semi-permanent foreigner population has ensured that San Pedro has the best wi-fi at the lake – at hostels, bars and restaurants everywhere.
Where to eat in San Pedro La Laguna:
Sabij Pita (Israeli food, vegan and vegetarian friendly)
The Fifth Dimension (100% vegetarian, plus vegan options)
Sababa Restaurant (international and Guatemalan dishes and fantastic views over the lake)
Italian Bakery aka Idea Connection (for your carb fix and good breakfast and fast wifi)

Tornado's Coffee (enjoy the best coffee in San Pedro in a hummingbird-filled backyard, with great wifi)
Casa Blanca has the best sabich sandwich (well, it's actually a tie with Sabij Pita)
Restaurante Da Alfredo has delicious pasta dishes
Where to stay in San Pedro La Laguna:
San Marcos – Meditate, do yoga, eat gringo food
The village of San Marcos, located on the northern shore of the lake, is a place to meditate, refresh your energy and, if you know how, cleanse your aura. The local Mayan inhabitants live high up in the village, separated from the hippies foreigners, who stay in the hotels around the dock.
Should a friendly looking foreigner not respond to your attempt at conversation, do not think them rude. They are currently taking part in their 'silent week', part of the program over at Piramides del Ka meditation centre reportedly the best of many such medi-yoga spots. San Marcos is the best village at Lake Atitlan for those who seek meditation, yoga, or a silent retreat.
For those whose auras need no cleansing, hike up to the Indian's Nose mountain summit for unparalleled views over the lake, sunbathe at 'the rocks' or have a picnic at the 'sacred place' which also offers excellent vistas, but is not as high up as the Indian's Nose.
Where to eat in San Marcos La Laguna:
Fe (yummy food in the center of town)
Il Giardino (vegetarian)
Circles Cafe & Bakery (amazing breakfast), Comedor Casa Juanita (traditional Guatemalan dishes with superb lake views),
Moonfish Cafe (international and Guatemalan dishes)

Where to stay in San Marcos La Laguna:
Note: There is only one ATM in San Marcos, but I recommend bringing some cash, in case it is out of service, which does happen occasionally.

Santiago – visit Maximon, buy souvenirs
The town of Santiago is the largest and most 'native' of all the towns around the lake. Located on Atitlán's southern shore, Santiago is best known for being home to Maximon, Guatemala's folk saint. As soon as you get off the boat, the local children will offer to bring you to Maximon's house (he moves house every year). Make sure to bring donations: rum, cigarettes or simply cash are favorite offerings of Maximon.
In addition to the favored saint, Santiago offers great views of volcano San Pedro if you make your way up the hill to the church which sits on the end of a big, empty square. The church inside is lined with wooden saints who are dressed in new handmade clothes every year.
Most of the Maya in Santiago, including the men, still wear their traditional clothes. Though hotel space is limited, floods of daytrippers make for central souvenir market stalls on the main street starting at the dock.
Where to eat in Santiago Atitlan:
Pasteria y Cafe Lolita (coffee, pastries and wifi. Try the cinnamon rolls)
Quila's (bar – great for beer, cocktails and bar food)
Cetcafe (coffee & crepes)
Restaurante El Mana (excellent seafood)
Where to stay in Santiago Atitlan:
Santa Cruz – SUP, kayak, hang out under the radar
Santa Cruz is a small village between Jaibalito and San Marcos, and can only be reached by boat, which keeps visitor numbers low. A few hotels dot the shore, and the main village stretches up the hill behind them. There's not much to do except hang out, relax or hike in the surrounding hills – or be active on the lake. There are several places that offer kayak and stand-up paddle board rentals. Hotel Isla Verde offers salsa classes on Fridays and daily movie nights, as well as yoga. Santa Cruz is the best village at Lake Atitlan for those who want to get away from other tourists for a while.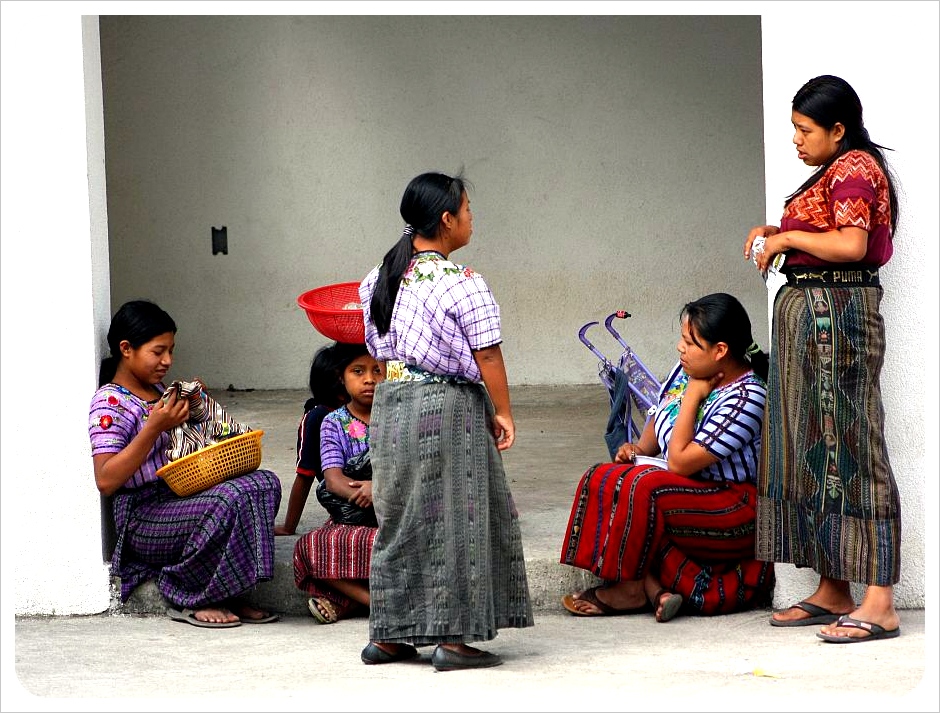 Where to eat in Santa Cruz:
Cafe Sabor Cruceno (excellent Guatemalan food)
JC Bakery is a Maya-run restaurant in the center of the village
Restaurant Nimajay (organic restaurant with vegetarian options)

Where to stay in Santa Cruz:
Note: There is one ATM in Santa Cruz, but I recommend bringing enough cash with you, in case it isn't working.
Jaibalito – find solitude
Other than a couple of hotels, the village of Jaibalito offers nothing for visitors. This makes it, along with San Juan, the most authentic (if not poorest) of Lake Atitlán's villages. Wi-fi is limited. Mentioning you would like to go to Jaibalito at any of the docks usually means a trip to the popular and moderately luxurious La Casa del Mundo hotel near to Jaibalito. Secluded from the village (and everything else) the hotel has its own dock, and comes with a restaurant, hot pool, lake-view rooms and terraces to hang out. Jaibalito is the best village at Lake Atitlan for those looking for tranquility and serenity.
Where to eat in Jaibalito:
El Indigo is fantastic and close to the pier
Club Ven Aca has solid food and cocktails (plus lake views!)
Cafe El Escondido has good cheap Guatemalan food
Where to stay in Jaibalito:
Hotel Y Cafe La Casa del Mundo has its own dock and gorgeous lake views. Rooms are around $56 per night
Posada Jaibalito is the cheapest option right in the village.
Casa Pamakanya is an Airbnb that consists of three houses that sleep 10 – 13 guests, a 15 – 20 mins walk from Jaibalito. The houses are surrounded by lush gardens, fruit trees, and there are multiple patios and hammocks. Stairs lead down to a dock and kayaks are provided. Perfect if you're traveling with friends or family and want nothing but peace and quiet for a few days. If you don't have an Airbnb account yet, use my referral code to sign up and get up to $40 off your first booking.
Note: Jaibalito does not have an ATM either, cash only.

Santa Catarina Palopo – explore and hike off the tourist track
Santa Catarina is only 2.5 miles (four kilometers) south of Panajachel and makes a great day hike from Pana. There are several trinket vendors on the road down from the village square to the lake shore, and a few shops in town, but other than this is a town for locals and a great way to see exciting vibrant Lake life. From here, take a hike to San Antonio Palopo, six kilometers to the south and famous for its traditional clothes (especially of the men) and hot springs or hop in a pickup back to Pana. This village is the best village at Lake Atitlan when it comes to fancy hotels – you don't really find much in terms of budget accommodation here, so you'll be able to escape the backpacker crowds.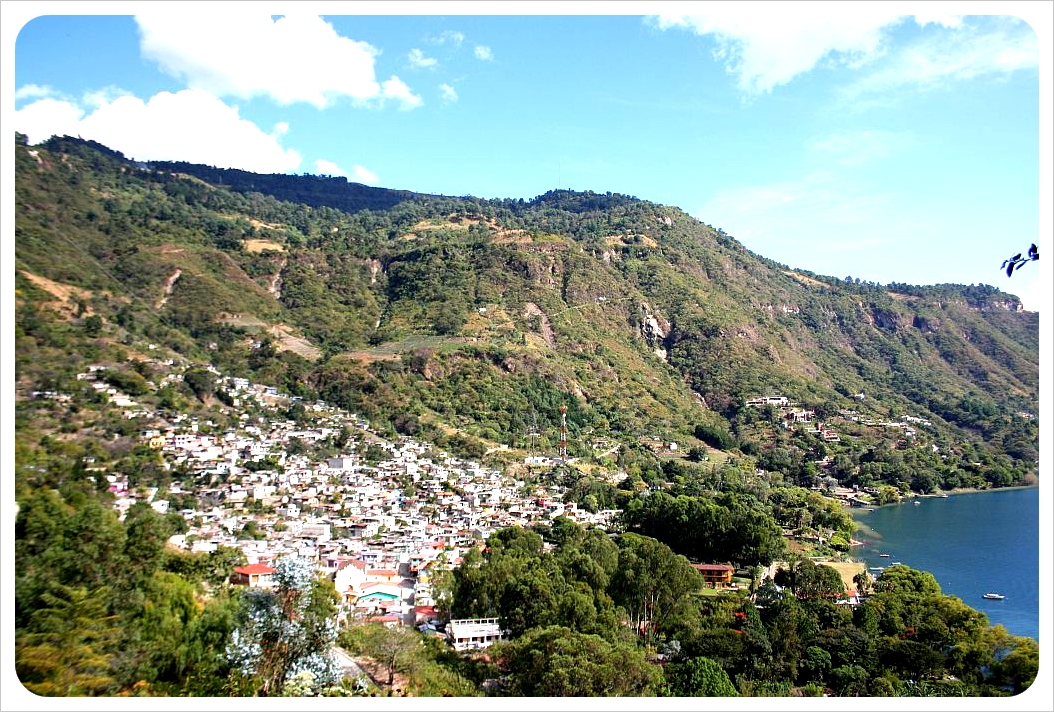 Where to eat in Santa Catarina Palopo:
Restaurante Palopo (lakefront restaurant)
Cafe TUK (coffee shop serving artisanal coffee)
Where to stay in Santa Catarina Palopo:
Villa Santa Catarina has a large outdoor pool (US$65)
Hotel Villas Balam Ya (Robinson Crusoe-esque boutique hotel with fabulous lakeviews and lush gardens, private dock, kayaks, hot tub. Outside of town on the road to Panajachel. Double rooms incl breakfast US$99)
Hotel Casa Palopo – beautiful spacious & stylish rooms, each one has a balcony and a stunning view over Lake Atitlan. Deluxe rooms are around US$221. The hotel is a short walk from town, but there is an on-site restaurant.