Last Updated on October 26, 2021
Poets, painters and travel writers alike search for ways to express life in Mexico City; the layers of existence so dense and varied finding the right words or images to capture its essence is nearly impossible.
There is one word that all of them might agree with – Mexico City is busy. Even for those of us city-loving culture-vulture folk, a day trip outside of the buzzing center was on the cards after our first 5 days in D.F., or the Districto Federal (Federal District).
A day trip to Coyoacan and Xochimilco
One very full but excellent day out combines a trip to Frida Kahlo's 'hometown' of Coyoacán, followed by a trip further south to the pueblo of Xochimilco. (You can easily visit Coyoacan and Xochimilco in one day.)
Coyoacán, or 'place of the coyotes' in Nahuatl, is an enjoyable day out on its own and would even make a very comfortable base for travelers and backpackers if it weren't for the higher cost of accommodation in the area. Served by three Metro stops on two different lines, the best option is to disembark at Viveros and take a stroll through the park – Viveros de Coyoacan, which then leads right to the heart of Coyoacan.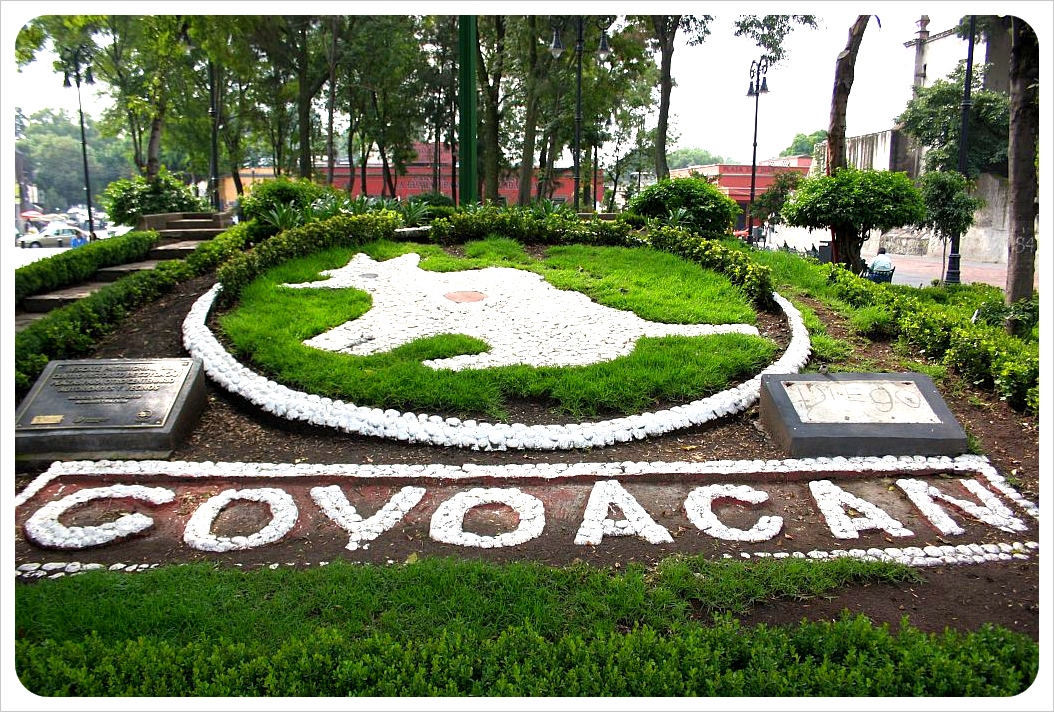 Though now centrally located after being usurped by urban sprawl, Coyoacan feels much more like a bohemian enclave far away from the bustle of the center. Here you find a mix of intellectuals, philosophers, 'hippies', backpackers and a comfortable upper-middle class attracted to the area for its quiet tree-lined streets, relative safety and security and quaint Plaza Hidaldo, the main square.
Bars and restaurants for all tastes line the square, so do yourself a favor and visit Coyoacan hungry. Anyone with a taste for churros can rejoice, as there are several stands and restaurants boasting various varieties of this popular pastry (Dani enjoyed the churros stuffed with nutella and cream cheese and peach, in particular).
Hernan Cortes made his home here after the Spanish conquest, as did several high-profile 20th century artists and intellectuals. Among these were the exiled Leon Trotsky (whose house is now a museum), Diego Rivera, and one of our absolute heros, Frida Kahlo, whose Casa Azul is located just a ten-minute walk from the Plaza Hidalgo.
Frida Kahlo was born in La Casa Azul, she lived together with Rivera throughout their fiery marriage here, and she also died in the house. After her death in 1954, the house was converted into the Frida Kahlo Museum.
The museum (MXN246) houses a small collection of Frida's art, many Diego Rivera pieces, handwritten love letters and photos of the pair, and well-displayed finer details of Frida's everyday life: both her bedroom and Diego's are preserved, as are her books, the original casts she wore after her tragic trolley accident, and her wheel chair set in front of an easel, just as Frida would have painted throughout much of her life. The garden on the grounds is worth a stroll as well and a second building on the premises includes further personal photographs of Diego, Frida and people close to them.
Unless you are a mega-fan of Frida, give the nearby Jardin Cultural Frida Kahlo, or Frida Kahlo Cultural Garden, a miss. It is small and home to only three sculptures of Frida with no information for visitors.
Much more of the works of Mexico's most famous 20th century pair can be seen at the Dolores Olmedo Patiño Museum in nearby Xochimilco, though on the day of our visit, Frida's 25 works normally displayed here were overseas at an exhibit in Berlin.
In addition to Frida's work, the museum and former home of the flamboyant female Mexican art collector, businesswoman and philanthropist also houses 137 works by Diego Rivera, a collection of drawings by Angelina Beloff (Rivera's first wife), pre-Hispanic pieces, Mexican folk art and several photographs of Olmedo's own globetrotting travels and meetings with the world's elite, including Pope John Paul II himself.
From no less than ten rare Mexican hairless dogs (called Xoloitzcuintle, they were Diego's and Frida's favorite dogs) to scores of freely roaming peacocks, the grounds of the Dolores Olmedo Patiño Museum alone make this bizarre yet intriguing Xochimilco-based museum worth a visit. The museum is US $4.50, free on Tuesdays. (all but the statue are actual dogs in the picture below!)
The town of Xochimilco, or 'the place where the flowers grow' is an hour ride from Mexico City or a short trip on the Tren Ligero (Xochimilco Light Rail) from Coyoacan. It makes sense to add on a visit to Xochimilco while you're in Coyoacan, since you're already nearby.
Check out the San Bernadino church, a vibrant and clean central market, or head straight to one of the town's seven Embarcaderos to hop aboard a Trajinera, a colorful covered punting boat, for a relaxing ride along one of the 224 canals that remain from the ancient Lake Xochimilco. A ride through these is an absolute must. Although often lazily compared to Venice, the canals of this small Mexican town are a completely unique adventure.
Trips last from an hour to three, or even longer, and while some Mexicans bring food and drinks on board, it is also possible to purchase from floating vendors everything from 'street food' like elote, tacos or full meals to Coronas, Micheladas, sodas and water. Also floating through the canal are Mariachi and Marimba bands who will serenade you for less than US $10.
A private ride on a Trajinera costs anywhere from $200 to $500 Mexican Pesos ($15-$50 US, bargain your way down), but on Sundays, when a lot of Mexicans visit Xochimilco, there are 'colectivos', or public rides, which cost only $15 pesos per person (around $1.20 per person).
If you're a solo traveler, you might want to join a guided tour to Xochimilco – the trajinera ride is definitely more fun when you're part of a group. Here are some organized tours that make it easy to visit Xochimilco and Coyocan: