Last Updated on
"Lake Como, it seems to me, touches on the limit of permissibly picturesque, but (Lake) Atitlán is Como with additional embellishments of several immense volcanoes. It really is too much of a good thing." Aldous Huxley on Guatemala's Lake Atitlán
Lake Atitlán has been described as the most beautiful lake in the world, considered a dangerous beauty one could lose themselves in. No matter which village you visit, the views are stunning – the sprawling lake,  green mountains and the looming giant of the San Pedro Volcano. Seated on a kayak in the middle of the lake, you can even see the famously ever-erupting Volcan Fuego, also visible from equally far away Antigua.
In our two weeks at Lake Atitlán, we explored several lakeside villages and found it surprising just how different the communities are. Lake Atitlán is mandatory on any Guatemala itinerary, but for those who are short on time or just want to find where you might 'fit', read on for a breakdown of the towns surrounding the lake.
Panajachel – Buy souvenirs and eat Gringo food
Panajachel is easily accessible from Antigua or Guatemala City, most buses and shuttles end up here and all the boats to Lake Atitlán's surrounding villages leave from Pana's docks. As a result, Pana receives loads of tourists of all kinds – Guatemalan day-trippers, package tour groups and backpackers all pass through here. The original village is located up on the hill, whereas the main street towards the docks, Calle Santander, seems to be constructed exclusively for tourists. One market stall lines up next to another, and there are plenty of restaurants and hotels, including an all-inclusive resort right by the lake.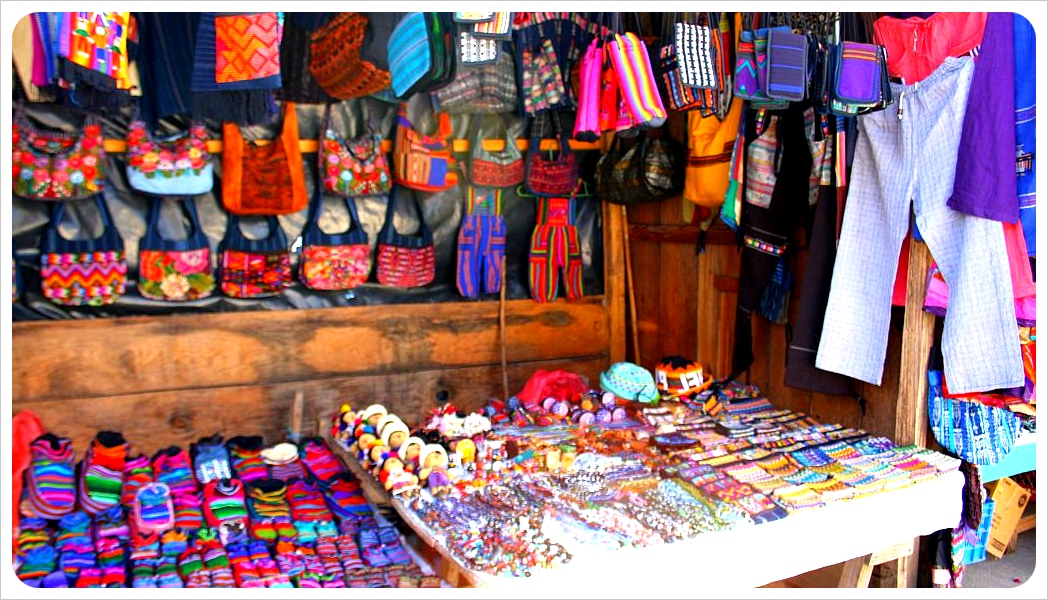 For a more authentic experience, stay somewhere in the 'old' town centre, where there is a daily market. If you are not staying there, make the hike up there to visit the local market and to get a glimpse of everyday Mayan life. The Saturday artisan market, spreading from the top of Calle Santander down to the docks, brings bus loads of tour groups through Pana on weekends. Rumor has it that Guatemala souvenirs here in Pana are the cheapest in the country.
You can eat any international cuisine, rent kayaks, hike to the nearby village of Santa Catarina Palopo or visit the famous Sunday market in Solola – located on top of the mountain and the spot for breathtaking vistas.
Where to eat: Bombay (excellent international cuisine), any of the restaurants right by the lake for cheap breakfast and stunning views, Café Moka at the south end of Calle Santander has a great selection of coffees and cakes, plus free wi-fi.
Where to stay: Hospedaje Garcia is right off Calle Santander and has supercheap clean rooms with wi-fi, but shared bathrooms (double room US$10.00), Mario's Rooms is on the main street, a bit more expensive (double room US$20.00) but the rooms are nice, it comes with a small breakfast and has wi-fi, Hospedaje Jere is close to the lake and has the cheapest rooms with private bathroom (double room US$12.50)
San Pedro – Chill out, learn Spanish and eat gringo food
A 45 minute trip across the lake brings you to San Pedro. All the ingredients for a super chill out spot come together in San Pedro. There is international food galore (it is both cheap and mouth-watering), bars readily serve up cheap booze during long happy hours, there are plenty of places for a cheap massage, hot pools and spas to relax, and no one looks down their nose at those who wish to hang out in a hammock all day long.
There is enough to do for the more active backpackers – climb volcano San Pedro, go on a horseback ride, kayak around the lake, learn Spanish at one of the highly recommended Spanish schools, spend an afternoon in the gorgeous town center (pictured below) or hike to the neighboring village San Juan. San Pedro is a great place if you want to get some work done too. The large semi-permanent foreigner population has ensured that San Pedro has the best wi-fi at the lake – at hostels, bars and restaurants everywhere.
Where to eat: D'noz (excellent international food), Hummus Ya (Israeli), Buddha Bar (Asian cuisine), Jarachik (great wi-fi).
Where to stay: Jarachik (cheap & wi-fi downstairs), Hotel El Amanecer Sak'cari (beautiful – read our full review here, but note that the hotel has been upgraded since our visit), Gran Sueno (cheap & right by the lake).
San Marcos – Meditate, do yoga, eat gringo food
The village of San Marcos, located on the northern shore of the lake, is a place to meditate, refresh your energy and, if you know how, cleanse your aura. The local Mayan inhabitants live high up in the village, separated from the hippies foreigners, who stay in the hotels around the dock.
Should a friendly looking foreigner not respond to your attempt at conversation, do not think them rude. They are currently taking part in their 'silent week', part of the programme over at Piramides meditation centre reportedly the best of many such medi-yoga spots.
For those whose auras need no cleansing,  hike up to the Indian's Nose mountain summit for unparalleled  views over the lake, sunbathe at 'the rocks' or have a picnic at the 'sacred place' which also offers excellent vistas, but is not as high up as the Indian's Nose.
Where to eat: Fe (yummy food), Hotel Paco Real (free wi-fi), Il Giardino (vegetarian).
Where to stay: Hotel Paco Real (free wi-fi), La Paz (cheap, with Maya sauna), Aaculaax (for the atmosphere), Jinava Bay (right on the lake, fantastic views, wifi)

Note: There is no ATM in San Marcos, so make sure to bring enough cash.
Santiago – visit Maximon, buy souvenirs
The town of Santiago is the largest and most 'native' of all the towns around the lake. Located on Atitlán's southern shore, Santiago is best known for being home to Maximon, Guatemala's folk saint. As soon as you get off the boat, the local children will offer to bring you to Maximon's house (he moves house every year). Make sure to bring donations: rum, cigarettes or simply cash are favorite offerings of Maximon.
In addition to the favored saint, Santiago offers great views of volcano San Pedro if you make your way up the hill to the church which sits on the end of a big, empty square. The church inside is lined with wooden saints who are dressed in new handmade clothes every year.
Most of the Maya in Santiago, including the men, still wear their traditional clothes. Though hotel space is limited, floods of daytrippers make for central souvenir market stalls on the main street starting at the dock.
Where to eat: El Pescador is a big restaurant with good food, there are two cheap taco stands on the main street.
Where to stay: Posada de Santiago is a little bit out of town but has been repeatedly recommended (stone cottages right by the lake), Eco-Hotel Bambu, Hotel Tzutuhil (cheap, hot water, TV, views)
Santa Cruz – dive, hang out under the radar
Santa Cruz is a small village between Jaibalito and San Marcos, and can only be reached by boat, which keeps visitor numbers low. A few hotels dot the shore, and the main village stretches up the hill behind them. There's not much to do except hang out, relax or hike in the surrounding hills. Santa Cruz has the only PADI dive center on the lake  for those who choose to dive Lake Atitlán. Hotel Isla Verde offers salsa classes on Fridays and daily movie nights.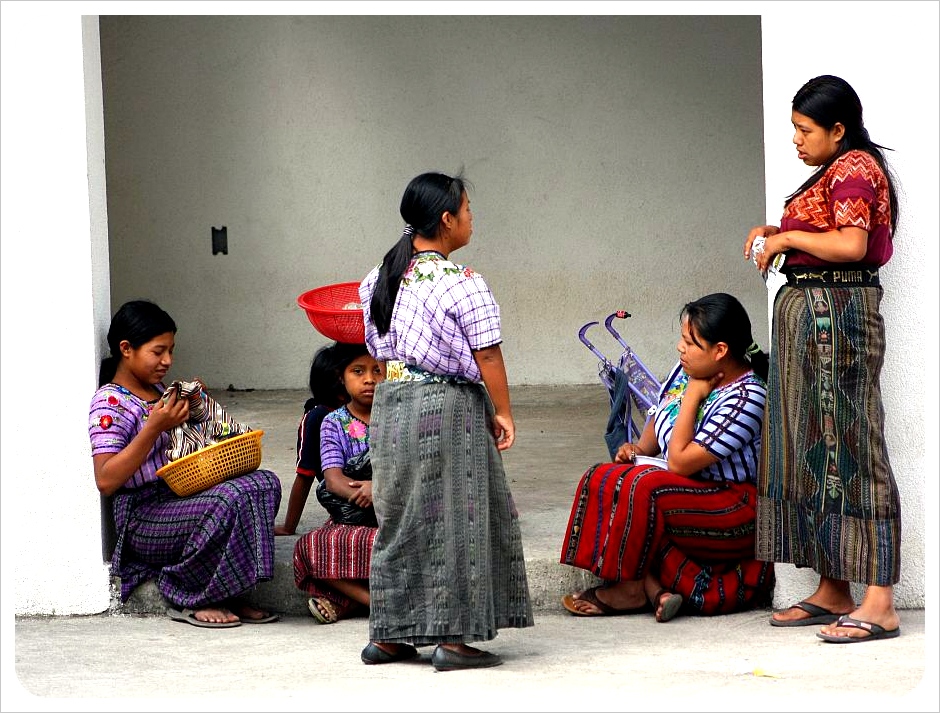 Where to eat: La Cabanita Café (breakfasts, pies and cakes), La Toscana (pizzas and sweets)
Where to stay: La Iguana Perdida, Arca de Noe, Hotel Isla Verde – all three right at the lakefront
Note: There are no ATMs in Santa Cruz, make sure to bring enough cash with you.
Jaibalito – find solitude
Other than a couple of hotels, the village of Jaibalito offers nothing for visitors. This makes it, along with San Juan, the most authentic (if not poorest) of Lake Atitlán's villages. One hotel has a computer with internet (Posada Jaibalito), but there is no wi-fi. Mentioning you would like to go to Jaibalito at any of the docks usually means a trip to the popular and moderately luxurious La Casa del Mundo hotel near to Jaibalito. Secluded from the village (and everything else) the hotel has its own dock, and comes with a restaurant, hot pool, lake-view rooms and terraces to hang out.
Where to eat: Posada Jaibalito has great cheap food.
Where to stay: La Casa del Mundo has its own dock. Vulcano Lodge is on the Jaibalito lake shore and has excellent reviews. Posada Jaibalito is the cheapest option right in the village.
Note: Jaibalito does not have an ATM either, cash only.
Santa Catarina Palopo – explore and hike off the tourist track
Santa Catarina is only four kilometers south of Panajachel and makes a great day hike from Pana. There are several trinket vendors on the road down from the village square to the lake shore, and a few shops in town, but other than this is a town for locals and a great way to see exciting vibrant Lake life. From here, take a hike to San Antonio Palopo, six kilometers to the south and famous for its traditional clothes (especially of the men) and hot springs or hop in a pickup back to Pana.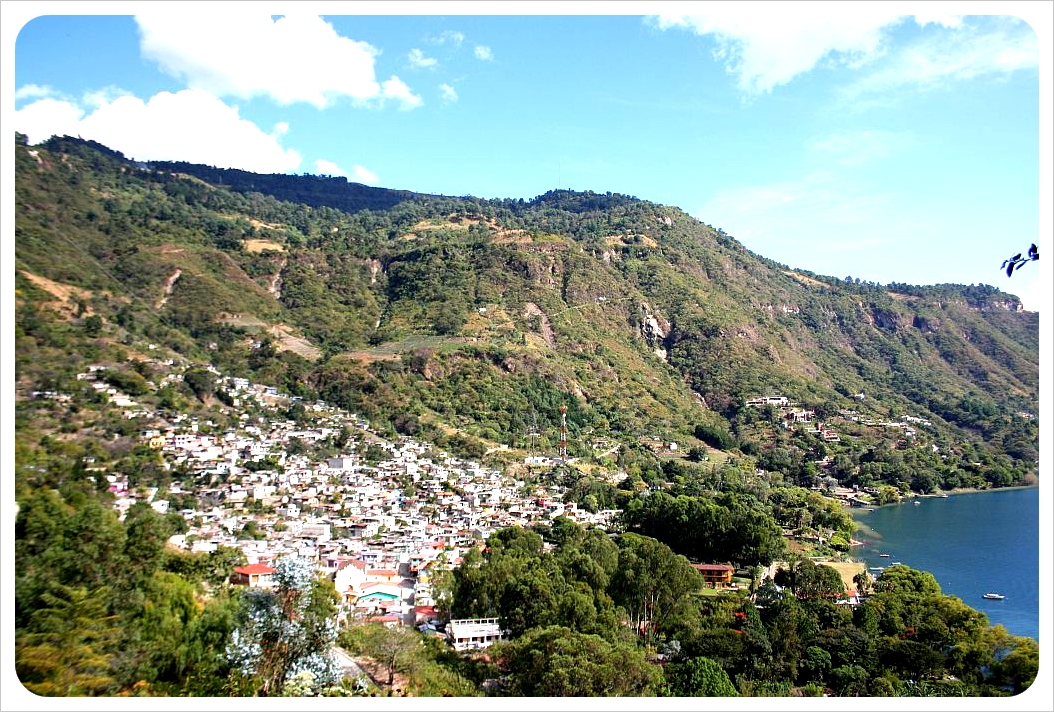 Where to eat: There are several restaurants right at the lakeshore
Where to stay: Casa Palopo, Villa Santa Catarina