Last Updated on
After 11 wonderful weeks, we Globetrottergirls are finally moving on from Mexico. On the bus on our way to Belize, we were already reminiscing about our time here, and came up with 33 things we love about Mexico. Here we go, in no particular order: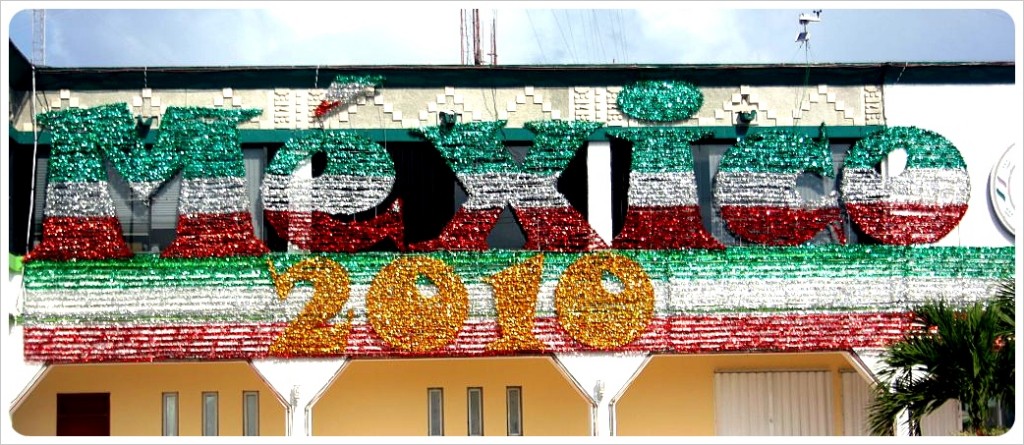 1.
Mexican Food
– 
Mexican food
is completely different to what we expected, but it turns out we love almost all of it! From Tlayudas and panuchos to bean quesadillas and potato tacos plus chilaquiles and tortas (filled sandwiches – Mexico City has the biggest ones) it has been amazing to discover the food here!
2. Driving golf carts around the island of Isla Mujeres.
3. Mexicans – Friendliest people on the planet
4. Markets – Though at times they can be shocking (squealing pigs the minute before their eventual slaughter and large yellow chicken feet spring to mind) the markets in Mexico are amazing to explore. The 20 de Noviembre market in Oaxaca was our favorite for the best selection of food (including the hundreds of mounds of deep-fried grasshoppers!) and mezcal.
5. Cenotes – considering we had never even heard of these underground waterholes, swimming in the cenotes on the Yucatan felt a bit daring and definitely refreshing.
6. Huevos motuleños – Yes, yes, we already said we loved the food, but this all day breakfast food quickly became our favorite after we discovered them during a long wait in Palenque for a bus to Merida. Huevos motuleños involve a fried tortilla topped with black beans, fried eggs, sauce and plantains, plus ham for the meat-eaters out there. Heavenly!
7. Victoria beer – There, we said it. We love Victoria beer!
8. Mexico City – It's a magnificent mega-metropolis which requires some patience and understanding, but Mexico City is a hub of creative, forward-thinking groups and individuals with art, markets, and music everywhere you turn. Sure it has its problems, but what city doesn't? It's the combination of it all that makes the city so great: Posh areas like Polanco are offset by more run-down parts of the Centro Historico where culture and tradition seep into your soul. How cool to see Mariachis and Mayans catching cabs, Mexican rock bands headbang on a plaza next to a salsa club, sleek and stylish club-goers passing by happy families in the park until the wee hours and openly gay men and women walking hand in hand with their partners more often than in any U.S. city we know of. Frida and Diego (Kahlo and Rivera that is) can be found everywhere, and there are hundred of art museums, exhibitions and co-operations with institutes world wide. Mexico City is chaotic, yet quaint, crazy and creative. We miss you Mexico City!
9. The Caribbean coast – especially Playa Norte on Isla Mujeres, where you can walk 40 to 50 meters out into the crystal blue water and it only comes up to your knees…
10. Valladolid – we fell in love with this little lazy town on the Yucatan, but we'd like you to please not go there.
11. Mariachi Bands – always fun to listen to, even if they don't quite hit the notes.
12. Agua fresca – We might actually be able to slowly wean ourselves off Diet Coke thanks to these giant one liter drinks of water blended with fruit. We especially like Cantaloupe and Guayaba 'aguas'.
13. Frida Kahlo's Casa Azul – Stuffed with her art, personal belongings and pictures, it makes you feel like you really get to know her, plus the gardens are gorgeous.
14. The cattle in front of our house in San Luis Beltran, Oaxaca.
15. The colorful traditional clothes worn throughout Mexico, from the many wool variations to be found in Oaxaca and San Cristobal de las Casas to the beautiful long white gowns embroidered with flowers that the woman of the Yucatan wear.  Oh, and real life cowboys!
Sure, we know this continues on from Guatemala down through South America, but there is also something so unifying about how even the non-indigenous men/women will wear very traditional Mexican clothing rather than identifying with global fashion. It seems like for many here, people are Mexican first, class/race/socio-economic status comes second.
16. Diego Rivera Murals in Mexico City – The murals are so insightful into Mexican history and culture, and you could spend more than a day hunting them all down throughout Mexico City. Diego's influence as an artist was enormous here.
17. San Cristobal de las Casas – the prettiest colonial town we have seen so far.
18. The tacos from the taco vendor in Calle Uruguay – Near the bakery Pasteleria Ideal in #74  in Mexico City, you'll see the large group of people crowded around the vendor – that's the spot. Try an agua fresca here too – delicious.
19. Lizards galore! Mexico is filled with lizards big and small, from our pet gecko in our apartment in Playa del Carmen (and its subsequent tiny tiny little babies), to the giant iguanas in Tulum, Valladolid, Isla Mujeres and Chichen Itza. Plus we have come within a few feet of countless crocodiles, something we never thought was possible!
20. The historical ruins – The Mayan and Aztec ruins in Mexico are so majestic! We visited Teotihuacan near Mexico City, Monte Alban near Oaxaca, Palenque in Chiapas, Tulum and Chichen Itza on the Yucatan.
21. Mexican bakeries  – Even just window-shopping makes our (read: Dani's) mouths water. Cakes, fresh fruit and yogurt parfaits, cupcakes, sweet breads and freshly baked rolls are all delicious.
22. Cheladas and Micheladas –Beer mixed with tomato juice, salt, pepper and hot sauce. This is basically like a Bloody Mary but beer replaces vodka. Genius!
23. The tuk-tuks in Oaxaca.
24. Mexican buses –  The buses in Mexico are top standard, reliable and clean. ADO, OCC and Oriente all provide great service, though ADO's films and air-conditioning are good for longer trips (more expensive, though).
25. Hostal La Candelaria in Valladolid. The best hostel we stayed at in Mexico. Clean rooms, two kitchens (one outside), a gorgeous garden, and very friendly owners. Plus two of the cutest little Chihuahuas of all time.
26. Free wi-fi – In any public park or square in even the smallest city/town, at least a dozen people can be found with their laptops, not only using the free wi-fi, but also charging their computers. The parks have outlets for charging! Who needs Starbucks, when you can have free wi-fi in the park!
27. Lucha Libre – Mexican Wrestling rocks. Yes, it's fake, but the crowd goes crazy and we loved it!
28.  Policemen, on horses, preferably with sombreros.
29.  Fruit in a bag, freshly cut and topped with spices & lime, for $1.00.
30.  Getting our laundry professionally washed – For less than $4, a lady with a brand-new washer and dryer will scrub out stains, wash and dry your clothes and then iron them all down, flat as pancakes, leaving you with a stack of clothes a quarter of the size of the dirty, stinky ball you brought to her.
31. Mexican mannequins. How can you not love 'em? 😉
32. Meeting people from the online travel community – offline. So many bloggers come through Mexico or live here. It was especially great to meet up with  Elmar and Rebecca for breakfast in Puebla (thanks to Mark from MexicoUnmasked!) and get some great insider tips , plus our tour of Cholula with Elmar, and getting to know WanderingEarl in Playa del Carmen.
33. The fact that we came to Mexico! We had so many naysayers warning us to avoid Mexico at all costs that we considered skipping Mexico altogether. For about a minute, that is, until we decided that we would rather see for ourselves the situation here than skip it. We couldn't be more thankful for that.
What are your favorite  things about Mexico?  Let's reminisce together in the comments below!