Last Updated on November 1, 2021
Back in London, long before we set off on our journey as full-time travelers, I bought Jess the book1,000 places to see before you die. We had been together for a few years already, and one of the things we shared from the beginning was a passion for travel. Even as poor students, we would scrape some money together and explore Europe, using budget airlines and every long weekend available.
I loved looking through the pages of the book, ticking off places that we had visited and dreaming about where we would go in the future. Even though we traveled every chance we got, we just barely reached 50 places. With 950 places left, I wondered to myself how we were ever going to see all of them.
Fast forward a few years and we have now been traveling full-time for over 800 days. Long gone are 'vacations' reserved for a few weeks a year as an escape from our corporate lives. Just when we are able make a much bigger dent in this tome of a checklist…of course now Patricia Schultz has gone and put out a second edition with even MORE places to see!! 🙂
There have been some definite improvements in this edition. The book is now in color, and includes some of our favorite spots we felt needed to be in there – like all of Nicaragua. By merging places that were formerly divided in single destinations, author Patricia Schultz was able to add over 200 new places, including 28 entirely new countries. Easy to navigate, 1,000 Places is clearly divided into logical geographical sections, starting with Europe. Next up is Africa, a section which includes islands in the Indian Ocean, like our personal dream destination: the Maldives.
Next is the Middle East, a chapter filled with places we have not touched at all yet, then Asia, and on to Australia, New Zealand and the islands in the Pacific, followed by the U.S. and Canada, Latin America and finally the island paradises of the Caribbean.
You'll find classic 'Must-See' destinations such as the Vatican, Machu Picchu, the Pyramids of Giza or the Great Wall, but also lesser known destinations such as Panama's San Blas islands, Chicago's Art Institute, the Gower Peninsula in Wales or Ottawa's Rideau Canal (all of these lesser-knowns, except for San Blas, we have seen). There are even many places in my home country of Germany that I had never considered visiting or even heard of before owning to the book!
1,000 Places to See Before You Die is as practical as it is aspirational. If you fall in love with the idea of visiting somewhere, the logistics of actually getting there are well detailed: how to get there, where to stay (including prices), when is the best time to visit (some destinations are recommended for certain festivals), how much a tour or excursion costs and a link to a website for up-to-date information.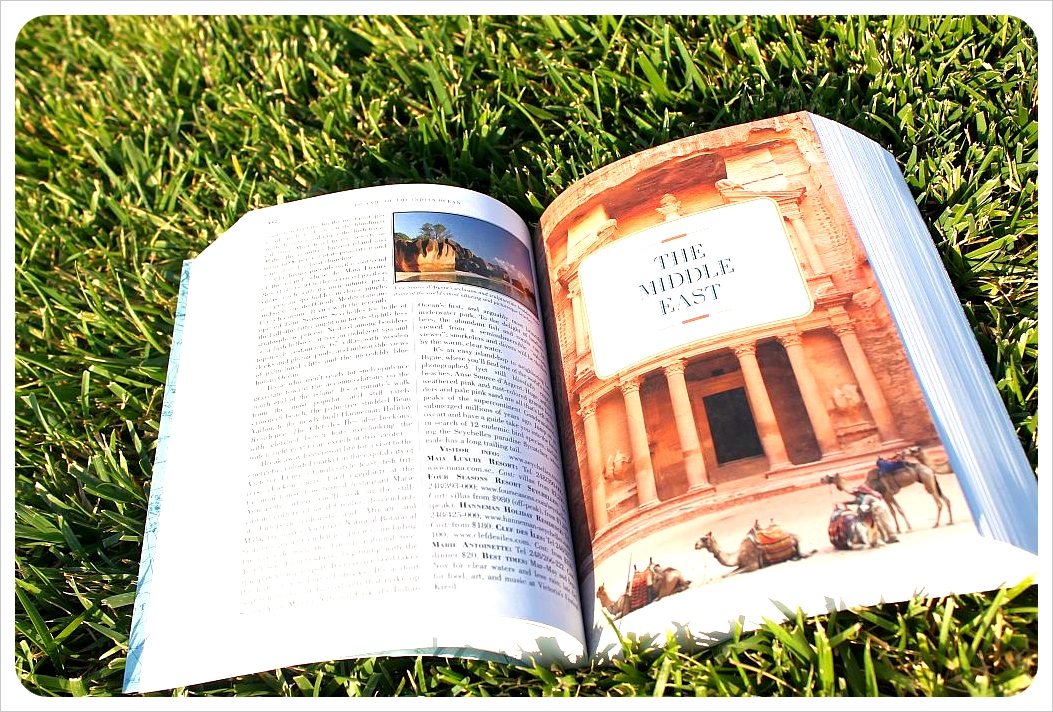 Of course nobody is expected to visit all 1,000 places in the book (although there are some people out there who use this as their traveler's life list and try to visit all of them). We've only been to 140 in total – despite traveling 365 days a year for over two years!
Seriously, though, 1,000 Places to See Before You Die offers a great overview of a region you're planning to visit, reveals new places that weren't even on your radar yet and gives travelers the inspiration to get up and see the world.
Patricia Schultz doesn't only share our passion for travel, in general. She also shares our thoughts on why people should travel:
I think travel makes you a better person and a more aware global citizen. I know that I cherish it as a privilege and a gift – it lifts me up, lightens me, expands me. Most important, and most simply, travel brings us joy.
If you are looking to start your own bucket list of places to see before you die, we are offering three copies of the book to our readers which could serve as a source of inspiration!
Win a copy of the 1,000 Places to See Before You Die!
We are holding the contest via Rafflecopter which will randomly select three winners who will get their own copy of the book. Increase your chances of winning with multiple entries:
– Leave a comment on this post with THE ONE place you have to see before you die (mandatory)
– Join the discussion on our Facebook Page about your number one dream destination (optional)
– Spreading the word about the contest by sharing it on Twitter (optional)
– Liking our Globetrottergirls Facebook Page (optional)
– Liking this post on Facebook (optional)
The contest will run until 31 July and we will notify the winners via email.
We are ending with another great quote from the book, another one that we couldn't agree more with:
If you're waiting for a special occasion to make your next trip happen, then consider this the day you get off the couch and head for the airport, that's the special occasion.
Share your #1 place to see before you die in the comments for a chance to win one copy of the latest edition of '1,000 places to see before you die'!
***This competition is now closed***