Last Updated on March 28, 2022
From the minute we first boarded the train in Kerala, India, all Dani wanted to do was hang out the door, taking pictures and letting her hair (and cheeks!) flap in the wind as we pummeled down the track at breakneck speed. Relieved that we weren't on the roof, I was fine to let her hang off one handed all she wanted. Hell, the locals consider the step right in front of that door a prime seat, so why not let her jump right in to Indian culture and enjoy it!
Before the trip to India, we did all the mandatory research about where to stay and how to get from A to B. This inevitably led to images of hundreds of Indians piled on top of massive trains, exposed to the elements for better or worse.
The experienced traveler in each of us knew that we wouldn't be sitting on top of a train, but what we didn't know is just how much of an adventure the Indian train experience would actually be.
What is it like to take a train in India
Taking the train in India is an experience unlike in any other country and although there is a method to the madness, the method (like all methods and matters of official transportation business in India) only make sense in a roundabout way.
When everything goes right, we had a great time immersed in culture of Sleeper class. We sprawled out on periwinkle blue plastic cushions encrusted with a layer of permanent dirt and watched the countryside whip past.
Trains are the best way to visually digest massive amounts of Indian countryside as they pass through the backs of cities and across sweeping landscapes filled with palm trees. Buses, on the other hand, plow through the most congested areas of India, the main thoroughfares and city streets. Looking out the window of the train, breeze blowing in, India feels like a patchwork of wide-open spaces held sewn together by train stations and railroad tracks.
From the (relative) comforts of Sleeper class, we listened to the sounds of the Chai Walla boys, carrying their heavy steel jugs of steaming hot chai tea through the narrow aisles of the trains in India, and breathed deeply whenever the food vendors passed with their baskets of idlies, a savory lentil donut, or full plates of curries and rice covered in plastic wrap and ready to eat.
Despite warnings that booking ahead was a must, we were able to hop on comfortably for our first few trips down the coast of Kerala from Kochi to Trivandrum and then back up as we made our way to Goa.
The harsh reality of taking the train in India
And then our luck ran out.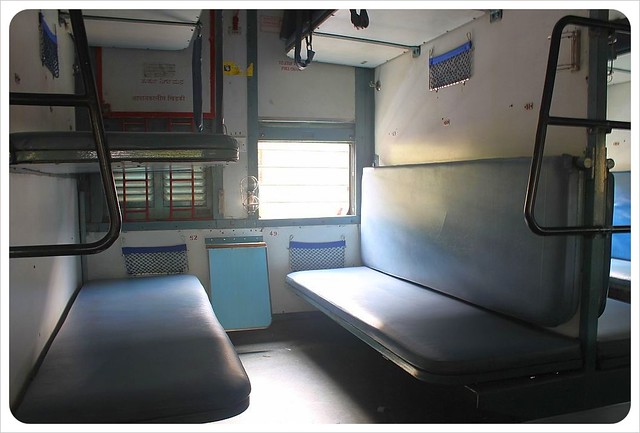 Winging it doesn't work in the Indian train system, which feels counter-intuitive considering that so many other aspects of life seem to be hanging on by a thread. Indians (the middle class at least) book weeks, even months ahead. Suddenly, there was no extra room in the Sleeper wagons for us and we were forced to run to the very front or very back of the train to the Second Class.
This is an entirely different experience, and the term Second Class does not mean one step down from First. This is not the railway's equivalent to flying coach. Instead, hundreds of people sit, stand, lean and hang inside the same space that seats no more than fifty during a busy day in a Sleeper.
It was when we were squished into Second class that we started to realize how entirely unsafe the train really is. Massive pushing and shoving ensues at every stop. Hanging out the door is not a playful little adventure like in Sleeper.
Here is means hanging on for your life hoping that everyone inside doesn't all breathe in at once, puffed lungs eliminating every last centimeter and sending you flying out the door.
The more expensive the ticket, the closer to the center of the train you will find your car. So First Class is in the center, the many levels of Sleepers and air-conditioned classes more toward the outside on either side, and then at the very end, the Second Class wagons. When the train crashes, these are the cars and the people who are hit. When a wagon flies off after the train approaches a corner at breakneck speed, Second Class are the wagons that flip off into the night.
In case of an emergency, chaos would ensure. Several iron bars cover every single window, save for one single window in each wagon aptly named the Emergency Exit. But rather than the determined order it would take to evacuate, picture four Indians shoving heads and other limbs through the tiny space. Crushed and unable to move anyway, the only passengers who could even get out would be those lucky enough to land a seat next to it.
Should a fire break out, how would these fire extinguishers possibly manage the fire?
These journeys in Second Class revealed how little some lives are considered to be worth. Some sleep in beds with blankets in air-conditioned cabins, are served food and given water in First Class, and out here, at the end of the train, a man slept face down on the tin floor of the train one foot from the bathroom, with its overflowing water and intense stench. Even on our longest journey of seven hours we chose to only sip on water rather than risk having to use this 'facility', and sat with sarongs and scarves around our mouths for much of the journey to avoid the battle our noses and stomachs would otherwise have to endure.
Despite the smells, the sweat, the many little cockroaches scuttling along the floor, endearing moments did indeed shine through, like the family of Muslims who squeezed together to make room for us and our luggage on two overcrowded benches. Another was watching some of the goodbyes. The price of $4 for a long distance ticket is so prohibitive, many of our fellow passengers were undertaking epic once-in-a-lifetime journeys, crying at the door with their parents or families at a stop in a random village before hopping on while we sat guessing and writing our own scripts to understand the scene played out before us.
Taking the train in India is an intimate way to experience Indian culture and we would recommend it to anyone, but for your own sake, for your own sanity, reserve your Sleeper tickets in advance!
Taking the train in India: Practical Information
If you're planning to travel India by train, make sure to always book your tickets in advance. I don't recommend just showing up at a train station hoping to be able to hop on the next train. If you prefer buying the tickets in person and paying in cash, go to the train station and buy your tickets in advance – that's what we did. Online train ticket booking wasn't available in India when I was there, but this has changed.
How to book trains in India online
Luckily, you can book your train tickets for Indian trains online now. You can check availability and book tickets for Indian trains here.
Another reliable website to book train tickets in India is 12go. Not only can you check train connections between all major cities in India, but it also shows you available buses, flights, and taxis – including prices. Sometimes it might work out cheaper to take a taxi or a bus. 12go also allows customers to review their trip, so you'll know what you're in for before you book a train / bus / flight.