Last Updated on February 23, 2023
Even though I've been to Thailand three times, I feel like I've barely scratched the surface of the Land Of Smiles, or its many islands. I've been to Koh Chang in the Gulf of Thailand (did you know that there's another Koh Chang in the Andaman Sea?), I've been to Koh Tao and Koh Phangan, to the Phi Phi Islands and Koh Poda, and to Koh Lanta. My Thai island wish list is long though: I've yet to visit Koh Lipe (highest on my list), Koh Mook and Koh Kood, Koh Samet and Koh Mak.
So when I spontaneously decided to add on a quick island getaway to Thailand to my Singapore trip a couple of months ago, I knew I had to check out a new island instead of returning to old favorites (sorry Koh Tao!). When I consulted the map to see which island would make the most sense, I zeroed in on not one, but two islands: the Yao Islands. And both, Koh Yao Yai and Koh Yao Noi, happen to be two islands that have been on my Thailand wish list for years – score!
The Koh Yao island group is made up of 44 islands in total, but only the two largest ones, Koh Yao Noi (Little Long Island) and Koh Yao Yai (Big Long Island), are inhabited. The smaller islands can be visited but don't have hotels or resorts. Both islands are surrounded by a number of uninhabited scenic limestone karst rocks, a typical feature of the Andaman Sea.
The reason the two sister islands caught my attention for this getaway was their location in Phang Nga Bay, right in between Krabi on the mainland and the island of Phuket.
Thanks to their proximity to Phuket, and many direct flights between Singapore and Phuket, I thought it would be super easy to get there. We would take a taxi straight from the airport to the ferry pier in Phuket and hop on the 30-minute speed boat to Koh Yao Yai. From there, we'd take another ferry to Koh Yao Noi. Easy breezy.
Was it as easy as it seemed? Absolutely. And while I initially thought it may be stressful to squeeze in both islands instead of one, this turned out to be a great decision, because I found the islands to be fairly different. If you have time constraints though and only have time to visit one, here's my rundown on both islands and which one I liked best, including practical information on how to get to the islands and recommendations for places to stay. I hope this will help you decide which island to visit: Koh Yao Yai or Koh Yao Noi.
Koh Yao Yai : Jungle and Solitude
Koh Yao Yai was the first island we visited, and on the ride in the Songthaw (shared pickup truck) from the ferry pier to our hotel, the lush green jungles bordering the road reminded me of Koh Chang. There is only one main road that circles nearly the entire island, and a few additional small side roads. No matter where you drive, you're almost always surrounded by lush jungle scenery. Occasionally, you pass a small village, but mostly there are just clusters of simple houses and maybe a simple village shop or two.
Our hotel was on the western coast of the island, meaning we didn't get to see any of the glorious Thai sunsets, which was a bit of a shame. Our small resort right by the beach was lovely, but there wasn't anything to do there except for taking walks along the beach, taking a kayak out for a ride around the bay, or lounging by the pool. Since most resorts seem to be like this – small bungalow villages along the coast, with not much surrounding them – if you want to see the island, you have no choice but to rent a scooter.
You could get by with the private songthaws (your hotel will call them for you), but honestly, this is a pretty limited way to get around, since they transport you from A to B rather than showing you the island. After walking along the road for a bit on our first day to see if we could get anywhere on foot (nope!), I realized I had no choice but to get over my fear of scooters if I wanted to see something of the island other than our hotel.
Scooter rentals are between THB250 and THB300 (US$7.70 – $9.20) for 24 hours, and after getting back in the saddle it didn't take me long to feel confident enough not only to cruise down the main road – where luckily, there was barely any traffic – but also a few of the smaller dirt roads which led to some hidden beaches.
Koh Yao Yai was a little bit bigger than expected, with a population of about 8,000, but even in the main village on the island it never felt like it was busy.
We spent a few days on the island just cruising around on our scooter, following the random signs pointing to mysterious sights like 'viewpoint' or 'hidden beach'. We never ran into crowds – we'd see one or two other tourists at most, no matter if we were walking on a beach or stopped for a coffee.
There was one exception, White Sand Beach, which sits on the western coast of the island and is a perfect spot for sunset watching. This stretch of beach had a few of the typical wooden swings that you find on many of Thailand's beaches, as well as a few stalls selling drinks and food. I'd assume that it gets busier here during high season, but when I visited, there were only a handful of other tourists around.
The only larger village on Koh Yao Yai is Phru Nai, – right by White Sand Beach – where we found the Iyara Cafe, a small cafe with hot and iced coffee drinks and small bites, clearly catering towards Western tourists.
Finding good coffee was one of our main quests on the island, because it turned out that good coffee wasn't as easy to come by as it had been in Singapore, where we'd spent the weekend before.
Other than the Iyara Cafe, there was the Chada Cafe, a brand new, air conditioned, little glass container on the side of the main road, conveniently located for a quick caffeine (and AC!) stop during our daily island explorations.
After a couple of days of cruising around the island we felt like we'd seen all there was to see, and since neither one of us is someone who can sit still (or lounge by the pool for too long), we decided that it was time to hop on the ferry over to Koh Yao Noi, Koh Yao Yai's smaller sister island.
Koh Yao Noi: Island Bliss & Luxury Resorts
The 'ferry' turned out to be a long-tail boat that we had to ourselves, and only ten minutes later we found ourselves on Koh Yao Noi. We hopped in a songthaw that brought us to our hotel, a small bungalow resort conveniently located within walking distance to the island's main beach and tourist area.
While the touristy area on this island felt far more developed than on Koh Yao Yai, it was still just a short one kilometer long stretch of beach which was lined with small hotels and a number of bars and restaurants. The beach was separated from the restaurants by the main road around the island, which has sections that follow the shoreline. Don't be put off by the thought of having a road there though, when we were there, just before the main season started, it was anything but busy, and I can't see it getting very busy, even during the busiest months (December – March).
Koh Yao Yai is so close to Koh Yao Noi that you could easily connect them with a short bridge, and yet the islands feel worlds apart. This time, we decided not to wait and rented a scooter right away. As soon as we checked into our hotel, we hopped on our scooter to explore the island.
Even though this island is smaller than Koh Yao Yai, it felt more developed. There were more restaurants and cafes, and the largest village on the island was bustling every time we stopped there. This is where you find the typical street food stalls selling meat on sticks or banana roti, something we hadn't really seen on Koh Yao Yai. So if you're looking for a better developed tourist infrastructure and are not sure if you should visit Koh Yao Yai or Koh Yao Noi, this is something to consider.
The little village even had a couple of tourist shops selling clothes and souvenirs, and Faye's Taste Of Koh Yao, a lovely restaurant serving organic food, which is worth a stop – for a refreshing fruit shake or lemonade at least.
On our first full circle around the island, we came across rubber farms, jungles, water buffaloes bathing shoulder deep in mud puddles, and deserted beaches.
On the west coast, we explored a fishing village on stilts, but our favorite part was the rice paddies in the southeast. The lush green fields looked beautiful against the bright blue sky, and it was so tranquil there that it was impossible not to feel utterly relaxed.
Except for the occasional local passing us on their scooter, there was barely any traffic. It felt almost surreal to think that touristy Phuket was just a half-hour boat ride away. This serene little island felt like it was worlds away from malls and party beaches.
That being said, I should mention that Koh Yao Noi was definitely not the hidden gem it was once known as – one of the last unspoiled islands. Over the past few years, several fancy hotels and resorts have popped up on the island, including the fabulous Cape Kudu, which I marveled at every time we rode by, and where I'd love to stay during my next visit 🙂
However, these resorts are in no way to be compared with the massive resorts in Phuket – they are all small and built in a tasteful way, aiming to fit in with their natural environment.
Whereas we had a hard time finding good food and coffee on Koh Yao Yai, there was no shortage of eateries and cafes on this island. We actually had a hard time fitting in all the places we wanted to try. We loved Cafe Kantary, but considering it belongs to the Cape Kudu hotel, that shouldn't have come as too much of a surprise.
The nearby Chaba Cafe & Gallery was our favorite place for healthy smoothies, iced coffees, breakfasts and salads – we couldn't get enough of this quirky little restaurant. The only disappointment was pizzeria La Luna, which had rave reviews online but didn't live up to our expectations (we do live in New York though – hard to please our pizza-spoiled stomachs!). We preferred the Thai dishes at Baan Chang and Kaya, and usually stopped at a street food stall selling roti (pancakes) near the Pasai seafood restaurant for dessert.
Around there we also found a kayak rental place and rented a kayak for the afternoon to paddle out to Koh Nok, an uninhabited nearby islet that is famous for its viewpoint and deserted beaches. The beaches weren't all that deserted, however, because several 'island hopping' day cruises stopped there, but luckily almost all of them left not long after we arrived.
Much to our surprise, there was a viewpoint on top of the limestone cliff that makes up the larger part of the island, but getting there required climbing up a steep, rocky dirt path which could in parts only be conquered with the help of hanging ropes. Had we known about this viewpoint, we would have brought our shoes, because it was impossible to climb barefoot – our shoes were back on the shore on Koh Yao Noi. I bet the views from the viewpoint are incredible.
Just as on neighboring Koh Yao Yai, there's not all that much to do on this little island, but that is exactly what we wanted. We weren't looking for big parties at night – a couple of sunset beers was as 'wild' as we got during our time on the island, and we appreciated the low-key atmosphere. There are a few bars along the main beach area where we were staying, but we didn't see any big parties like Phuket is known for. Instead of going out at night, we retreated to the hammocks on our balcony with a book, and I was usually up bright and early for a solitary beach walk.
On one of our exploratory tours of the island we followed a sign to a waterfall, and one day we took advantage of the low tide in the morning to walk over to Ko Nok, a tiny uninhabited islet out in the ocean that is connected to Koh Yao Noi by a sandbank at low tide (not the same Koh Nok we kayaked, too, by the way).
It felt refreshing not having to tick off a number of sights, but instead simply hopping on our scooter to see where the road would take us, and being able to stop whenever we wanted.
Koh Yao Noi Vs. Koh Yao Yai – Which Island Is Better?
When we first decided to visit the Koh Yao islands, we thought about visiting only one of them. But then the curiosity to see both won, and we split our time evenly between both islands. In hindsight, I am glad that we went to both islands, even though I have to admit that I preferred the vibe on Koh Yao Noi. While both islands are equally beautiful, I found the food options on Koh Yao Yai lacking and the beaches on Koh Yao Noi a little nicer.
Some people may prefer the less touristy feel of Koh Yao Yai, but I appreciated that on Koh Yao Noi we were able to walk to several restaurants and cafes and had a couple of beaches to choose from close to our bungalow, whereas on Koh Yao Yai, it felt like we had to always hop on the scooter to get anywhere, especially when we wanted to go out for dinner or drinks.
One day I overheard a conversation between the lady who ran our bungalow resort on Koh Yao Noi and a couple of guests who were thinking about going down to Koh Yao Yai. She recommended going only for a day, and I think that would indeed be enough time to see all of the island. That said, I don't regret having spent a few nights on the island, but if I was going to plan the same trip again, I'd definitely spend more time on Koh Yao Noi than an even amount of nights on both islands.
Koh Yao Yai Vs. Koh Yao Noi – Who Is It For?
If you want to go to a place that makes you feel like you've found the last Thai island paradise that hasn't been completely overrun by tourists and changed by hotels, touristy shops and chains, you will love Koh Yao Yai. For the most part, the island feels like what I imagine most Thai islands must have been like twenty or thirty years ago. If you want to get a glimpse of the life of local fishermen and don't want to do much but lying by the hotel pool, you'll appreciate the tranquility of this island.
If you want a Thai island that isn't overly touristy but has some amenities catering to the needs of tourists (air-conditioned coffee shops, Western food, boutique resorts), Koh Yao Noi is for you. You still have the laid-back vibe like Koh Yao Yai, but the island offers a better selection in terms of beaches, hotels and food, including some high-end eateries. Do not expect any shopping facilities here though – there are a couple of shops in the main village that sell clothes and souvenirs, but they can in no way be compared to the malls in Phuket.
Practical information

Here is some travel information for both islands, including how to get there, available ATMs, WiFi, and where to stay.
How To Get To The Koh Yao Islands
There are ferries from Phuket as well as Krabi to Koh Yao Noi. Both are about the same distance from the islands, but in opposite directions (Phuket to the west, Krabi to the east).
The ferries leave Phuket from Bang Rong Pier. A taxi from the airport to the pier is THB500 (US$16).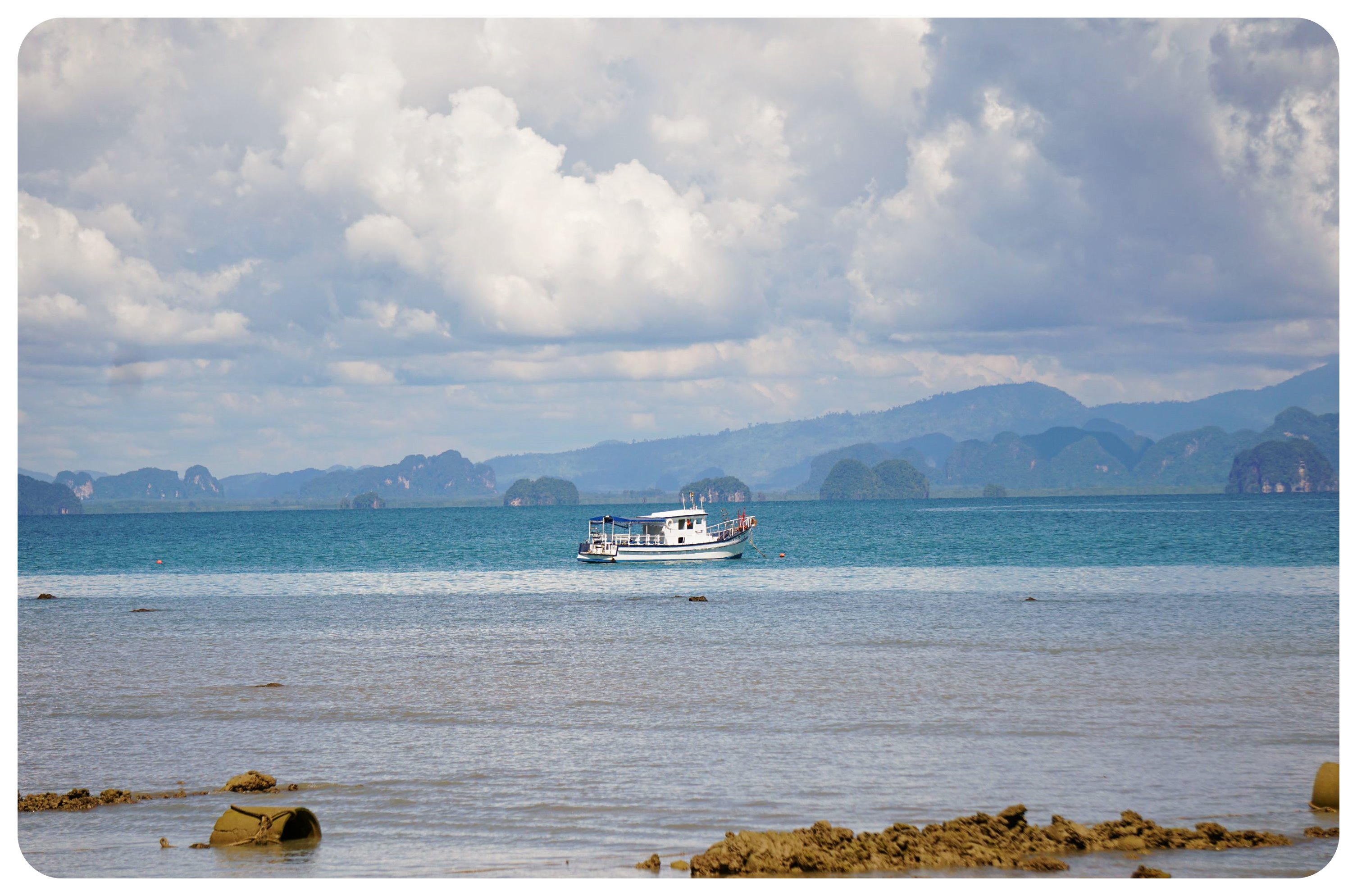 The ferries run about once an hour – there are more frequent fast boats that bring you to Koh Yao Yai in 30 minutes, and the slower, cheaper slow ferries, which take about an hour.
The ferries stop in Koh Yao Yai first and continue then to Koh Yao Noi (only eight minutes away).
From and to Krabi, the ferries stop at the Tha Krao Pier, and cost THB200. Ferries run nearly every hour during daylight hours.
WiFi

It seemed that pretty much every hotel and every coffee shop on both islands had free WiFi.
ATMs on Koh Yao Noi and Koh Yao Yai

I couldn't find any updated information on the ATM situation prior to my trip – but it turns out that both islands have ATMs. Koh Yao Noi had several ATMs around the island, on Koh Yao Yai it was a little bit more difficult – two out of the three available ATMs were out of order when I visited. Luckily, the third one worked!
Note: There are no actual banks on the islands though, which means you won't be able to exchange money.

Where To Stay On Koh Yao Yai
Budget:
Value:
Splurge:
Where To Stay On Koh Yao Noi
Budget:
Value:
Splurge:
Honeymoon:
Have you been to Koh Yao Yai or Koh Yao Noi? Or to both? Which one did you like better?