Last Updated on February 17, 2021
The ancient temples of Angkor Wat were at the top of Dani's 'Must-See in South East Asia' list, but for me, the only connection I really had with the temples were their role in Lara Croft: Tomb Raider. But seeing how Angelina Jolie had filmed there, I was just as excited as Dani was to witness this mystical UNESCO World Heritage Site for myself.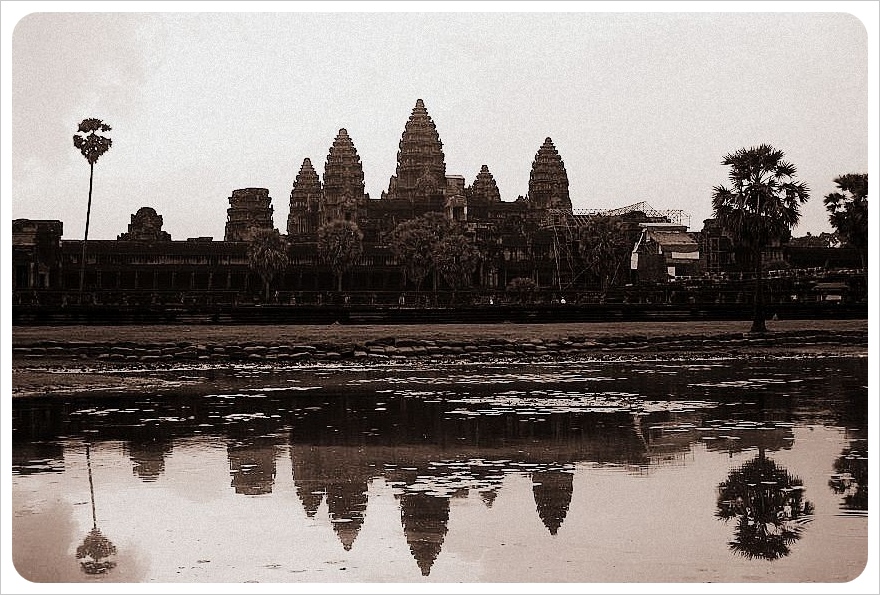 Just 6km from Angkor Wat, the town of Siem Reap is the base you'll use for the days you are in town exploring what is the largest religious site in the world. Siem Reap is cute enough, and has plenty to do, but unlike other foreigner-friendly town, visitors are exclusively here to see the incredible temples scattered across a 400 square kilometer archaeological park.
Although many tourists only visit the main temple complex, which is called Angkor Wat, we quickly realized that there are actually so many more temples to see that it makes sense to forgo the one-day pass and consider either a three-day or seven-day pass. As for us, we traveled with our friends Shannon and her awesome niece Anna so between all the goofing around and roughly one million impromptu photo shoots, we knew we needed that three-day pass, though Dani could have easily spent seven days here easily.
Well over one million international tourists visit Angkor Wat each year, which means that there are dozens of travel agencies and tour companies in Siem Reap ready to put together a package for you. Some tours, like the Angkor Adventure tour we talk about below, are best booked in advance before arriving in Siem Reap, as these professional, international tour companies book up quickly. However, there are also plenty of local tour agencies with guides and transportation that you can book when you get there. These agencies tend to charge tourists two, three even five times the price when they book from abroad as compared to the price you can bargain your way down to when standing in their office. There are so many different ways to visit Angkor Wat, and we would recommend a healthy mix of the options below.
What is the best way to visit Angkor Wat?

Arrange a guided tour of Angkor Wat
Angkor Wat is truly awe-inspiring, and even a group of independent travelers like us knew that we needed an expert at least one day to teach us the main aspects of Khmer history and the temples. We joined Urban Adventures on their Angkor Adventure tour. The tour was one full day to the three main sites – Angkor Wat, Angkor Thom and Ta Phrom (the 'Tomb Raider' temple), plus an excellent lunch at a local restaurant and transport in an air-conditioned van.
We learned that this is the largest religious site in the world, and throughout the centuries it has been converted from a Hindu temple site (the world's largest) to a Buddhist at the behest of the leaders at the time. The over 100 temples, built between 802 and 1220 AD, are the remains of the magnificent Khmer kingdom which, at its peak, spread all across Vietnam and even into parts of China.
As we explored the temples of the ancient town of Angkor Thom, we pictured how incredible it must have looked at its height, when over one million people would have populated this 10 sq km area. To put that into perspective, London was home to only 50,000 at that point in history. Many of the structures of this town, which was built by the greatest Angkorian king, Jayavarman VII, are Buddhist, not Hindu, as this was the leader who converted the Khmer from Hindu to Buddhist at the time. The most recognizable Buddhist structures are the temples of Bayon, which consist of 54 towers each featuring four giant stone faces peering out of the rock. This makes a total of 216 faces, all towering above you, observing you wisely as you traipse through this ancient kingdom.
Without our guide, we would have never understood the significance of the 800 reliefs, which are these incredibly detailed stone carvings which relate the history of the Khmer kingdom as well as the myths around the creation of Cambodia. These reliefs so captivate some visitors that they spend entire days circling the walls, sucked in to the ornate, complex works.
The highlight of our first day is unexpectedly not Angkor Wat, but Ta Prohm – the 'Tomb Raider temple'. Over time, the massive trees have completely overtaken this jungle temple, with huge serpentine roots intertwining with the stonework of the ancient buildings. Rather than somehow ruining the experience, these massive trees and their incredible root system makes it feel more like stepping in to a mystical, long-forgotten world. Most temples have been cleared of the trees in order to preserve the structures, much to the favor of archeologists, but this was by far one of the most remarkable aspects of our visit to Angkor Wat.
We respect that Urban Adventures only employs local guides, but it was difficult for us to understand our guide at times. His English was good, but we found that the subject matter was difficult for him to relay with his command of the language. However, he was a sweetheart and made sure we knew the best places to visit on the remaining two days of our visit. The tour included the price of a one-day ticket, and we were able to upgrade to a three-day pass for only an additional $20 (normally $40). By saving us $20, this effectively knocked the tour price itself down from $70 to $50, a more palatable price.

Hire a guide when you arrive at Angkor Wat

Another option is to hire one of the hundreds of guides waiting outside the temple complexes each day. We heard guides speaking fluent English, along with Spanish, French, German, Russian, Korean Chinese and Japanese. This option is less expensive, expect to pay around $20 for a day for a certified guide. However, you are then responsible for arranging transport (most likely a tuk tuk) to all the sites separately and back and forth into Siem Reap. Again, we recommend hiring a guide, even this way, in order to really gain an insight, at least for one day, to the history of the Khmer kingdom.

Hire a driver, ditch the guide
A much less expensive option to visit Angkor Wat is to hire a tuk tuk to take you around. You won't get as much of the history, but you can cover several sites in one day, and the driver waits for you at each stop and drops you off at your hotel at the end of the day. We did this the other two days of our time at Angkor Wat.
Agree on a price straightaway based on all the sites you'd like to visit that day ($12 – $15), which means doing all your own research beforehand. Don't be afraid to bargain, as drivers charging these rates every day are making a fine living by Cambodian standards (teachers make $100 per month, qualified English-speaking managers make $500 per month.) If you decide to ditch the guide, you might want to pick up a guide book at one of the temples – the (copied) 'Ancient Angkor' book is sold everywhere for around $5 and has all the details on Angkor's history, symbolism and background info on all the temples.

Rent a bicycle to visit the temples

There are plenty of places in Siem Reap to rent a bike for the day ($1 – $2) to ride out to the nearest sites. To do this, you will have to get up early in the morning, as the heat and humidity make physical exertion impossible in the afternoon. One disadvantage of seeing Angkor Wat by bike is that you can only see the sites nearest to the city. Because we had already seen these on our Angkor Adventure tour, we ended up not renting bikes, which was our original plan. Seeing Angkor Wat by bicycle is the cheapest option, and is both a fun and completely liberating way to see the UNESCO World Heritage Site.
Some useful tips for visiting Angkor Wat:
1. If you'd like to see the famous sunrise over Angkor Wat, get up early enough to get a good spot for photos. What nobody tells you is that instead of a few early risers, you will have to fight for the best photo spots with bus loads of tourists. Hundreds of them, in fact, gather every morning to see this famous sunrise. The water basin in front of the main structure makes for terrific reflections, so camp out early for those shots. The best time of year for photos is the dry season between November and March.
2. Don't start your day at the main Angkor Wat temple. This is frankly because everybody else does. Plus, because the sun rises over/behind the temple, the light is not ideal for photos in the morning. If you head to Angkor Thom and to Ta Prohm in the morning and return to Angkor Wat in the afternoon, light conditions are much better, and the bus loads of tourists will be back at their hotels already.
3. Make sure to bring enough water and snack when you visit Angkor Wat. There are vendors at the gates of the main sites, but there were a few times where we were seriously thirsty and no water vendors were around. We visited during one of the hottest days of the year, and were seriously in need of constant hydration!
4. Don't forget your sun screen. It is hot and sunny in Cambodia all year round and if you don't like the heat, avoid visiting Angkor Wat between March and May, the hottest and driest months. If you visit Cambodia between May and October, this is the rainy season, so plan your visits to the temples around the (usually) afternoon rain.
5. Don't get Templed Out – Take a break. There are over 400 sq km to explore, and some of the most beautiful spots are far from the main site. It is worth it to dig in and do some exploring, but don't squeeze too much in each day or you might suffer from the common tourist symptom of Over-Templitis. Luckily, the 3-day pass can be used over the course of a week, which gives you enough time to plan in other things or just relax in Siem Reap. If you buy the 7-day pass, you can really take your time and use it over the course of an entire month.
6. The most popular spot to watch the sunset is Phnom Bakheng in Angkor Thom – if you're planning to see the sunset there, get there as early as possible, because those same 1,000 tourists who hit sunrise in the morning will gather for sunset here in the evening. We watched the sunset on top of Pre Rup, with far fewer tourists compared to Phnom Bakheng, but equally stunning views.
7. Watch what you're wearing – Angkor Wat is a religious site, and even though it might be hot, you should follow the dress code when visiting a holy site. This means sucking it up and covering your shoulders and your knees. If you wear a tank top, pick up a cheap scarf to drape over your shoulders. Wearing gym shoes is also recommended, as you'll end up climbing lots of temples, and not all of them have proper stairs.
.Some