Last Updated on May 19, 2023
As it turns out, driving in Denmark is no hassle. And renting a car in Denmark is easy. As an American, your driver's license is valid and there is no need for extra validation or extensive tests – you're perfectly okay to drive! This idyllic, Nordic country has an amazing infrastructure, perfect for driving. Visit Denmark, the home of quality pastries, scenic countrysides and fairytale castles.
Denmark is a flat country; meaning that driving in Denmark is probably one of the easiest experiences you could have. The small country is the home of 7 UNESCO World Heritage Sites and has a lot more than beer and viking history to offer.
In this article, I will break down some of the top sights in Denmark that you can see in 5 days or less, and all the essential details you need to know about driving in Denmark.
The Scenic sights of Denmark
Driving to and from different cities in Denmark means taking the highway though there are loads of alternative routes you can take that will give you the opportunity to stop for a little bit of sightseeing or a quick coffee break. There are loads of small harbors, fishing villages, castles or organic farms that you can drive to and spend a few hours. These are some of the top sights in Denmark, specific to their areas so it's an easier drive.
Fairytale Funen
If you want to truly take in some breathtaking scenery, Funen was the home of beloved Danish fairytale author Hans Christian Andersen and when you visit Funen, it will become very obvious why this island was the source of his inspiration. The fact is that Funen actually holds more than a hundred castles and manor estates that all are preserved perfectly! Most of them are even open to the public for a small fee and if you want more of that dreamy life, there are even castles where you can stay the night or have a meal in true fairytale style! If you're interested in making this drive, a full trip around Funen could take you about 3-4 days and the full drive would be around 150 miles. This particular island is the best example of driving in Denmark; scenic, effortless and serene.
Natural North Jutland
If you're looking for a more adventurous sight, perhaps with room to explore more, North Jutland has the most gorgeous natural phenomena and along the west coast, you'll find the most gorgeous beaches of Scandinavia. From the magical Troll forest to the desert-like sand dunes of Rubjerg Knude and Raabjerg Mile, the north of Jutland is for the kind of people who enjoy trekking, nature and calm surroundings. For the best experience of North Jutland, consider spending 4-5 days, starting your trip in Aalborg and exploring the entire area, going from West to East, the highlight being Skagen, the Northern tip of Denmark, where the two seas meet.
East Zealand
Driving in Copenhagen can be a bit tiresome with all its narrow roads and strict rules, so if you need a break from the capital, you could take 2-3 days to make the drive around East Zealand. For the most relaxing trip, start by visiting Dragør and its gorgeous harbor – get some fried, battered fish or have an ice cream while walking around this charming town. From Dragør, it's a 40-minute drive to Roskilde, home of Roskilde Cathedral – one of the UNESCO World Heritage Sites – and the last resting place of nearly 40 Danish kings and queens. From Roskilde, you're only one hour away from Stevns Klint, another UNESCO site, and if you continue from Stevns, you can drive all the way down to Moens Klint and have a frisky walk along the coast.
The concept of "hygge"
You may have heard the term hygge – you might even know the meaning! The concept is rather intriguing, because it's not just a feeling, it's also a verb – as in something you do. Experiencing this atmosphere is essential when visiting Denmark. You don't even have to be traveling with anyone to enjoy the concept. You can "hygge" with strangers in Absalon in Copenhagen: an old, converted church that now is a "people's house" that offers social dining, bingo, drawing and pottery classes and so much more! There are even themed quiz nights and dancing lessons on offer, the most important thing being that the prices are incredibly low as everyone should have the opportunity to join.
Another way of experiencing "hygge" could be to visit one of the thousands of coffee shops around Denmark – especially the kind with books, art or mouthwatering cakes! Here are some places to visit in Denmark to satisfy your "hygge" needs.
Danes love their coffee
Like I mentioned in my 7 Fun Facts about Copenhagen post, Danes are the 7th highest coffee consumers in the world. This means you'll find so many wonderful coffee shops and artisanal bakeries where you can get a quality cup of joe. Here are some suggestions for different cities:
Andersen & Maillard in Copenhagen
This award-winning bakery has that cool and casual vibe that Copenhageners are known for. There's no formal seating – you order at the till and pick up your coffee and perhaps one of their fluffy croissants as well, and then you can sit in the window and enjoy the view of Nørrebrogade and its many occupants. Andersen & Maillard offer a large selection of pastries and Danish breakfast items at very reasonable prices. If you're driving, make sure to consider your parking options as the café is located on a heavily trafficked street.
Café Unika in Odense
This café has a sweet origin story and makes a good spot for that perfect Instagram shot. The café was founded in 2019 by three sisters who traveled the world and found inspiration in Mexico, which they have then fused with Nordic culture in their café. Enjoy an Acai bowl or a breakfast plate with freshly squeezed juice or a nice cup of joe and snap some photos of their colorful decor!
Jumbo Bakery & Eatery in Aarhus
For a more rustic experience and a nice view, Jumbo Bakery & Eatery in Aarhus offers anything you can think of made with sourdough and well-roasted coffee to go with it. You can sit outside and watch as the trains go by at one of their locations or grab a coffee to go and explore the many quirky streets of Aarhus.
Driving in Denmark: Practical information
If you're interested in driving in Denmark, here are a few tips you can take with you. Don't be afraid to ask Danes for help either – Danes are very sufficient in English and helpful, should you need it. You won't regret renting a car in Denmark – on the contrary. You will greatly appreciate the flexibility it'll give you, and it will enable you to visit some of Denmark's most scenic places.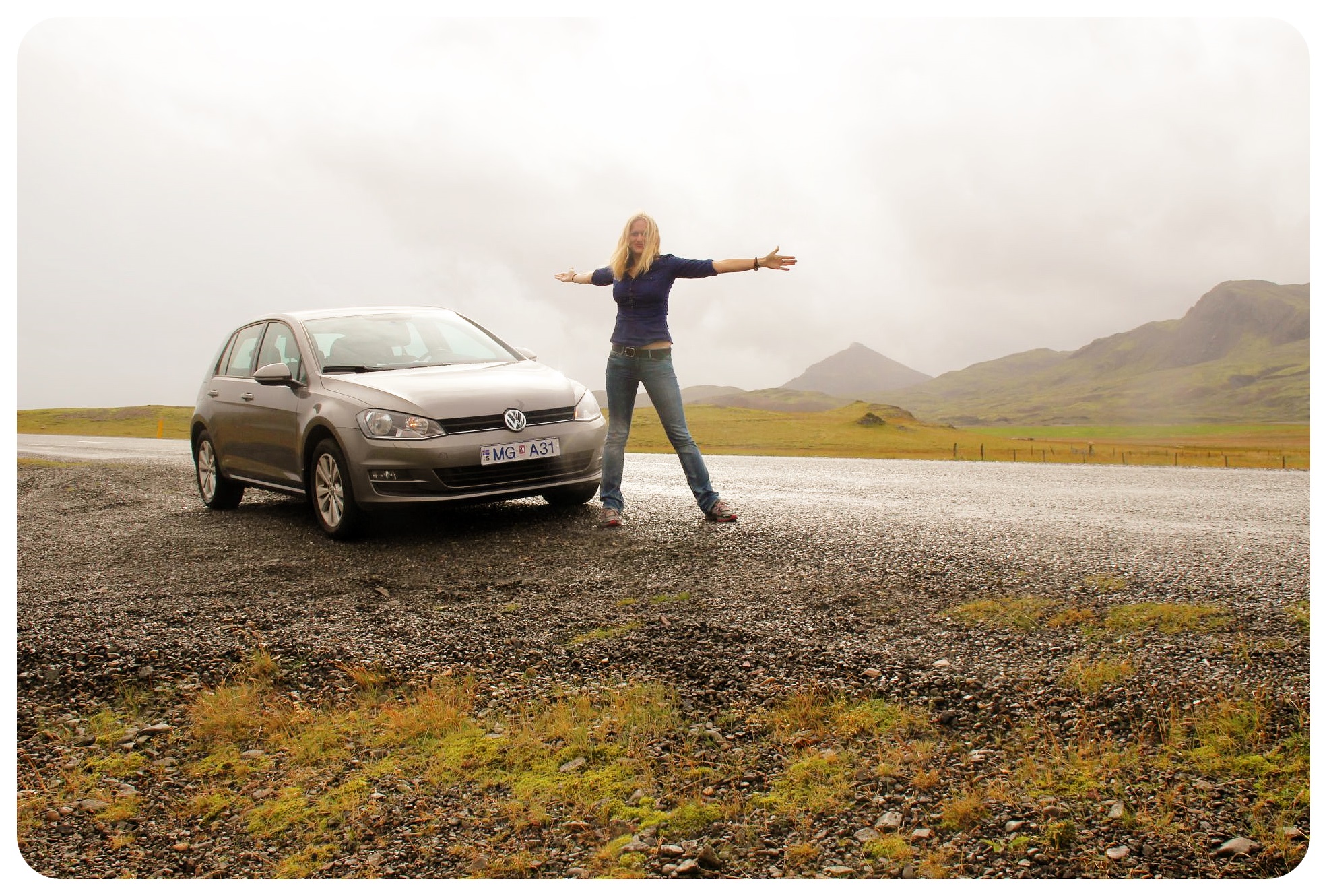 Renting a car in Denmark
There are loads of options for renting a car in Denmark. Renting a car is easy, and all of the major car rental companies have offices at Copenhagen Airport and in the larger cities. Having a rental car makes it much easier to see Denmark beyond Copenhagen.
If you start your trip in Copenhagen, you can stick to Zealand and drive around the entire island without having to worry much about the miles. In Zealand, you'll find attractions such as the art museum Lousiana in Humlebaek, Kronborg Castle, the setting of Shakespeare's Hamlet, in Helsingoere or the rare example of an expressionist church: Grundtvig's Church in Bispebjerg.
Another option: If you're flying into Billund Airport, is to pick up your car in Billund and drive around the peaceful countryside of Jutland and visit the larger cities such as Aarhus, Aalborg and Vejle. Don't forget to visit Legoland if you're in Billund – it's perfect for a full day of fun activities!
Accommodation in Denmark
When visiting Denmark, finding a place to stay is not difficult. Larger cities like Copenhagen, Aarhus and Odense have large hotels chains like WakeUp, Radisson and Best Western, otherwise, there's a large variety of inns, hostels and Airbnbs to choose from. I strongly recommend finding your accommodation in good time as prices can range between 35$ and 300$, depending on the quality of the place. If you're more than three people, Airbnb might be the cheapest and best option. If you're renting a car in Denmark, remember to consider your parking options at the place you choose to stay.
Actually driving in Denmark
A very important thing to note, especially when driving in Denmark, is to be careful and aware of how cyclists move around. Copenhagen actually recently voted the best bike-friendly city in the world and it can really be felt when moving around the city: cycling bridges and car-free Sundays in specific areas makes it very important for you to know that driving in this particular city is something you'll need to do cautiously. Remember to be aware of the many walking streets in the inner city – once you've driven through the narrow cobblestone streets, it can be quite the hassle to get out again!
Always check the weather forecast
Don't be fooled by the changing weather in Denmark. Always be prepared for rain! Denmark is rather grey with mild summers and cold winters, though don't let it scare you away from visiting this Scandinavian gem. Just remember an umbrella or a raincoat and you'll be just fine. It's also important to note that most restaurants and cafés are prepared for the weather as many of them offer outside dining with marquises and heating lamps, so don't fret if you're planning to enjoy a lunch al-fresco!