Last Updated on August 22, 2021
Road-tripping isn't always the exhilarating casual care-free experience it's cracked up to be. The car can get hot, sometimes finding a bathroom is so urgent it seems like the only goal you have ever had in your life, and the romantic idea of pulling off on some tiny road to see where it goes often means you get lost, a lot. Except for when you discover something so exciting that it outshines anything on your carefully planned itinerary. In our case, the elephant seals along Highway 1.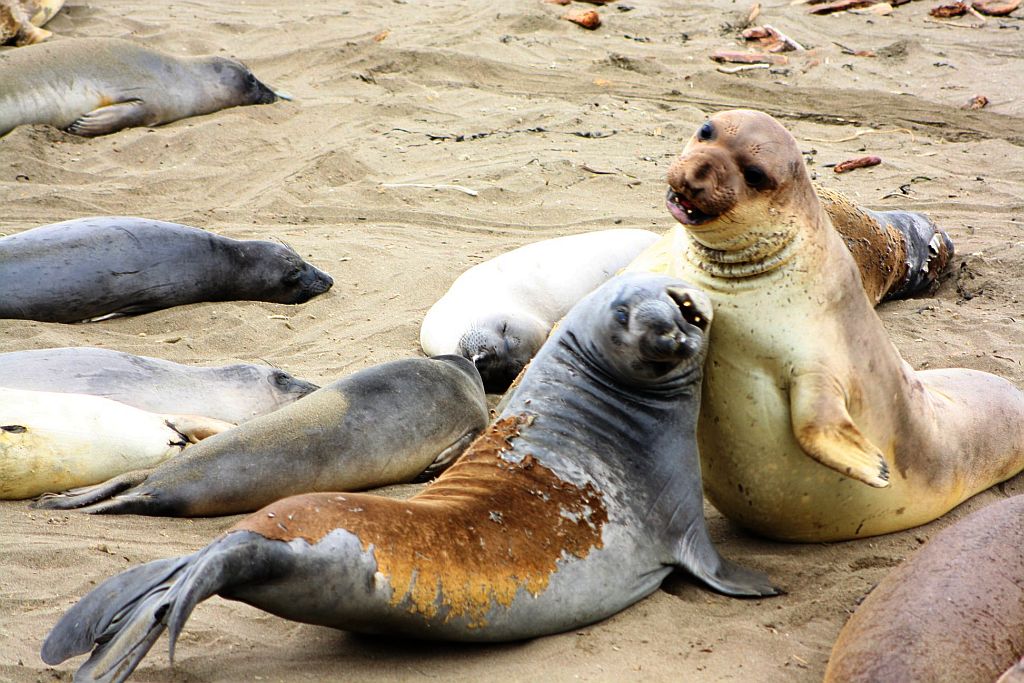 We were on the way from Santa Barbara to Big Sur, road tripping the Pacific Coast Highway, when we saw a sign for vista point and elephant seals in 1 mile. Going 55mph, this left us less than a minute to stop or plug on through to the campground. Despite wanting to hit the campground in time for an early evening hike, we flicked on the turn signal and headed left into the parking lot just south of Point Piedras Blancas on the Pacific Coast Highway (Hwy 1), just north of Hearst Castle at San Simeon.
'Make it quick,' I said to my animal-loving girlfriend. Not that I am not an animal lover, I am, but I had seen enough 'seals' for the day, as we had just spent over an hour looking at the seals in the harbor during our pirate boat ride at Santa Barbara that morning.
"Yes, yes, just a few pictures and we can go," promised Dani. Car parked and heading to the info signs and a wooden path along the cliffs, we started hearing some of the deepest roars and belches I'd ever heard. "What are these things?!", we wondered.
Looking over the cliff, one thing was clear – these 'things', more correctly, Elephant Seals, are huge, ginormous, elephant-sized, and there were thousands of them lining the beach! We had no idea that there were any elephant seals along Highway 1 – let alone huge crowds of them! Every year, up to 18,000 elephant seals arrive at this 4-mile stretch of beach.
Females reach up to 1200 pounds, while males reach over two tons, or 5,000 pounds. Until relatively recently, elephant seals stayed far from human contact due to hunting in the 19th that nearly rendered them extinct. Then, in the early 1990s, the seals began arriving to these beaches, for everything from mating to molting and are present throughout the year in plain view for tourists to see. And what a sight indeed. These giant beasts with no hands or feet worm their way up and down the beach remarkably quickly, but it is their chest-bumping, head-butting and strange way of cuddling that make it intriguing to watch them. This article has a great overview of what happens here at different time of year: Mating Season, Birthing and Breeding, Molting.
Lesson learned – if you have time, stop. Before this, I didn't even know that sea elephants existed, and getting back in the car after 20 minutes of gaping over the cliff, and I was smiling ear to ear and impressed with nature again.
Check out these videos for more of the elephant seals along Highway 1:
How to visit the Elephant Seals along Highway 1
If you're driving the Pacific Coast Highway, aka Highway 1, from L.A. to San Francisco or vice versa, don't miss this spectacular sight! You find the Elephant Seal Vista Point just north of San Simeon. If you drive north, the sign for the lookout will come up around 7 mins after you pass Hearst Castle. If you're driving southward, the viewpoint will appear about 15 mins after Ragged Point.
The Elephant Seal vista point is free to visit.