Last Updated on May 20, 2020
I hadn't fallen in love with any of the places I had visited in Ecuador – with the exception of the Galapagos Islands – but I had high hopes for Cuenca. People seemed to love this Andean university town, and I needed a break from the mosquitoes and the heat of the Ecuadorian coast.
It took me around eight hours to get from Montañita to Cuenca, with a quick stopover in Guayaquil where I changed buses. As soon as I got off the bus in Cuenca, I got a good vibe from the city, and I had a feeling I'd enjoy my stay there.
I walked to the hostal I had booked, instead of taking a taxi, and the walk was much needed after the long hours spent on the bus. I noticed right away how beautiful the architecture was – the buildings were mostly from different eras , but it was the mix of architectural styles that made it so interesting.
Cuenca was the first city in Ecuador I found visually appealing – neither Quito nor Guayaquil had done much for me with their boring, unimaginative architecture. Yes, I admit it: I prefer cities that are delightful to look at over cities that aren't all that pretty (which is probably why I never fully understood the appeal of Chiang Mai in Thailand). The unique blend of architectural styles has led to Cuenca being awarded a place on the elusive list of UNESCO World Heritage Sites.
Cuenca charmed not only UNESCO, but also me with beautiful Spanish-colonial architecture, well-preserved Renaissance buildings, a pleasant town plaza and a number of impressive churches, especially the Cathedral of the Immaculate Conception.
The unique fusion of different cultures and epochs in South America that can be seen in Cuenca's streets and architecture are impressive, and I was even more impressed when I read about Cuenca's UNESCO status, which is based on cultural heritage, and that the classification actually comprised of over 1,000 buildings in Cuenca!
Cuenca's recognition for cultural heritage naturally means that the preservation of historic buildings is taken seriously here, which is why it is such a delight to simply wander the streets, marvel at the buildings, and try to figure out which era they belong to.
But there's more to the city than just architecture and wandering around: If you enjoy museums, Cuenca is THE place for you. The city had enough museums to keep me busy for the entire week I spent there: the Modern Art Museum, Central Bank Museum (Museo del Banco Central), the Prohibited Museum (Prohibido Centro Cultural), Medicine Museum, Museum of Aboriginal Culture, a religious museum in the Convent of the Immaculate Conception, the Inter-American Traditional Art Center, and probably a couple of other ones that I have since forgotten about.
Somehow, I never made it into any of the museums, even though the Modern Art Museum was on my to-do-list for Cuenca. But I made a mistake that I've made before (it seems like I never learn?!): I waited too long. Assuming I had plenty of time since I was staying in Cuenca for a whole week, I spent the first few days in town taking things slow, simply meandering in the parks and streets, peeking into churches, photographing murals and street art, walking around the market and exploring the coffee shop scene.
One thing left on my to-do list was climbing the bell tower of the new cathedral, which I was told was well worth it for the sweeping views over the town and the Andes Mountains.
But then, somehow, the week slipped through my fingers, and before I knew it, I had only two days left. And these two days happened to be completely rained out. On my last day, a rain storm so fierce passed through Cuenca that I got completely soaked while I ran from a coffee shop to a restaurant only three blocks away. There was no way I would enjoy climbing up the bell tower of the Cathedral of the Immaculate Conception, the New Cathedral, in this weather.
I beat myself up for not doing it on one of the days when the weather was nice, but in all honesty, I enjoyed my time in Cuenca even though I barely did any touristy things.
I got into a nice routine of going on a morning run along the river, a couple of times all the way down to Parque Paraiso, a pleasant, forest-like park which is the largest green space in Cuenca.
Afterwards, I'd walk up the stairs between Calle 3 Novembre and Calle Larga and look at the street art there, before plonking myself down for breakfast in one of the many cafes around town. There are no shortage of breakfast destinations in Cuenca, ranging from cheapie desayunos for less than $3 in the more local places, to pricier, gringo-fied versions at Goza, where I splurged on a $7 breakfast (they had shakshuka on the menu, how could I resist!).
Another thing I loved about Cuenca? It was the first city in Ecuador where I never had trouble finding something to eat that I enjoyed. Ecuadorian food is not known to be very vegetarian-friendly, and for most of my time in Ecuador, I hadn't had any memorable meals. But in Cuenca, there were several international restaurants: an Indian restaurant, a Thai place, two Italian restaurants, and a number of vegetarian restaurants.
When I wasn't typing away on my laptop, I spent most of my time eating my way around town, reading on my Kindle in one of the cafes or people watching in the main square, and that was okay. I didn't feel the need to do much more, and I enjoyed not feeling rushed, not feeling like I had to sightsee all day long.
My week in Cuenca felt more as if I was living there instead of taking in all the tourist sights, and it showed me once more that visiting a place is about so much more for me than hitting up all the museums and landmarks a city has to offer. Those aren't the places where the locals spend their time. Instead, I ran into fellow runners in the park, I chatted with café and bar owners about life in Ecuador, I watched kids play together in Parque Calderon and loved getting into a routine for a while, to discover what is would actually be like to live there.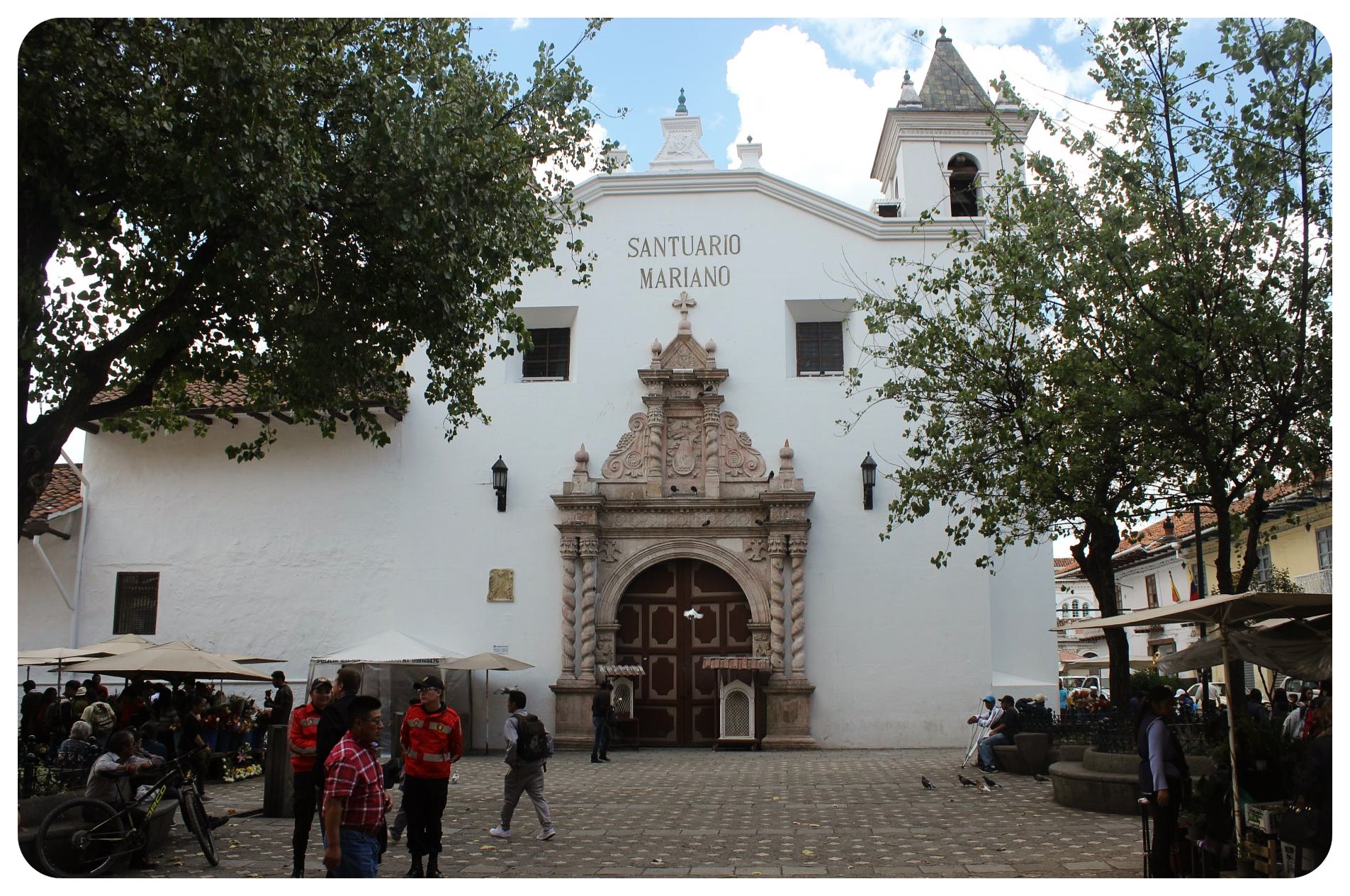 Speaking of which, Cuenca is very popular with expats, and is without a doubt the most popular expat destination in Ecuador. I have to admit though that while I enjoyed my time in the city, I didn't feel the draw that many expats must feel. I could not see myself moving to Cuenca. But that being said, I rarely feel like I could move to a place.
After a week of standing still, I got itchy feet and was ready to move on to my next destination: Baños, the Adventure Capital of Ecuador.
Practical Information for Cuenca, Ecuador

Where to stay in Cuenca

Another reason why I loved Cuenca? The abundance of good – and cheap! – places to stay! From hostels to guest houses to budget hotels, there's something for everyone here:
Best backpacker hostels in Cuenca:

Best guesthouses in Cuenca:
Best budget hotels in Cuenca:
Where To Eat & Drink In Cuenca

These are some of my favorite restaurants and coffee shops in Cuenca:
Fabiano's (best pizza in Cuenca!)
Pappardelle (Italian)
Melatte Coffee (best coffee shop)
Goza Espresso (good coffee and cake)
Cafe Austria (coffee, cake, Austrian-inspired dishes)
Cafe de Alicia (coffee & cake)
The Indian Restaurant
Taj Mahal (Indian)
Thai Connection
Quinua Vegetarian restaurant
Govinda's Vegetariano
Tutto Freddo (pastries)
Antares Brewery (Craft beer)
Becken House Cervezas Artisanales (Artisan Beer)
PIN IT!