Last Updated on October 18, 2021
One thing I do in every place I visit: I get a bird's eye view of the city. If there is a high point in town, a high building, or even better, an observation deck, I head to the top. New York City is especially mesmerizing to see from above, thanks to its unique architecture and island layout, which is why the observation decks are on the list of the ten best New York attractions. But what's the best observation deck in New York City? Do you even need to go up to an observatory or will a rooftop bar suffice for the best view of New York City? NYC is lucky enough to have not only one, but FOUR observation decks – the newest one, The Edge, opened in March 2020, but Summit One Vanderbilt is about to become a serious competition (and reason for me to update this article!).
Seeing the city from the unique vantage point of the best observatory in New York City helps you to better understand the city's layout, helps you to understand how New York is set up, where the other boroughs are, and see how close New Jersey actually is. But not just that: it's a truly memorable experience and it will make you appreciate the grandeur of the Big Apple even more.
As for rooftop bars – there are over 50 rooftop bars in New York, and while they are fantastic in their own way and make for a spectacular backdrop for sunset drinks, they can't quite replace the observation decks, simply because they aren't as high and can't provide the same far-reaching panoramic views. (More info on rooftop bars at the end of this article). By the way, you don't have to go high up for a great skyline view – here are five places with amazing views of Manhattan – and all of them are free.
Which one is the best observation deck in New York City?
I've been lucky enough to have been atop all three iconic observation decks in Manhattan: The Empire State Building, the Top Of The Rock, and the newest one, One World Observatory, which opened in 2015 – some of them I've visited several times. So which one is the best observation deck in New York City? Read on to find out what I think are each observatory's advantages, disadvantages, unique features and things to know before you visit.
Empire State Building: The Iconic One
Overview
Long gone are the times when the Empire State Building held the title of the highest building in the world – it was in fact the first building in the world to top 100 floors – but it is still the most iconic skyscraper in New York City, and the oldest observation deck. Today, the Empire State Building is still the 5th tallest skyscraper in the U.S. and the 28th highest building in the world. The Empire State Building's observatory has been featured in dozens of movies and TV shows, and for most people this is the best observation deck in New York City simply because it is the most famous one.
The main observation deck is located on the 86th floor, and there is an additional observation deck on the 102nd floor, which you have to pay extra for. I personally wasn't too fussed about the 102nd floor deck – you can barely call it that because in reality, it is a tiny space around the spire. Here you don't have open-air vistas, as there are glass windows. While I thought it was unnecessary to go up there (and pay an additional $20 for it), my friend loved it. So, up to you if you want to spend $38 or $58 for the experience, I didn't think the views from the 102nd floor were better than the ones from 86th floor, and the glass windows made it difficult to get pictures without glare / reflections.
Height: 1,250 feet (381 meters); 1,454 feet (443.2 meters) including its antenna
The actual observation decks are at a height of 1,050 feet / 320 meters (86th floor) and 1,224 feet / 373.1 meters (102nd floor) respectively.
Floor(s): Indoor and outdoor deck on the 86th floor, which is the highest floor in the actual tower. There is an additional observatory on the 102nd floor (see below for details of closure). The 16 floors between 86th and 102nd floor are empty (part of the prominent Art Deco spire, which is hollow).
Advantages: You have great views over Midtown Manhattan from here, and the viewing platforms are outdoors. That means you don't have any windows to deal with, and no glare in your photos.
Disadvantages: The downside of the Empire State Building is that taking your photos atop this unique structure, it won't feature in any of your photos.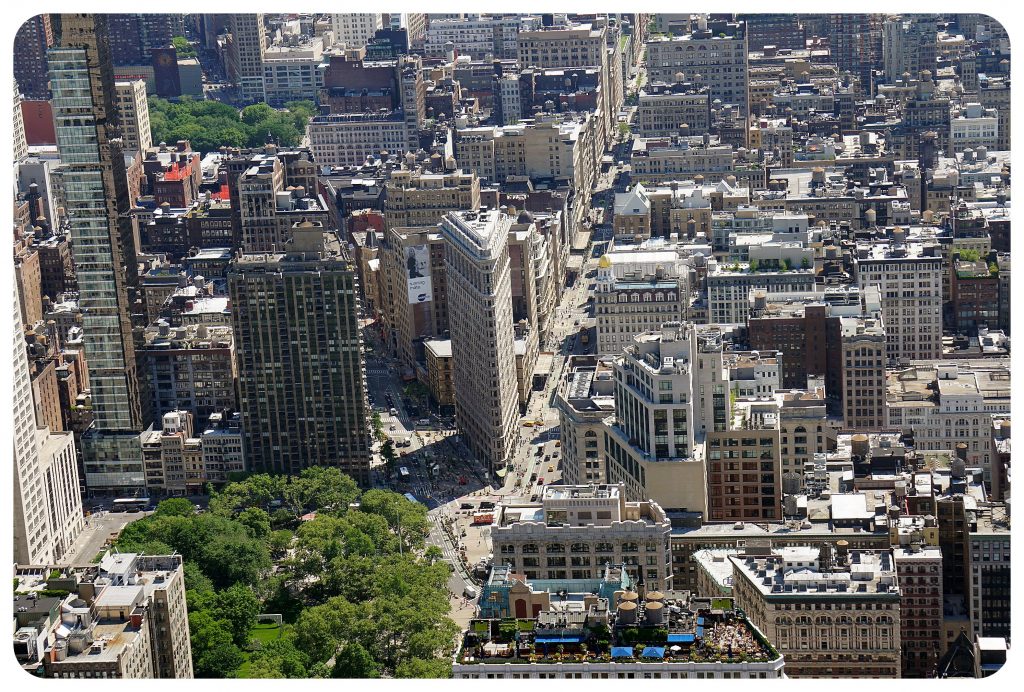 Details
Admission: 86th floor observation deck: $38 general admission; $65 express 'skip all lines' pass; $55 for double admission, once in the AM and once in the PM (ideal to experience both the day and the night view); sunrise experience $125 (limited to 100 people per day)
If you want to go up to the 102nd floor, it's an additional $20.
Address: 20 W 34th St, New York, NY 10001. The main entrance is on Fifth Avenue.
Closest subway stations: 33rd Street (4, 5, 6 lines) 5 min walk; 28 St Broadway (R, W lines) 7 min walk; 34Street – Penn Station (1, 2, 3 lines) 7 min walk; 34 Street – Penn Station (A, C, E lines) 10 min walk. Times Square – 10 min walk. Grand Central Terminal – 15 min walk.
Opening Hours: Daily from 8am to 2am. Additional hours at sunrise for a special sunrise experience (times vary depending on time of year).
Website: Empire State Building
One World Observatory: The New Kid On The Block
Overview
One World Observatory is located in the top three floors of One World Trade Center in NYC's financial district, near the southern tip of Manhattan. The observatory was opened in May 2015, a few months after the skyscraper, which was built to replace the Twin Towers, was finished after nine years of construction.
One World Observatory is currently the 13th highest observation deck in the world. The elevator experience alone is worth checking out this observation deck: In only 60 seconds, you're zoomed all the way up to 102 floor, and during the ride, you are entertained with visuals of the development of the New York skyline from the 1600s to today. Fun fact: Even though the building officially has 104 floors, the number of actual stories is 94. The two floors above the Skydeck, floors 103 and 104, as well as floors 91 to 99, are mechanical floors.
I wouldn't say that this is the best observation deck in New York City, but if you've already done the other observatories and you want to get a different vantage point of the city, this one is for you.
Height: 1,776 feet (541.3 meters) – a symbolic height with a nod to the year 1776, in which the Declaration of Independence was written. The height includes the 408-foot spire, so the height of the actual observation deck is 1268.4 feet (386.6 meters).
Floor(s): 100 to 102nd floors
Advantages: This is the highest observation deck in New York City, considerably higher than the Empire State Building. That alone makes it the best observatory in New York City for many people. It also offers a different vantage point of the city: instead of being in the middle of the Midtown skyscrapers, you are surrounded by the higher buildings of the Financial District. On clear days, you have a great view of the entirety of Brooklyn, all the way down to Coney Island and the Rockaway Islands. From no other building in the city, you have such a fantastic view over the Bay Of New York, including Governors Island.
One World Observatory also offers views of the Brooklyn and the Manhattan Bridge as well as the Statue Of Liberty. This is something you cannot get on any of the other observation decks.
You can enjoy a glass of wine or prosecco with your view. There are a couple of concession stands inside the actual observatory where you can buy alcoholic beverages (and soft drinks).
Disadvantages: The observation deck is indoors, and while you have large floor to ceiling glass walls on all sides, it can be difficult to get photos without glare (especially if you want to be in the photos).
You have to buy your ticket for a specific time slot – so head to the tower with ample time to make your selected time slot. Only the entering time is set, by the way. Once you're inside the observation deck, you can stay for as long as you want.
Details
Admission: $34 general admission; $44 admission with priority line; $54 with priority line and flexible arrival time.
Note that if you choose general admission, you have to select a specific time slot for your visit.
Address: One World Trade Center, 285 Fulton Street, New York 10007
The entrance is on West Street.
Closest subway stations:World Trade Center (E train) 6 min walk; Park Place (2, 3 lines) 7 min walk; WTC Cortlandt Street (1 train) 2 min walk; Cortlandt Street (R, W) 6 min walk; Fulton Street (4,5,A, C, J, Z, 2, 3) 8 min walk.
Opening Times:
Sept. 5 – Dec. 20: 9:00am – 9:00pm (last ticket sold at 8:15pm)
Dec. 21 – Jan. 3: 8:00am – 8:00pm (be aware of special holiday hours)
Jan. 4 – April 30: 9:00am – 9:00pm (last ticket sold at 8:15pm)
May 1 – Sept. 4: 8:00am – 9:00pm (last ticket sold at 8:45pm)
Please note that there are adjusted Holiday hours on all major Holidays, such as Independence Day, Thanksgiving, Christmas – check the website if your visit falls on a Holiday.
Website: One World Observatory
Top Of The Rock: The One That Has It All
Overview
The Top Of The Rock is the observatory atop the Comcast Building. Not a lot of people know the building by this name – by most it is referred to simply as 30 Rock, short for its address 30 Rockefeller Plaza. From 1933 to 1988, the building was known as the CA Building, from 1988 to 2015 as the GE Building, and ever since as the Comcast Building. Many people know the building as the home of NBC Studios, and it is here where popular TV shows such as Saturday Night Live, Late Night with Seth Myers and the Tonight Show Starring Jimmy Fallon are taped.
The 66-story building is only the 22nd tallest building in New York City and 400 feet (122 meters) shorter than the Empire State Building – the observation deck is 200 feet (61 m) lower than that of the ESB. And yet it is my personal favorite of all the observation decks. And that's simply for two reasons: It's the only observation deck in New York City that offers a view of Central Park, and you also have the Empire State Building featured in your panorama pictures, which you obviously don't have when you're standing on top of the ESB. Since that one is the most iconic skyscraper in NYC though, I like having it featured in my photos.
If you prefer a dinner or a cocktail 65 floors above the streets of Manhattan, you can also opt for one of two restaurants inside the Rockefeller Center: The Rainbow Room, which reopened in 2014 after extensive renovations, and bar SixtyFive, which is part of the restaurant. It's worthwhile to splurge on a pricey drink (expect to pay around $20 for a cocktail) instead of paying for the observation deck, especially if you decide to check out one of the other observatories..
***Note that both the Rainbow Room and SixtyFive are only open from 5pm to midnight, and CLOSED on Saturdays, and sometimes closed for private events, so definitely check your preferred date. It's also recommended to make a reservation. Also note that there is a strict dress code.***
Height: 872 feet (266 meters)
Floor(s): The three-level observation deck spreads out over three floors: 67th, 69th and 70th.
Advantages: As stated above: you have the Empire State Building in your photos, and you can see almost the entire Central Park. Plus, you're right above Midtown, which is the part of Manhattan with the largest number of skyscrapers and tall buildings, making for an interesting vantage point. Part of the observation deck is outside, which means you get great photos without any glare.
Disadvantages: The observation deck is located at a lower height than the Empire State Building and One World Observatory.
Details
Admission: $36 general admission; $54 special Sun & Stars tickets which allows you to visit twice within 24 hours, once during the day and once at night. $92 VIP Access (skip the line, no set time).
Note: You have to choose an exact time slot for your visit, unless you purchase the VIP ticket (for which you have to select the date, but not an exact time).
I recommend the 'Flexible Date Ticket' because if it rains or if it's cloudy on the day you chose for your visit, your screwed. With the flexible date ticket you can visit the Observatory whenever the weather is best.
Address: 30 Rockefeller Plaza, NY 10112. You can access the building from 5th and 6th Ave. The entrance is on 50th Street.
Nearest subway stations: The subway station 47-50 Streets Rockefeller Center on the B, D, F, M lines is literally right underneath the building.
Other subway stations are: 5 Avenue / 53 St (E & M) 7 min walk; 49 Street (N, Q, R, W) 4 min walk; Times Square is a 10-min walk away; Grand Central Terminal is about 12 mins away.
Opening Hours: Daily from 8am – midnight. Last elevator up at 11:00pm.
Website: Top Of The Rock Observation Deck
Rooftop bars vs observatories
As I mentioned above, NYC also has plenty of rooftop bars, and particularly those in Manhattan offer excellent views of New York City. None of the rooftop bars are as high as the observatories, however, which means you don't get the same vantage point. You also don't get a full panoramic view, because most of the bars are located on one side of building, rather than covering the entire rooftop.
If you want to check out some of the best rooftop bars, here are some recommendations:
Bar 54 (54th floor, on top of the Hyatt Hotel Times Square); 135 W 45th St, NY 10036
Monarch rooftop (18th floor, great Empire State Building views); 71 W 35th St, NY 10018,
Upstairs at the Kimberly Hotel (30th floor); 145 E 50th Street, NY 10022
The Skylark (30th floor, Mondays – Fridays only); 200 W 39th St, NY 10018
The Crown (21st floor, on top of 50 Bowery Hotel); 50 Bowery Street, NY 10013
The Heights (31st floor, on top of the Arlo Hotel, this one has a glass bottom); 11 E 31st St, NY 10016
Rooftop bar on top of Pod39 Hotel (17th floor); 145 E 39th St, NY 10016
PHD Lounge (15th floor, atop the Dream Hotel Downtown); 355 W 16th St, NY 10011
Also check out this comprehensive list of 41 New York rooftop bars; or the 17 best New York rooftop bars as chosen by Conde Nast Traveler.
Have you visited any of the rooftop bars or observation decks in New York City? Which one is your favorite?