Last Updated on April 27, 2022
Australia is a paradise for camping fans – no matter if you're doing it the old-fashioned way by pitching a tent every night or the more common way with a camper van, there's no better way to explore Australia than by hitting the road and pitching your tent or parking your campervan in one of the National Parks, camping gives you a much greater freedom when traveling around this vast continent. There are so many incredible places in Australia, you could easily spend a year driving around the country taking in its natural beauty and vibrant cities, checking bucket list places like the Great Ocean Road, Sydney, Uluru, the Great Barrier Reef – this is my very own Australia bucket list, if you're still looking for some inspiration. The more time you have, the better, but even a few short weeks will allow you to hit up the best camping spots in Australia.
To guarantee your camping trip goes smooth, we compiled the top five things to know before you go on a camping trip in Australia:
1 Find the right vehicle
This is especially important for those looking to buy or rent a campervan, and even more so if you are planning an extended trip and will be traveling with your vehicle for a while. Most travelers opt for a used vehicle and then sell it again at the end of their trip. If you decide to buy a vehicle, I highly recommend this detailed guide on buying a campervan in Australia by Anna of Global Gallivanting. It has all the information you need on how to find a campervan, what to consider when buying one, everything you need to know about paperwork, registration and insurance, how to sell it afterwards, and much more.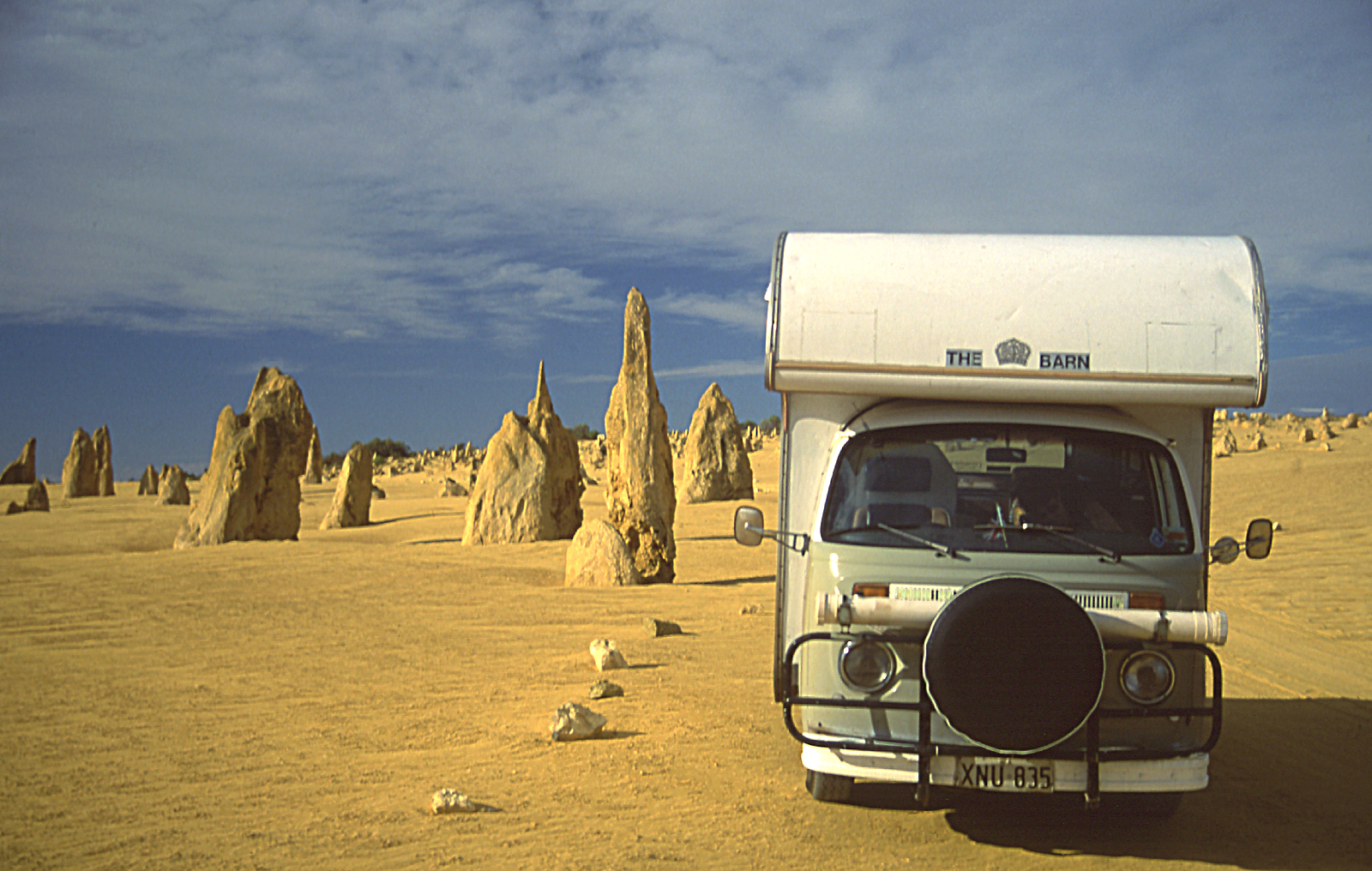 Once you've bought the vehicle, give yourself a few days to familiarize yourself with the vehicle before setting off on your road trip. Make sure that the car is in great shape, that things like oil and windshield cleaner water are filled up. Purchase a couple of extra bottles each in case you run out in the Outback, where gas station charge more for these items than shops in big cities.
2 Have appropriate equipment and food provisions
Depending on the nature of your trip (camper van vs car & tent) it is absolutely essential to plan your trip in detail – what kind of equipment do you need? How much food do you need to travel with? If you're visiting remote areas such as the Outback it is necessary to pack enough food to last you for a few days, and it is best to purchase all the essential items (things like spices, tea, instant coffee, oatmeal, pasta, etc) you'll want for your trip before you hit the road.
As for camping equipment, make a list of everything you need and go on a shopping spree. If you don't want to buy new gear, check out websites like Gumtree for used gear. Depending on if you are traveling with a tent or campervan your needs for equipment will vary, but there are a few things you'll need either way, for example a first aid kit, bug & fly repellent, sleeping bags (or sheets), lights (solar lights are great), dishes and cookware. To save money when buying your essential equipment, head to Dollar Sense, a popular Australian discount store.
If you're traveling with a car and a tent, do a test run and set up your tent before leaving on your trip. Even better: testing it before you buy it – go inside, lay down, see how big it really is and if it's comfortable for you and your travel companion(s) – remember that you'll have to spend the next few weeks or even months in it.
3 Map out your daily drives
I know that it is tempting to simply head out and hit the road, but since much of Australia is sparsely populated and distances are greater than most people anticipate, it is important to map out your route before starting your trip. Mark things like supermarkets, gas stations and camp grounds on your map – you might drive by one and then realize hours later that you should have stopped there. Not being prepared can result in some frustrating situations. Make also sure to add some extra time to GoogleMaps' (or whatever route planner you're using) estimated duration of the trip. It'll definitely take you longer, since you'll be stopping along the way for photo ops and maybe even short hikes. Plan your daily drives realistically – don't try to fit in too much, or you'll tire out quickly.
I'd suggest investing in a travel guide, such as Lonely Planet (which has suggested itineraries and detailed maps) or The Ultimate Australia Travel Guide By A Traveler For A Traveler: The Best Travel Tips; Where To Go, What To See And Much More or at least a good map of Australia, like National Geographic's Australia Adventure Map. That way you can visualize your trip better and you'll get a ton of practical information as well as details about the National Parks you're visiting and sights you are passing.
Also download some useful travel apps, such as Wikicamps, the largest and most up-to-date database of campgrounds, caravan parks, backpacker hostels, day use area and points of interest. The Free Wi-fi finder app is also useful for campers to help you plan your next stops and to avoid paying for wi-fi.
4 Set a realistic budget
Traveling in Australia isn't cheap, but there are plenty of ways to save money. Investing in a Lonely Planet will help you find out about all the costs you'll have on your trip, from national park admission to campsites to sights. Being able to calculate your daily costs is key to make sure you don't run out of money before the end of your trip. Traveling by camper van around Australia is actually the cheapest way to see the country!
Research ways to save money during your trip – shopping at discount grocery Aldi is a good start, for example, or using apps, as I've already said in #3. There are also some apps that help you save money, like The Happiest Hour app to find drink, food and cocktail specials in your current location or Fuel Map Australia, a crowd-sourced fuel station & fuel price finder, to find cheap gas.
5 Be flexible with your itinerary
Once you hit the road, you'll quickly notice that it's not easy to stick to your original itinerary. You'll want to spend an additional day in some of the national parks, you'll want to take a rest day, some of your activities might get rained out. It is nearly impossible to stick to your plan – but don't stress out over it, let the road lead the way for you. And if you meet other travelers who suggest places to visit that are not on your itinerary – if they sound good to you, you should visit them. Personal recommendations are often the best ones, especially those from locals.
Photo credit: All images used under Flickr's Creative Commons Licensing. (1) Purnululu by Roderick Eime; (2) Campervan in The Pinnacles by Tony Spencer; (3) Camping in Australia by David Clarke; (4) Stockton, Australia by anonphotography.com; (5) Australia by Curtis Foreman; Outback by krheesy; (6) Kata Juta by Georgie Sharp.