Last Updated on April 30, 2023
I've already told you that I loved my trip to Amsterdam last month, but now it's time to share some off-the-beaten-path Amsterdam recommendations with you! The usual Amsterdam sights like the Van Gogh Museum and Anne Frank House have all been covered in-depth by all travel guides, so I wanted to share some things that not every tourist is aware of – some sights that may not be on your radar yet, and some insider tips that aren't widely known.
If you're a first-time visitor to Amsterdam, make sure to also check out these two great itineraries:
Here are 10 insider tips for Amsterdam:
1 Visit Amsterdam's Western Islands
There are three peaceful, quiet little islands in Amsterdam: Prinsen, Bickers and Realen. The islands are just west of the central station and you can visit all three in about 1.5 hours, making for a lovely walk.
2 Stand on the 'Skinny Bridge'
Amsterdam has 1,281 bridges and you'll cross many of them during your visit, trust me. Some are ordinary bridges, others have a story to tell, some are special. The Magere Brug (which translates to Skinny Bridge) is one of them. The bridge is a double-swipe wooden bridge and it is one of the most remarkable bridges in the city. This may not be the ultimate Amsterdam insider tip, but if you're visiting Amsterdam with your lover, visit the bridge at night, when it's all lit up and super romantic, and you'll have an unforgettable Amsterdam moment.
3 Free views over Amsterdam
Head to Amsterdam's public library for spectacular views over the city. Just take the escalators all the way to the top. There is a restaurant with a lovely terrace, but you don't need to order anything to enjoy the views. Fun fact: Amsterdam's library is the largest in all of Europe!
Address: Oosterdokskade 143 Opening Times: Monday – Sunday 10am till 10pm. Extra Tip: Head up to the terrace just before sunset!
Another good place for free views of Amsterdam is the rooftop of the NEMO Science Center. Address: Oosterdok 2; Opening Times: Tuesday – Sunday 10am till 5.30pm.
4 Visit the '9 Streets' in Amsterdam
The 9 Streets are nine small cobblestone streets that connect the main canals between Leidsegracht and Raadhuisstraat, known for their unique and innovate independent shops. You find everything here from vintage stores to designer shops, plus several lovely cafes and galleries.
5 Don't miss North Amsterdam!
North Amsterdam has a completely different feel to it than touristy central Amsterdam. The buildings are more modern, it's trendy, and where the locals hang out. The waterside offers great views over the city, and there are many cafes and bars right by the water. A hipster favorite is the quirky Noorderlicht Café (NDSM-Plein 102). The best thing about the north? You can get here for free with the free water ferry that leaves behind the Central Station, an easy trip to see Amsterdam off the beaten path.
6 A different museum experience in Amsterdam
Most Amsterdam visitors head straight to the Rijksmuseum, the Anne Frank House and the Van Gogh Museum – however, there are other museums in Amsterdam that are quirkier than your usual museum experience and for photography lovers like me, there are two photography museums!
My insider tips for a visit to Amsterdam:
If you're looking for a fun museum experience tho enjoy with kids, check out the quirky Upside Down Museum or The Art of Play Wondr, which is touted "the first artistic playground for adults", but honestly, is equally enjoyed by grown-ups and kids.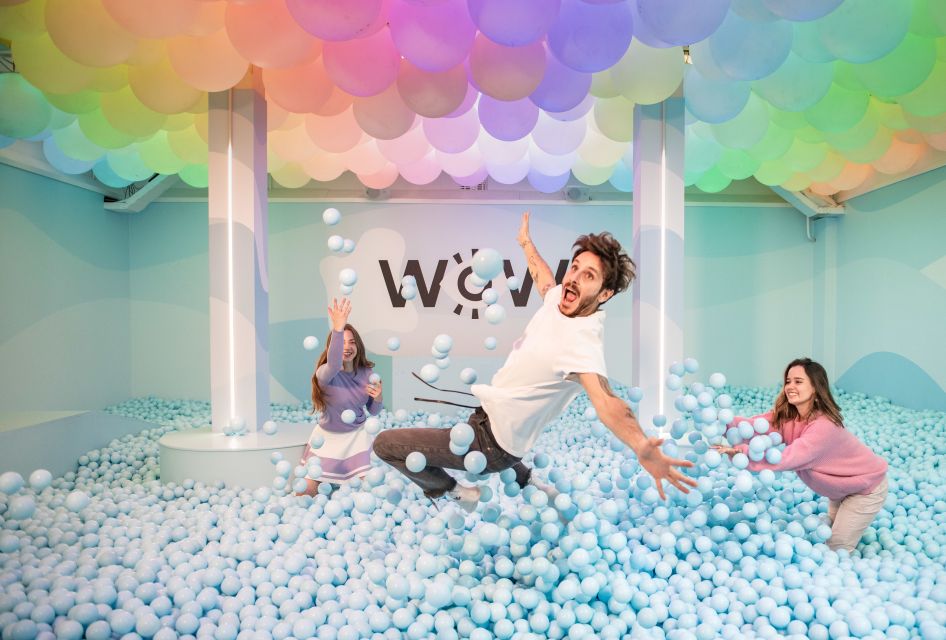 Another excellent museum is the MOCO Museum, an art museum that was specifically designed to introduce art to a younger clientele or people who usually do not enjoy art museums – or at least think they don't! There's a lot of art at the MOCO that speaks to Gen Y & Gen Z: street art, contemporary art and modern art by iconic artists such as Banksy, Keith Haring, KAWS, Yayoi Kusama and Andy Warhol. Tickets are only around €20.
Speaking of street art: Street art fans cannot miss Amsterdam's Streetart Museum STRAAT, which is the world's largest street art museum. Tickets are less than €20, making this museum a real steal!
Another museum for people who usually don't enjoy museum is the Nxt Museum, the first museum in the Netherlands dedicated to new media art. Here, visitors are immersed in a digital audio-visual experience – a truly unique museum experience.
The Huis Marseilles Photography Museum (the most cutting-edge exhibitions) and the FOAM Photography Museum (contemporary photography).
Other interesting museums include the House Boat Museum (see what life on a house boat is actually like!), the Sex Museum (the world's oldest sex museum), EYE (an impressive film museum) and the Museum Of Bags And Purses (a must for fashionistas!).
7 The best Dutch food and beer in Amsterdam
You can't leave Amsterdam without having a good meal – the Dutch are particularly known for their Dutch pancakes but also for their love of good breakfasts. Here are some Amsterdam insider tips for meals that won't disappoint: De Vier Pilaren (Stadhouderskade 11), a traditional Dutch pancake house, Greenwoods Singel (Singel 103) for breakfast (get Eggs Greenwood and thank me later!), Bar Lempicka (Sarphatistraat 23) for breakfast or for a typical Nordic meal of smoked salmon and cream cheese rolled in Swedish flat bread. The best place for craft brew in Amsterdam is Brouwerij 't IJ (Funenkade 7).

For an authentic Dutch dining / pub experience, visit a 'brown café' (bruin café), which are the typical Amsterdam pubs. The name 'brown café' results from the dark brown wooden furniture in these pubs. Some of them date back to the 1600s (The oldest one, In 't Aepjen, first opened its doors in 1509)! A traditional Brown Café snack to try are bitterballen, which are breaded and deep-fried balls with a ragout filling, served with various mustards, and of course you can't leave without trying a regional beer here.
8 Step back in time in Amsterdam: Begijnhof
Head to Spui Square and look for a wooden brown door, go through it, and you'll find yourself in another world! The quiet garden courtyard, surrounded by gabled buildings, couldn't be a bigger contrast to the busy Spui Square. Begijnhof dates back to the early 15th century and is one of the oldest courtyards in the city, and look out for Begijnhof 34 – the wooden house is one of the oldest houses in Amsterdam!
9 Waterlooplein Flea Market
Waterlooplein Flea Market is a huge outdoor market with over 300 stalls, selling anything from kitsch to antiques furniture to vintage clothes. If you love a market stroll as much as I do, you should definitely make Waterlooplein Flea Market part of your trip to Amsterdam, and you might even find an unusual souvenir here. The market, which was created after World War II ended and has attracted hippies from all over Europe in the 70s is still a place where people of all backgrounds, ages and origins come together – every day of the week! It can get pretty crowded these days, so I recommend visiting early or bringing patience.
Another Amsterdam insider tip: The market is located in the Jewish Quarter, which is worth a visit in itself, so make sure to explore the streets around Waterlooplein Square when you're finished shopping.
10 Visit Amsterdam's Jordaan neighborhood
The Jordaan neighborhood is a young area of the city, with lots of funky cafes, galleries and independent shops. If you happen to be in Amsterdam on a Saturday, don't miss the market on Lindengracht and the flea market around the Noorderkerk.
Want more insider tips for Amsterdam? Check out the Guardian's 10 of the best insider tips to Amsterdam.
PIN IT!