Last Updated on
Since I made the decision to take a long-distance hike later this year I have been researching several popular as well as lesser known hikes in and around Europe. I thought I'd share some of the details for each hike with you here, so that those of you who are looking to take one of these hikes too can benefit from the things I found out- details of the route, the distance of the hike, how to get there, costs and duration and what to pack.
The Lycian Way in southwestern Turkey is one of the top three hikes I am considering to walk, a coastal hike that involves spectacular views, historical sites from the Greek culture and Roman Empires saying back to 8BC and traditional villages that seem untouched by tourism. The trail follows the coast, leads through pine forests, and always has a spectacular mountain backdrop. It is mostly made up of old mule trails and hundreds of year old footpaths.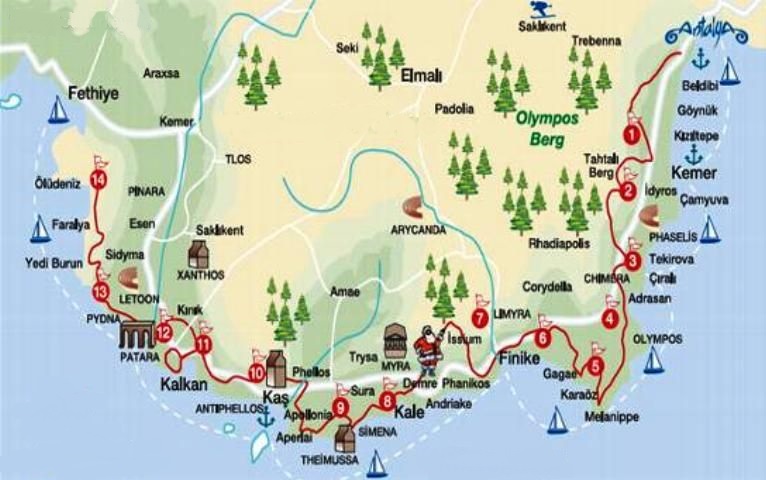 The path is one of the oldest trails in Turkey, totaling a length of 509km (315 miles).
You'll sleep in guest houses, village homes and basic B&Bs along the way. Since you have to camp in some parts of the way, this is definitely a trek for more advanced hikers who like to rough it, and don't mind very basic sleeping conditions, lack of bathrooms along the way and purifying their water.
Location:
The Lycian Way is located on Turkey's Tekke Peninsula, which is historically known as Lycia, hence the name. It connects the small coastal town of Ölüdeniz (near Fethiye) with Hisarcandir (west of Antalya) and follows the coast – it never moves away more than 15 kilometers from the Mediterranean. Sometimes it climbs high into the mountains, other times it is at sea level, it leads through pine forests and along steep cliffs.
How to get there:
Depending on which side you're planning to start on, you could fly either into Dalaman, which is the closest airport to Ölüdeniz (the western starting point) or into Antalya (the eastern starting point).
Depending on where you're coming from you could also fly into Istanbul and take a connecting flight to either city from there, but direct flights to the Tekke Peninsula are available from all major European airports – at very low prices! Thomas Cook Airlines flights to Dalaman for example start at only £50 from Britain.
Best time to go
Obviously, temperatures get extremely hot in the summer months, but can also get pretty chilly in the winter. The best time to go would be either in the spring (March – May) or in the fall (Sept- Nov). In theory, you can hike the trail year-round but expect to be sweating a lot in July and August and be prepared for cold nights in January and February (you'd have to pack extra clothes / warmer sleeping bags). November and December are the wettest months, expect lots of rain during those months.
Planning the route
If you are planning to walk the entire route, it will take you around 4 weeks. It is possible to walk only parts of the way. Depending on your hiking experience you might choose the eastern part for the tougher hike and the western part if you are not as experienced, since this is the easier section of the way. Some parts of the hike, especially close to Fethiye, are pretty strenuous. If you don't want to camp, make sure to choose a part of the trail where you can sleep in guesthouses in village homes every night. It is possible to only hike sections of the trek, which is what most people do.
The most beautiful part of the trail is the hike between Fethiye and Patara.
How much does it cost?
Traveling in Turkey is inexpensive; you'll be able to find a room for two in most guesthouses for about $20, sometimes even less. A full meal including a drink in a restaurant in the less touristy places will cost you less than $10, and between $10 and $12 in the more popular tourist towns. You can buy a day's ration of snacks and foods in a supermarket for about $10.
What to pack
As you'll be carrying all of your stuff with you at all times, it is essential to keep the weight as light as possible. In addition to your clothes and gear you'll have to estimate another 3kg (lbs) for your daily food and water ration.
Key items include:
Walking boots with ankle support since parts of the way are rocky and steep
Band aids and other basic medical items, plus water-purifying tablets and reusable water bottles
Camping gear (because you will have to camp on some parts of the way) This means at least a sleeping bag (ideally lightweight!), plus a tent of you want to be covered (recommended because of occasional rains)
A guidebook so that you can located the closest water sources, camp sites, etc.A cell phone with a local SIM card in case of an emergency
A torch, or even better a headlamp
Sunscreen and a sun hat (sometimes you'll walk through areas without any shades for hours)
A Turkish phrase book will come in handy since people in some of the remoter villages do not speak English
Mosquito repellent (they come out at dawn for sure)
Further reading
A British woman named Kate Clow was majorly involved in setting up the path in the early 2000s, making less known parts of it accessible for the public and establishing signage and other amenities along the path also wrote the most comprehensive book on the topic, including a detailed map of the trail. It is highly recommended to read the book (named The Lycian Way) before hiking the trail and to also carry the guide with you while walking it.
HikeTheLycian.com is a detailed online resource for the trek.