Last Updated on September 1, 2023
Italy was one of the most anticipated countries on our travels through Europe. Both huge fans of wine, olives, pizza and pasta (who isn't?!), we had been wanting to visit Italy together for years but for some reason, it never worked out. This year we finally made it – and had an incredible trip. We'll cover our time in Italy more in subsequent posts, but here's a taste of our time in Bel Paese, the beautiful country – our first impressions of Italy.
First impressions and observations of Italy

Italian fishing villages are just so cute.

Italy has squat toilets. Who knew!
This is not an unknown fact about Italy, but it needs to be said: Italians make the best coffee drinks. Our favorites: Cappuccino, Macchiato, Espresso.
No tourist can leave Pisa without a funny

Leaning Tower

photo.
Including us.
Italians are proud to be Italian.
Tuscany really is as pretty as everybody says it is.
Our favorite first impression of Italy so far: Italian pasta is as scrumptious as you'd think. We also learned that Italian food is not the same everywhere – it varies quite a bit from region to region.

Cinque Terre is overrun by tour groups but when you visit these '

5 beautiful lands

', you know why.
This is what

Chianti wine

looks like before it's bottled.
Italian churches are beautiful. From the outside…
…and from the inside.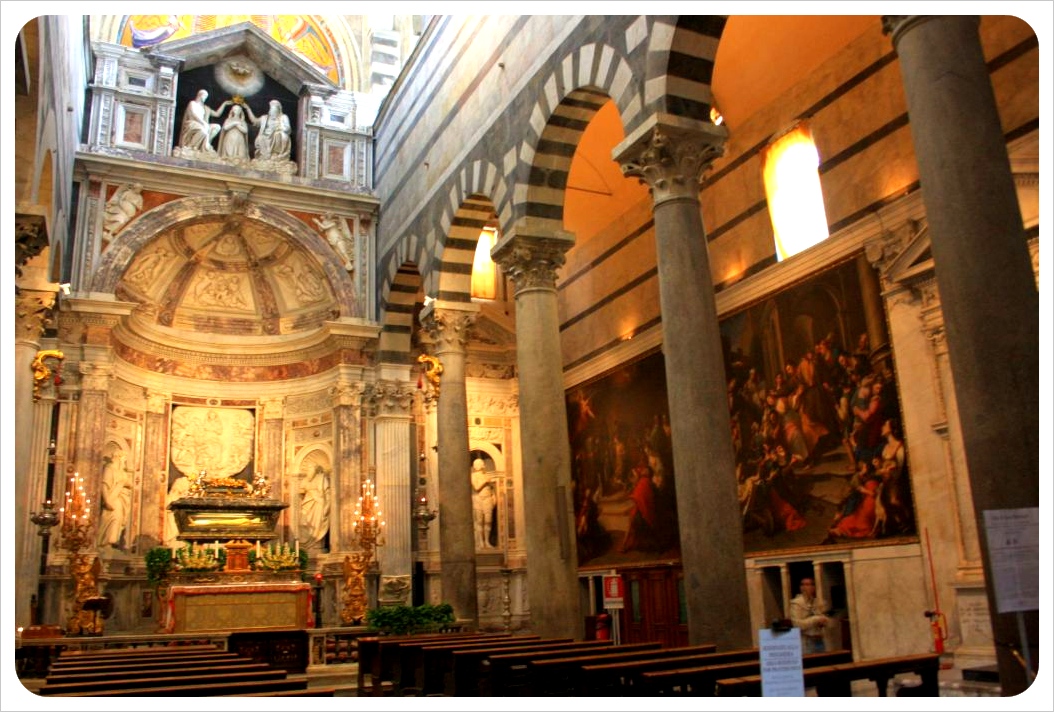 But they can also hold some pretty creepy stuff.
Even in Italy you can get your picture taken with a British phone booth.
Italian pizzas are giant and they taste perfect.
Italians invented pizza with truffles & zucchini. It's delicious.
Pizza with fresh tomatoes, mozzarella and pesto is even better.
Italian door-knockers are intricately decorated.
Boar is a

culinary specialty

in Tuscany. You will see boars everywhere. Dead or alive.
Italian mountain towns are

bellissima

.

In Italy, naked men are everywhere, standing very, very still.
Italians don't like their train system and at times, passengers get out protest on the tracks.
There are as many scooters and

vespas

in Italy as you might think.
This may not be a surprising observation about Italy: Italian

gelato

is addictive.
Italians take great pride in decorating their windows

.
One of the most charming first impressions about Italy: Italians really all hang their laundry outside their windows.
P

isa

has much more to offer than just the leaning tower.
There is wine everywhere. And it's cheap. And so good.

There are many expensive 'boutique' wines, some of those are cheap in their own way…
Italians like garden gnomes in their front yards.
Italy has thought-provoking street art.
Italian pastries are worth every single calorie.
The sunsets in Italy are picture-perfect.
Milan's cathedral

has a beautifully decorated facade depicting some pretty cruel scenes.
Italian markets are bursting with mouthwatering flavors and bright colors.
Italy is a great place for lovebirds.
It is hard to take ugly photos in Italy.