Last Updated on May 26, 2023
Israel has ruined me for life. Not a single day goes by that I'm NOT thinking about the glorious food I had there. No matter if it's the juicy olives, the soft warm pita bread, the bread shops in general, the most excellent shakhuka, eggplants cooked to absolute perfection, scrumptious couscous, and I don't even want to mention the hummus, the wonderful hummus, which just hasn't tasted as good anymore since I left Israel.
I am telling you: The food in Israel ruins you for life. I was perfectly fine with the mediocre hummus I had been eating before I went to Israel, but after I tried Said's hummus in Acre, I realized that as a matter of fact, I'd never even had good hummus before. This place has some of the best food in Israel!
But I am getting ahead of myself – let's start at the beginning.
What is Israeli food?*
Israel is a culinary melting pot of the cuisines of all the different cultures that passed through the region that marks today's State of Israel over the centuries. The spices, scents and flavors of Northern Africa, mixed together with Middle Eastern and Mediterranean cuisine and traditional Jewish dishes make Israel's cuisine truly unique, and most of all: extremely diverse and flavorful. Dishes like shawarma and baklava are just as common as schnitzel, borsht and chopped liver. Other dishes that you'll come across over and over again – served in eateries ranging from cheap street food stalls to fancy restaurants – are falafel, olives, fresh fish, kebab and hummus.
One thing I loved about Israel was how fresh everything was – fruits and vegetables are bought in big open markets rather than sterile supermarkets, fresh fruit juices are made to order at little food stalls, and mobile bakery carts are selling fresh breads and baked goods as the vendors are wheeling their carts around town. Flavorsome spices are prevalent in all the markets, as are dried fruits and nuts.
The best Israeli food for me: Breakfast!
Breakfast is my absolute favorite meal of day in Israel. There are two dishes that stand out:
Shakshuka
My all-time favorite, and very best food in Israeli! Funnily enough, I was introduced to Shakshuka in an Israeli restaurant in Guatemala (side note: if you find yourself in a country where meat is prevalent in all dishes, look for an Israeli restaurant. There are always plenty of veggie options there.) and even though I've had it in many places all around the world, I was excited to try it in Israel. So what exactly is shakshuka? It is an egg dish for which eggs are baked in a tasty tomato sauce made of tomatoes, peppers, onions, garlic, chili and other spices.
In some places, you'll find it with additional ingredients such as eggplant, feta cheese or even shrimps. When you order it in a restaurant, it is served in the cast-iron pan that it is made in. I was even more delighted when one of my Israeli friends told me that it was perfectly acceptable to eat shakshuka for lunch and dinner, too. I could eat it three times a day, it's seriously that good.
The most popular shakshuka place in all of Israel is without a doubt Dr Shakshuka in Jaffa south of central Tel Aviv, which started out at as a small food shack and has now evolved into a spacious restaurant with several shakshukas on the menu. I have to admit though that I wasn't too fussed about the shakshuka I had there (or maybe my expectations were just too high, after hearing so many people rave about this place?) and had better shakshukas around Israel, for example at Cafe Nadi in Jerusalem.
Mezze
The other breakfast that I couldn't get enough of is the mezze breakfast. Here, a variety of dips and cheeses, olives and fried vegetables like roasted cauliflower, baba ghanoush (an eggplant paste), tahini (sesame paste), zhough (chili paste with garlic, coriander and cumin) and of course hummus are served with several breads – and let's talk about the bread for a minute: As a German, I am very picky with my bread, and don't approve of bread products in most countries. In Israel, however, I couldn't get enough of the fresh bread and fell in love with all the bread shops.
Many cafes have their own bakery on site and bake all sorts of breads (rye, wholegrain, etc) there. That's why the bread is always super fresh and extremely scrumptious. Bread is by the way a part of almost any meal in Israel, be it the typical Arab pita bread, Jewish Rosh Hashanah, Sabbat and Challah bread or the scrumptious Israeli bread, so for people who try to avoid bread – good luck doing that in Israel (but where's the fun in eating hummus without scooping it up with pita bread anyway?)
With the mezze breakfast spread you usually get to order eggs any style, and what's never missing: a side salad. Eating salad for breakfast might sound weird to some people, but I loved it. The salad is usually made of cucumbers (Israel has a distinctive type of tiny cucumber – much smaller than the ones we know, and much less watery), tomatoes, peppers and onions.
Common vegetarian dishes in Israel
What I also loved about Israel is that is so vegetarian-friendly. I love it when I'm in a country and I don't feel like I am missing out on local delicacies because I don't eat meat. In Israel, I never felt like I missed out, and here are some of my favorite vegetarian dishes:
Hummus
Hummus is one of the most popular Israeli dishes, and these days found all over the world. It is made out of chickpeas, tahini, olive oil, garlic, salt and lemon juice. Like I said in the beginning though: even though you can get hummus all over the world, you don't know what a really good hummus tastes like until you try it in Israel. My absolute favorite hummus shop was Sa'id in the old town of Acre, an ancient fishing town in the far north of Israel. I would go back to Israel just to eat the still warm hummus with pita bread fresh out of the oven again.
Falafel
These fried little balls of heaven are, just like hummus, widely available in most parts of the world. It is debatable if they are truly of Israeli origin, but falafel is one of those Middle Eastern foods that have made their way into the Israeli diet and is now considered the national dish. They are deep-fried balls made of chickpeas (sometimes fava beans, or a mix of both), and usually served with tahini, the aforementioned sesame paste that is a main staple in Israel, hummus and / or pita bread. You can find falafel everywhere, from tiny roadside stalls to high-end restaurants. I've had both the cheap version and fancier ones – what they all had in common was that they were mouthwatering delicious.
Eggplant
Eggplant is a classic ingredient in the Israeli cuisine, typically served in two different ways: as baba ghanoush (a pureed and seasoned eggplant dip) and baked in the oven. When baked in the oven, the eggplants are usually baked as a whole, including the skin, which is removed afterwards.
Bureka
Burekas are the Israeli version of Turkish pastry 'Borek', made from thin layers of filo dough that is filled with cheese, spinach or mushrooms, sometimes other ingredients. They are fried or baked and are a popular snack food which can be found in most bakeries or vendors who offer just bureka. They are eaten at any time of day. Tip: Get them when they are fresh out of the oven. Another tasty bread dish that has been brought to Israel by Georgian Jews is Khachapuri, a savory cheese filled pastry that is topped with a fried egg.
Tabouleh
Tabouleh is a popular salad made of tomatoes, parsley, mint, onion, bulgur and seasoned with olive oil, lemon juice, and salt. It is not only eaten in Israel, but all over the Middle East.
Learning how to make Israeli food
Since I am such a big fan of Israeli food, I was eager to learn how to make some of my favorite dishes at home. Luckily, Abraham Tours offered a Cooking Class and Market Tour in Jerusalem during which I did not only learn how to cook Israeli food, but also more about Israeli food culture in general. Our bubbly tour guide Samantha started our tour at Mahane Yehuda Market, Jerusalem's big main market which is well worth a visit, even if you're not planning to pick up fresh produce.
As we walked through the maze of fruit and vegetable, cheese and fish, bakery and olive stalls, we learned that chick peas, onions, tomatoes, cucumber, coriander and sesame are the basis of many Israeli dishes. Rice is prevalent, and lentils are also a staple in the country, but also couscous and bulgur (both are grains) are very popular.
Fresh food, and especially vegetables, are used in almost every meal: juicy tomatoes, purple eggplant, chilis, peppers in all colors. Jewish tradition brought Eastern European and Russian dishes such as borscht, schnitzel, chopped liver, cooked chicken and gefilte Fish to Israel. As a country with a long coastline along the Mediterranean, fish is ubiquitous in Israel. A popular fish dish that originates in Northern Africa is harimeh (a spicy fish dish with tomatoes, garlic, cayenne pepper and caraway).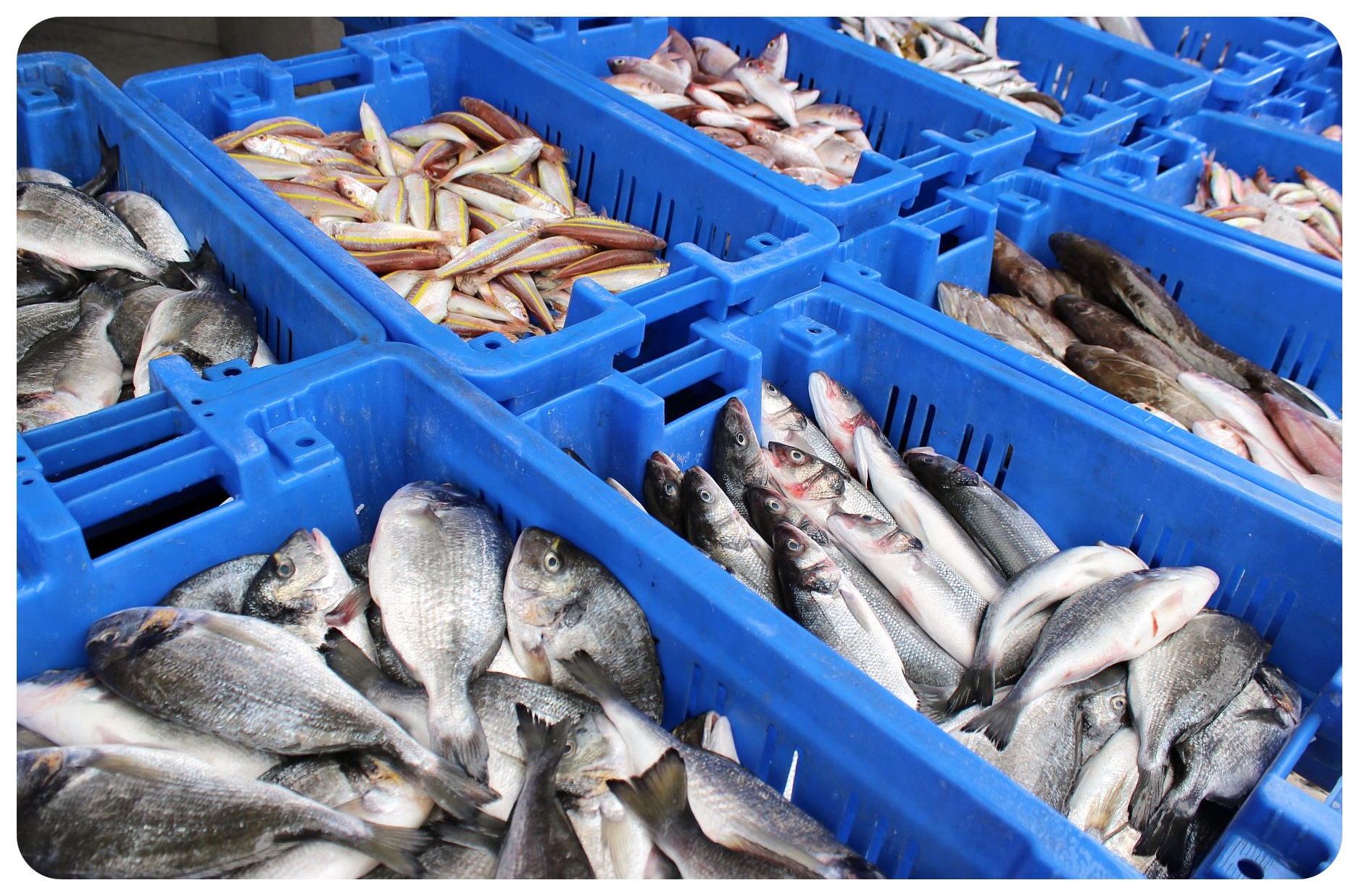 After our market tour, we returned to the hostel with enough ingredients to prepare a feast for at least 20 people, and start cooking. On the menu:
Smoked Eggplant with Feta Cheese and Tahini
Tahini paste
Tabouleh Salad
Grilled Cauliflower with Silan (date syrup)
Kohlrabi and Fennel Salad
Mediterranean Rice (with an amazing spice mix we bought in the market – I went back later to buy some more of those)
Hamshuka (Spiced Minced Meat Stew) – for the meat eaters
Cooking up all these items was just as much fun as the visit to the market had been. Samantha divided us into smaller groups (1 – 2 people) and each pair was in charge of a specific dish. We were taught how to cut the vegetables for each dish, how to cook or broil them and how to serve them when they are done. I have already made some of the dishes I learned from Samantha at several Mediterranean-themed dinner parties (the eggplant, tahini, tabouleh, Mediterranean rice and grilled cauliflower) and they were always a huge success.
The market tour and cooking class at Abraham Hostel was one of my highlights in Jerusalem and if you are interested in learning more about Israeli food culture and how to cook some Israeli dishes, I highly recommend taking this private class (you don't have to stay at the hostel to sign up for it, but if you stay at Abraham's, you get a discount for the class).
Abraham is now also offering a hummus workshop which I will definitely take the next time I am in Jerusalem. Like I said: Eating hummus in Israel will ruin you for life and turn you into a hummus snob. So what better place to learn how to make a proper hummus than in Israel? The workshop does include eating all the hummus you prepare, of course! Trust me, these are the best 50 Shekels (~$12.50) you can spend in Jerusalem.
Israel = Dessert Heaven!
We can't talk about Israeli food without mentioning some of the amazing desserts, or the reason I came back from Israel six pounds heavier, nearly not able to close my Dirndl. Sweet treats and desserts are some of the best food in Israel for sure, and you can find good pastries everywhere.
Jewish pastries
Jewish pastries are actually very similar to German cakes, cookies and pastries and are widely available in the bakeries everywhere.
Halva
Halva is a pastry that is made of sesame and to which ingredients like honey, vanilla, pistachios, cacao, almonds or nuts are added. In the markets, halva is sold in huge cake-like chunks of which the amount you desire is cut off, almost like a slice of cake. Halva is one of the most quintessential Israeli sweets and you can't leave Israel without trying it (in the markets they usually offer free samples).
Baklava
The most famous Middle Eastern sweet, a pastry made from nuts or pistachio, honey, syrup and filo. These are available in most bakeries in all kinds of shapes and tastes and are seriously addictive.
Kanafeh
Kanafeh is one of my favorite desserts I've had in Israel, even though the very best one I had was in Ramallah, and if you visit the West Bank (which you should!) make sure to have a Kanafeh while you're there. It is made of super thin pastry shreds soaked in sweet syrup, with a soft white cheese center and topped with pistachios.
Arabic coffee
You are typically served Arabic coffee (also known as Turkish coffee) with your sweets, which is brewed in a special pot and spiced up with cardamom. You drink it strong, black and from a small cup.
Where to find the best food in Israel
I want to include some of the places I've eaten at that are worth a visit – but the list of restaurants I've eaten at would be extremely long. I decided to include some places that truly stood out to me and that I think are worth a visit if you happen to pass through any of these places on your Israel trip. I recommend marking them in your GoogleMaps (you can save a place and mark it as "Place I want to go to") before your trip. So here are the places I've had some of the best food in Israel at (shout-out to my friend Rotem's mom who I'd definitely include in this list, but she doesn't have a restaurant!):
Tel Aviv: Breakfast
My favorite breakfast place in Tel Aviv is Bucke Cafe (Ahad Ha'Am St 91). Located on an unassuming residential street, you wouldn't just stumble upon this place, but don't be fooled – there'll be a line of people waiting outside the cafe. This is one of the most popular breakfast cafes in Tel Aviv – and for good reason. I had some of the best French Toast of my life there, and all the other breakfast dishes (healthy bowls, shakshuka and other egg dishes, salads.) The vibe of the cafe is also really cool, definitely have breakfast there when you're in Tel Aviv.
Another amazing place for brunch / breakfast is called Hamanya (Basel St 37). It is located in a residential area in the north of Tel Aviv, worth strolling up Dizengoff Street for, because there are lots of small shops and cafes around there, I loved the vibe of the area. Hamanya has incredible breakfast platters, smoothie bowls and salads. The coffee is great, too!
Tel Aviv: Hummus
I've had hummus in a number of places in Tel Aviv now, but Abu Hassan (Ha-Dolfin St 1) is still my favorite spot. I think Jaffa, the Arab part of Tel Aviv, is the best place to try hummus anyway, and Abu Hassan is the most famous one for a reason. The hummus is served warm, topped with chickpeas, the pita bread is delicious, and I love the simplicity of the no-frills place. They know their food is outstanding (you can find Abu Hassan on many "Best Hummus Places in Israel" lists), so why bother with a nice design?
Tel Aviv: Sabich Sandwich
I am obsessed with sabich sandwiches, and even though they're considered a quick and simple snack, for me, they're one of the best food in Israel. These sandwiches are stuffed with grilled eggplant, hard-boiled eggs, Israeli salad, hummus, tahini and some magic, and incredibly satisfying. There's a big debate about who makes the best sabich sandwich in Tel Aviv, but for me the answer is, without a doubt, Sabih Frishman (Frishman St 42), a small food stall on the corner of Frishman and Dizengoff St.
Tel Aviv: Best pita sandwich
Panda Pita () was an accidental find – we were given a sample of their fresh pita bread while strolling through Carmel Market (the small food stall is right in the middle of the market) and even though we'd just eaten, we couldn't resist: we had to order a sandwich. They hav
e two different sizes (small is great snack, large is a full meal), and three different options: eggplant (ILS19 small / ILS27 large), sloppy meat (ILS27/ ILS37) and fish (ILS29/ILS39) fish. In addition, all sandwiches are filled with veggies, herbs, tahini, amba. The pita bread is so wonderfully soft and spongy, I'd eat there every day if I lived in Tel Aviv.
Jerusalem: Shakshuka

Jerusalem has so many great breakfast cafes, it's hard to pick a favorite. Among the best food in Israel I had were the lovely Etz Cafe (Yanai St 3), where they make a wonderful shakshuka, Coffee Nadi (Hillel St 39) which I already mentioned above for their scrumptious shakshuka, Kadosh Cafe (Queen Shlomziyon St 6) – the most popular breakfast place in Israel, be prepared for a long wait, and Hummus Pinati (King George St 13) for a comforting plate of excellent hummus.
Another place for amazing food is Mahane Yehuda, Yehuda Market. Not only can you find the best halva, baklava, kunefeh, coffee and sweet treats in the market, but there are also countless little restaurants inside the market and in the streets surrounding it. There's not only Israeli food, but I have had my first ever Kurdish food at Ishtabach, and Flora makes a really good Neapolitan-style pizza. CultureTrip shared all the top spots in Mahane Yehuda here.
If you're looking for a hummus and falafel in the Old City, head to Lina (you can find it on GoogleMaps).
Acre: Hummus
Another classic hummus spot in Israel is Said in Acre (also known as Akko). The small coastal town in the north of Israel is on many travelers' agenda because of the beautiful Old City (UNESCO World Heritage), and so why not stop for lunch at Said's? The hummus is creamy, served with a generous splash of olive oil, and Said is considered one of the best hummus makers in the Middle East. There's no proper address in the Old City, but you can find Said on GoogleMaps. Or just ask anyone – everyone knows where Said is. Be aware that the shop is closed on Saturdays.
Mitzpe Ramon: Baked goods

Mitzpe Ramon is for many just quick photo stop on the way to Eilat (and don't miss the opportunity to take at least a quick glimpse at this impressive crater!), but on my last visit to Israel, I spend a couple of days there to finally explore the area in more detail, and I am so glad I did! But even if you are only passing through this little desert town: do yourself a favor and pick up a few snacks for the road at this amazing desert bakery in Har Boker St 8. You can also find it on GoogleMaps as לשה – אפייה במדבר . They have the best breads, sweet treats and stuffed savory pastries – perfect for a mid-road trip snack or for a picnic on the crater edge.
Have you been to Israel? What's your favorite food in Israel?
*This is NOT a comprehensive guide to Israeli cuisine but rather a brief introduction with an emphasis on vegetarian dishes and foods I've developed an addiction for enjoyed while I was traveling around Israel.